Sidera - safety wallet in a smart watch

The unconditional advantage of developing the ICO sphere is that we are constantly seeing more and more interesting new ideas. This industry today is rich in various kinds of start-ups. Many of them appear and immediately disappear. We want to draw your attention to those projects that, for whatever reasons, have a chance of success even on the existing not very good market.
Today we represent you an an interesting and promising project. Sidera is an innovative and progressive platform that, with the help of smart-watches or bracelets, makes it possible to make purchases, giving in return a crypto currency. Sidera is the first to use blockchain technology for decentralized portable devices.
In fact, it's not just about some technology of "wallet in watches", but about a whole new environment, an infrastructure that allows users to pay for various purchases just like in the case of traditional means of payment, while doing so is much easier and convenient. If you like Smart Watch and also actively use crypto-currencies, then the creators of the Sidera project will please you - they combined your two hobbies into one coherent concept, which gives many advantages.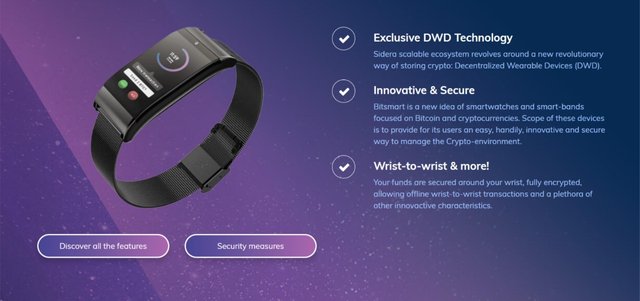 It is not difficult to guess that the whole project revolves around special devices they have developed, whose functionality and capabilities are very large, if you understand. They are called "Decentralized Wearable Devices", and together with them there is a technology of blockchain and built-in crypto-wallet. Bitsmart is essentially a hardware wallet that you can use while wearing it on your wrist. Its main advantage is that it is under the complete control of the user. No one but the user can access it, including platform developers. You can add additional functions to it, such as: automatic detection of transaction addresses, fresh news, your own dial, QR-barcode generator, information about price changes in the markets, music and so on.
An important feature of the SIDERA project is that the signal will be encrypted using a unique identifier that will be generated using several elements that can not be repeated. For example, the movement of your hands, sweating or small scratches on your skin. Thus, the unique key can not be repeated, and the entire system will be secured. The body sensor, which is placed under Smartwatch, will analyze you completely and give you a private key from your wallet. With loss or theft, intruders will not be able to gain access to your crypto assets, because the sensor will not let them do it.
It should also be noted that the software will be in open source, and many independent developers will be able to create their own applications for this system.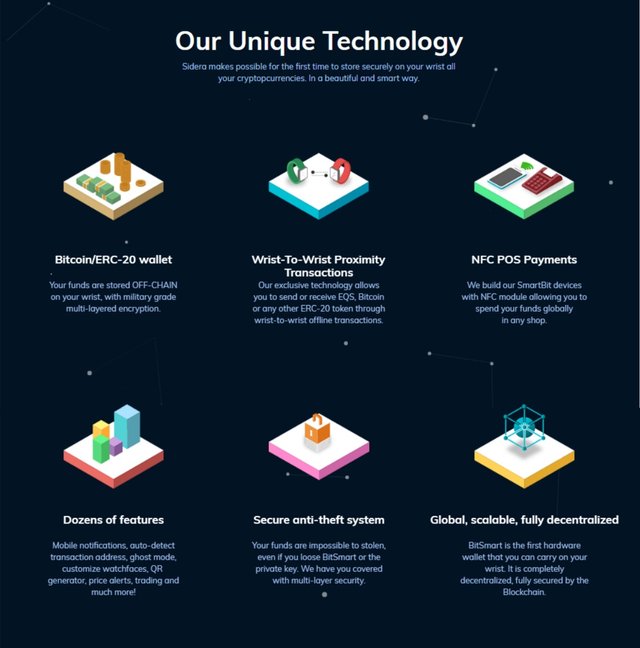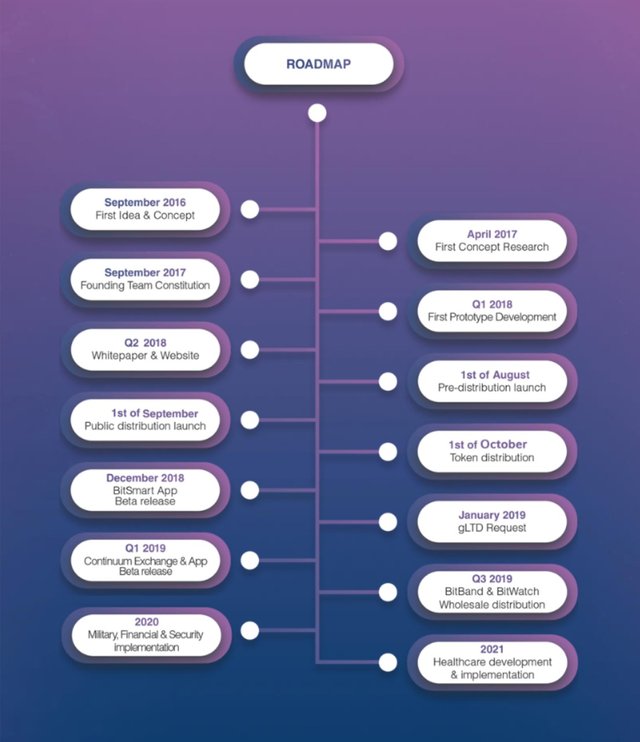 Public sales: from September 1 to September 30, 2018
Token: eQUOS
Standard: ERC20
ICO price: 1 eQUOS = 2 USD
Soft Cap: 1,500,000 USD
Hard Cap: 15,000,000 USD
A total of 51,000,000 EQUOS tokens will be released
Country: Lithuania
Token distribution:
15% - will remain with the founders and the project team;
6% - will leave for useful cooperation;
4% - reserve;
3% - for consultants and partners
Distribution of funds:
27% - manufacture of devices;
20% - operating expenses;
15% - gTLD Request;
12% - marketing;
10% - development of the exchange;
5% - security;
5% - legal expenses;
5% - reserve;
1% - charity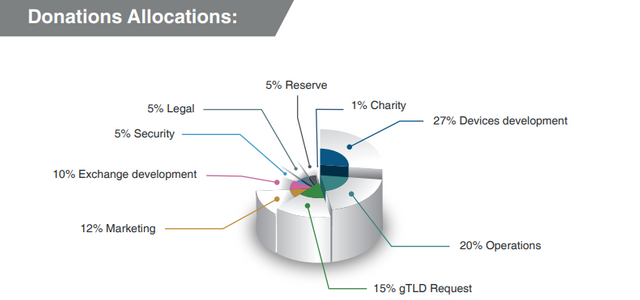 Attention
All information is provided solely for information purposes and does not call you to action, to buying or investing. The author is not a financial expert, does not possess the necessary knowledge and can not properly assess the risks. All decisions on buying or investing are taken on the basis of your own judgments, and you are responsible for them. This article can not be regarded as an investment recommendation or investment advice!