A Little Extra Surprise For Those Who Entered The Contest So Far
Greetings, Steemians! Since I'm still too wiped out (but thankfully no longer green) after being so sick, I decided that today's #seven77 would be giving away seven shares of @steembasicincome! It's day 13 for me, and y'all know I love me some lucky number 13 - it's why I sponsor it in the Engagement League, so it was appropriate to give away SBI on this day. :)
I have only had six people enter so far for a chance to win some Steem swag: https://steemit.com/seven77/@phoenixwren/seven77-contest ...all you gotta do is share a screencap of your TWITTER (not DTube or Steemit) in the comments, showing that you are participating in @nathanmars' #seven77 initiative (at the link! Not here!). So, a dice roll decided who got an extra share: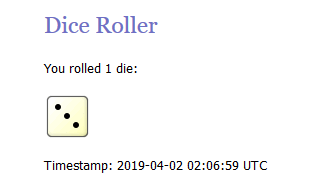 One share each went to:
@creativesoul, @nathanmars, @bluengel, @blueeyes8960, and @ecoinstant;
and two shares went to:
@guurry123

Thanks y'all for entering the contest!
You still have a couple of days if you'd like to enter, so check out the link to try your luck at winning some Steem/crypto buttons. In the meantime, Steem (and pushup) on! :)
My Zazzle Shop:
My Ko-fi: