I'm on vacation, basically I went mad in the wilderness, I cut myself from social media for a few days but the weather was not the best and you can't read or play games all day with kids, I decided to catch up on some series. Surprisingly, the series recommended by friends turned out to be a shot in 10.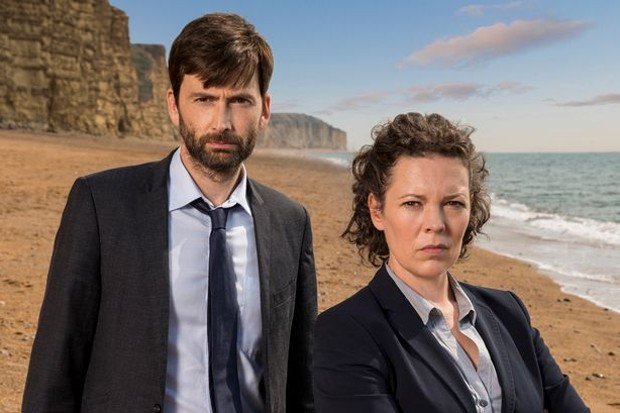 Therefore, if you are looking for an absolute surety series, choose Broadchurch. The series is nothing new (2013 - 17), it has only 3 seasons of 8 episodes (not a tapeworm).
Broadchurch is an atmospheric tale of murder in a small town, you can think that is just another atmospheric detective story with an efficient plot.
Only not entirely. Broadchurch not only wins the atmosphere so dense that it can be cut with a knife and a somewhat dreamy atmosphere, which reminds of Twin Peaks, but above all ingeniously led heroes: Olivia Colman and David Tenant create a great screen duo with extraordinary dynamics, and in the characters they create are not exaggerated. Detective Sergeant Ellie Miller is a woman of flesh and blood - wife, mother, neighbor, friend and member of the local community, intimated with her surroundings and strongly experiencing the fact that somewhere among her friends and relatives lurks a monster who murdered her well-known boy. The traumatized detective inspector Alec Hardy is by no means a support for her - secretive and introverted, he can barely deal with his own demons and still has to confront own infamous past. As a stranger, he is a keen observer, but he also experiences social exclusion, which does not facilitate his work. And all this in the climate of a coastal town on the coast of England, shrouded in moist fog and filled with a bit rough bypass people with a characteristic accent.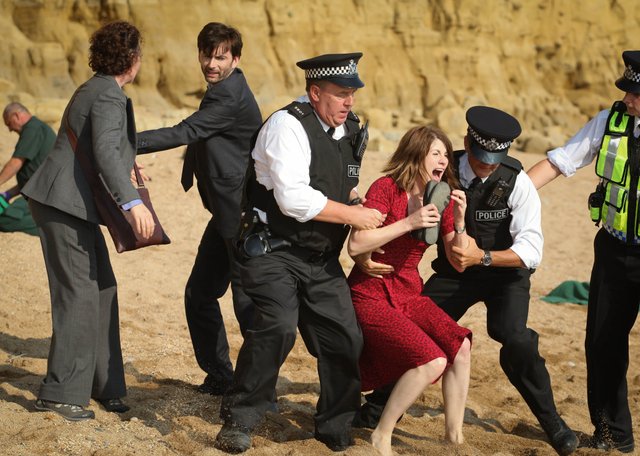 You will suspect everyone: Broadchurch masterfully transfers the atmosphere of growing paranoia and ubiquitous suspicions in an environment where nobody is holy and everyone has their own dirty little secrets. That is why it is so difficult to refrain from associations with the iconic Twin Peaks - the creators of the series have once again ripped off the mask of peace and innocence from the face of a small town, revealing the demons roaming under it.
The farther into the plot, the less it is known for sure: solving the mystery of Danny Latimer's death does not bring solace to anyone and does not calm a turbulent community. What's more, the action of the series does not lose momentum at this point, the tension does not release. Although the first season ends with a shot of the culprit, in the second season we are still not sure whether he will be punished. Season two, which takes place mostly in the courtroom, is a duel between the prosecutor and the defender, the fight to expose the truth and to administer justice. The creators of Broadchurch managed to make a rare art here: the viewer will not know until the last moment what judgment the accused will hear and how this decision will be motivated. What's more, he will begin to wonder - even though he knows the facts - whether the evidence is enough to scoff at punishment.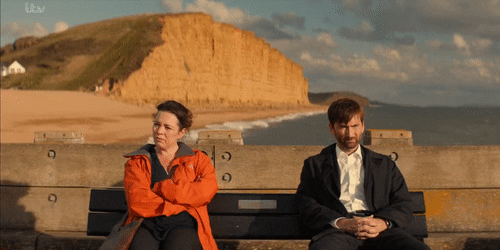 This is a unique series. Until now, I've only seen a similar trick a few times, including in Melancholy by von Trier, in which, until the last second, I wasn't sure if this planet would finally hit Earth or not. Similarly here: the series pulled me in completely and I watched to the very end, catching another night and biting my fingers nervously. Flaw? They won't taint? How will each of these decisions affect the people of Broadchurch? I would not be myself if I underestimated that this production really forced me to verify my moral attitude - it is different to know and trust in evidence. It would be easy for me as a viewer to issue a conviction, but wouldn't I hesitate to be in a jury seat? The precision with which court scenes are constructed deserves applause: during the screening, try to forget that you know the truth and follow the version of the events presented by lawyers. Ultimately, it is the most important.
Watch Broadchurch necessarily - I still have 3 season to watch. And I really hold back not to sit in front of the screen but enjoy the sun.