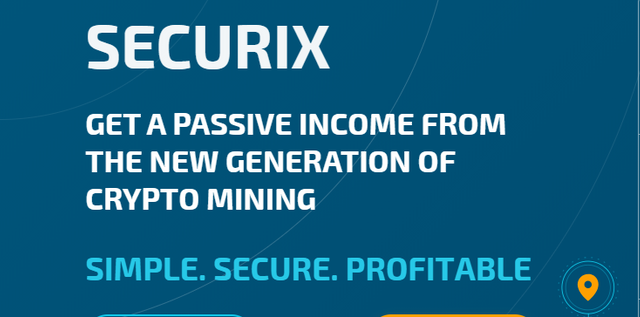 For so years now, almost everyone seems to have woken up from a deep sleep and suddenly realized that to be financially free in this century, one needs to have as much source of income as possible with most of them being passive source. With this mind set a lot of fellas have gone wide in search of as many sources as they can get. And by the way, should in case you don't know what "passive income" is (which will really be a huge surprise), "Passive income is an income resulting from cash flow received on a regular basis, requiring the benefactor to earn by doinglittleor no effort to maintain it"
Now you know what it is, what is next?
What is next is the introduction of a crypto project that is set to give you an opportunity to earn passively from their bitcoin mining process.
Securix.io is a blockchain project that is set to make cryptographic technology as simple and accessible as it can be to a broader audience. The project is equipped with smart contract token that enables their users to passively receivea gross revenue share from their cryptomining operations.
How can you earn from it?
Earning from the Securix.io mining operation is as simple as holding some quantity of SRXIO token.This automatically gives you access to their mining service and grants you the rights to receive some percentage of the gross mining revenue monthly. A portion of the gross revenue will be auto transferred to your wallet by the securix.io smart contract monthly in form of Ethereum token. And before you get to start asking why Ethereum payout and not bitcoin, securix is an Ethereum (ERC20) based token and if you understand crypto at all, you will agree with me that it is presently impossible to payout bitcoin from an ethereum wallet. The bitcoin will be converted to Ethereum and paid out to users who earned them.
One last one on the project documentation and details, The Investment Strategy…
After the lunching of the mining operation that is slated to start on the second month (February) of the year 2019, the Securix team will monthly set aside a certain percentage of the gross revenue(10%) as part of their investment strategy plans. The plan is majorly to increase token value and output per token.
This will be achieved by buying and burningthe Securixtokens from the market and as well, buying new hardware for the purpose of improving the mining facilities.
The crowd sales is on, Softcap Reached…

A quick read through the project's whitepaper (see link below) will get you marveled at the interesting plans and idea put together by the awesome team behind this project. But what is even better than those plans and details documented on their whitepaper is the fact that in their ongoing crowd sales, they have been able to surpass the softcap mark. Meaning we will be seeing this project come to life no matter how the other part of the sales period may go. This implies that there is already a source of passive income in the making for those that have already acquired the SRXIO token. Remember holding the token is all you need to be qualified to earn passively from this project's mining operations.
To Get the Tokens…
All you have to do is Visit the link
https://dashboard.securix.io
, input your email into the field provided, verify your email and make payment. The token is sold for 1usd = 1 SRXIO token. Thanks.
For more details on how about the project, see any of the links below.
Website: https://securix.io
Facebook: https://www.facebook.com/securixmarketing
Twitter: https://twitter.com/securixio
Instagram: https://www.instagram.com/securixio/
LinkedIn: https://www.linkedin.com/company/securix-io/
Medium: https://medium.com/@securixio