JOhann Gottfried Walther, Lob sei dem allmächtigen Gott
This is my entry for the secrets of organ [playing contest of week 35.
Johann Gottfried Walther (1684 – 1748) was a German music theorist, organist, composer, and lexicographer of the Baroque era. Not only was his life almost exactly contemporaneous to that of Johann Sebastian Bach, he also was the famous composer's cousin. Walther wrote a large body of organ music. Most attention went to his his organ transcriptions of orchestral concertos by contemporary Italian and German masters. He made 14 transcriptions of concertos and these works were the model for Bach to write his famous transcriptions of concertos by Vivaldi and others. Less attention went to the chorale preludes Walther wrote. He wrote 132 organ preludes based on Lutheran chorale melodies. This is all the more impressive when you realise that a lot of these consist of a prelude to each of the different verses of the chorale. The quality and variety of these preludes is impressive. Walther shows himself a master of counterpoint and vivid imagery of the content of the text of the chorale. The body of Walther's chorale preludes is a bit underestimated.
A good example is the prelude to "Lob sei dem allmächtigen Gott". Written in a style reminiscent of Buxtehude, Walther shows he can easily match the quality of Buxtehude's chorale preludes. The voice leading and harmonic development are superb. And this is just one tiny example of Walther's output in this genre.
The recording was done with the Hauptwerk software and the sampleset the Transept organ in the Laurenskerk, Rotterdam, made by Sonus Paradisi.
Score:http://partitura.org/index.php/johann-gottfried-walther-lob-sei-dem-allmachtigen-gott/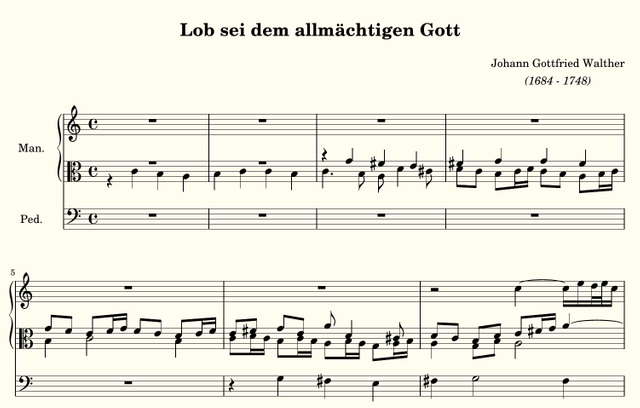 ---
You can support me using Steem Basic Income
---
[

]