SEAPHOTOGRAPHY CONTEST
WEEK #11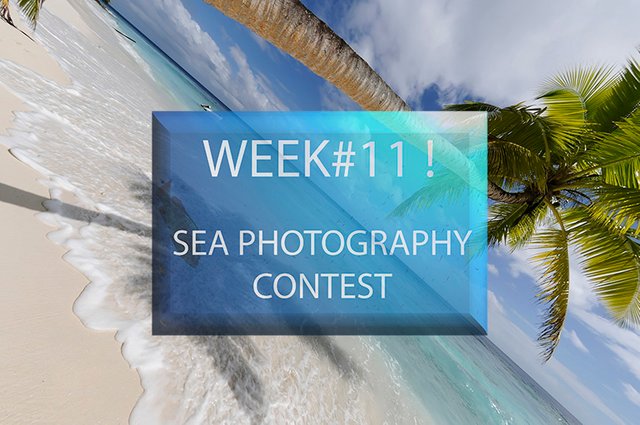 This Week the of the #seaphotography contest theme is:
"SEA AND BEACHES"
.
***************************
The postcard of the deserted beach made us all fantasize someday. Tropical, Mediterranean, from the sky, from the sea, this week #seaphotography contest highlights the sea by its beaches. Make us dream, it's up to you!
La carte postale de la plage déserte nous a tous fait fantasmer un jour ou l'autre. Tropicale, méditerranéenne, depuis le ciel, depuis la mer, cette semaine #seaphotography contest met en avant la mer par ses plages. Faites nous rêver, à vous de jouer !
***************************
WINNER AND HONORABLE MENTION
The winner will be announced this weekend and will earn
*** 5SDB ***
An honorable mention will be also announced this weekend and will earn
*** 1SDB ***
***************************
RULES
1- Post your photograph in response to this article.
2- Upvote this article.
3- The photographer must be the author of the photograph he presents. Any attempt at plagiarism will be denounced and its author blacklisted the contest. NO PLAGIARISM!
4- Present your photograph summarily indicating the place, the exif, or any other information that the photographer will judge useful. English, French, Spanish, Turkish, Arabic, Marsian, all languages ​​are accepted. However, an English translation in a parallel column could be used for everyone ...
5- The photographs can be submitted from Monday to Friday midnight.
***THAT'S ALL !!!***
***************************
On the other hand, if you publish on your blog photography highlighting the sea whatever the theme choiced, and using the tag **#seaphotography** as first tag, you can have a chance to see your work upvoted and presented on my blog.
***************************
I will annonce the winner of WEEK#11, and will present my favorite
#seaphotography
, this week end...! I can not wait to enjoy your photographs. Thank you for participating.
VOTE FOR YOUR FAVORITE !
The winner will be the one who will have the maximum of your Upvotes
*****************