The kings of the Run and Gun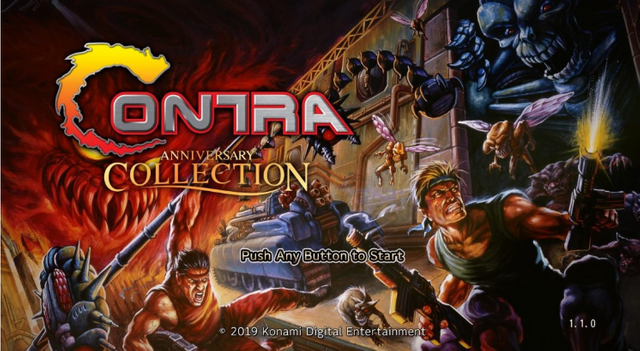 Come on, who doesn't go through the jungle from a "Family" or from a fichine room with these characters that bring us the memory of Arnold Schwarzenegger in the movie Predator?
Source of own gameplay
Ten great classics for run'n & gun fans
In case you still didn't know it, Contra Anniversary Collection incorporates ten titles from Konami's long-running franchise, starting with its original 1988 Arcade version, Contra. Adapted thanks to the work of the developer M2, as well as the other Anniversary Collection, which contains this anthological collection.
Contra (Arcade)
Contra (NES)
Contra (Famicom)
Super Contra (Arcade)
Super C (NES)
Contra III: The Alien Wars (SNES)
Super Probotector: Alien Rebels (SNES)
Contra: Hard Corps (Sega Genesis)
Probotector (Sega Mega Drive)
Operation C (Game Boy)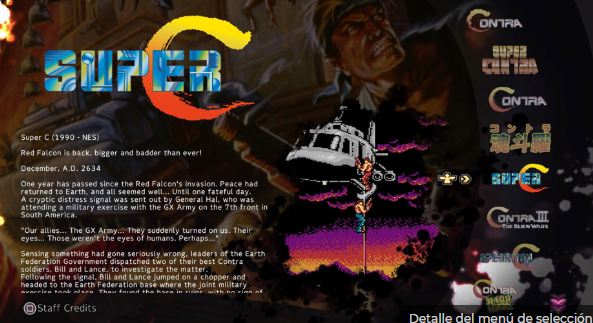 Source of own gameplay
Good selection menu design
As an interesting note I liked the information attached on the left side of each of them, where you can see the year of launch, platform and a brief synopsis of the video game. Information so that anyone who has not been able to enjoy them over the years and who is beginning to discover the saga, can get a little idea of what will be found. This same information, although expanded, can also be found in the Bonus Book that appears in the menu.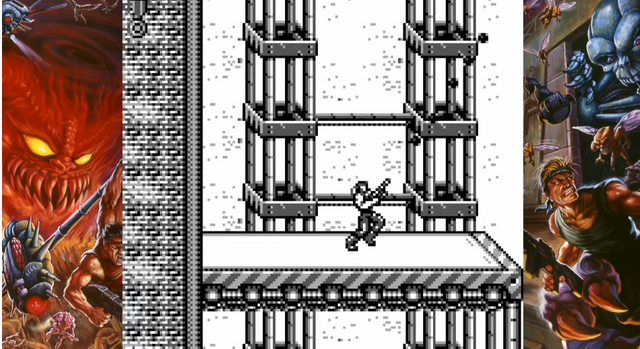 Source of own gameplay
In general, I have found almost no fault in the adaptation of each of the titles included in Contra Anniversary Collection, however, there are errors that already appeared in the original versions. I speak of one of the titles that I have squeezed the most as a child and that I remember that failure most. In the levels with massification of enemies it suffers descents of frames, mainly in those of bird's eye view in Super Probotector: Alien Rebels, although other deliveries are also not saved from that lack of optimization by M2 and that, although we like it retro, We also like that the games arrive solved those failures of the original.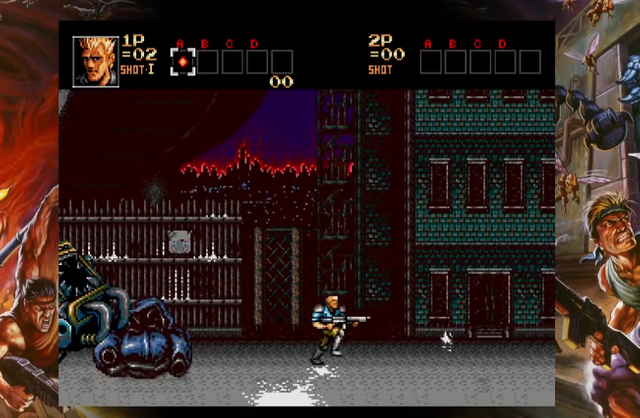 Source of own gameplay
Playing Contra Anniversary Collection has been like meeting my childhood again thirty years later starting to play video games. Ten great titles with which to dress the afternoons alone or with a friend remembering old glories while humming the classic and catchy melodies that have always characterized this franchise, and that has so much fun for us through generations.
However, it has some cons that could have turned Contra Anniversary Collection into a compilation of ten, such as language. They could have remembered the fans of the Castilian language) and especially in the Bonus Book or the occasional performance detail, since in certain titles they experience the occasional drop in frames equal to their original versions. Even so, whether you want to know the franchise for the first time, or if you want to play the titles that grew up together with the most veteran video players during childhood, it is highly recommended.