Hello great people, Think positive and live positive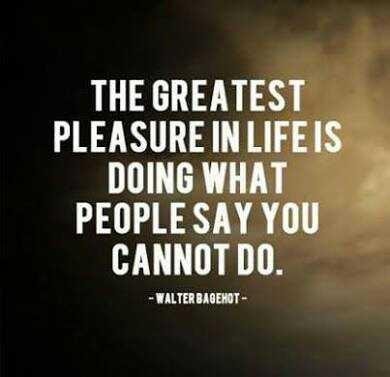 Reflection:

I keep my head up and high against all odds. In life the greatest thing to do is to prove many people wrong.
Many believe that you can't do it right all alone without them helping.
My brothers, my sisters show the world you can because there is a special gift in you which no one possess expect you; cos you are you and others are others.
This made me to believe in the words of Walter Bajehot which says "the greatest pleasure in life is doing what people says you cannot do".
Let the light in you shine out cos you are a star and nothing can dim your light from shining
Thanks to @steemitcentral for the opportunity given to partake in this quote challenge.
If you wish to join this 60 days quote challenge simply follow the rules below or visit
@steemitcentral for more information.
Post your best quote (in words or pictures) for the day and reflect on it using a few words (100 max).
Use the #scquotechallenge as your first tag and #steemitcentral central one of your tags too
Do well to number your entries. E.g Day 1/60, day49/60, etc.
Use the hash tag #scquotechallenge in all your entries to get curated easily
Thank you for reading through my work and is still your little man @lapb