We use salt and sugar daily in our cooking and drinks. We can taste the difference instantly and see the difference with our naked eye if we look closely enough. How about when we look even closer to see what makes them so different from each other.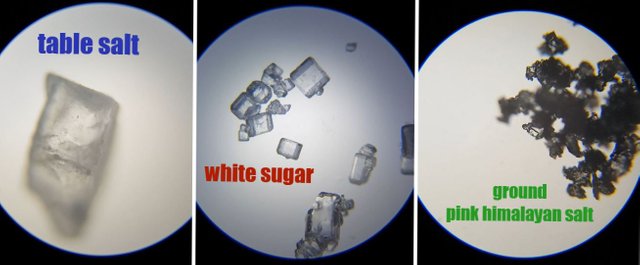 Before preparing my samples for viewing, I searched up to see what we would expect to find and see if we can see the same thing. To do so we will need to take a little trip down Chemistry Lane to learn about their structure.
First up, mouth watering salt.
Salt is an ionic compound, made of sodium and chloride atoms (NaCl). When a number of these molecules get together to form a crystal, they tend to arrange themselves in a cubic pattern. As a result, the salt crystals are also cubic. In fact, if you break a salt crystal, it will tend to break along the planes that are at the surfaces of the planes of the atomic lattice to create a nice, shiny crystal faces. Gem cutters use this fact to great effect when they shape diamonds and other precious stones. Source
This is interesting, so if we look at salt under a microscope, we should see a cubic image.
In case you are wondering what an ionic compound is, I will try to sum it up in a simple way.
A compound is made up of two or more different elements (i.e. NaCl) which are held together via a particular bond.
Ionic is a type of bond where it has negative and positive charges despite it being a neutral molecule. For example, if you break NaCl apart we will get Na+ and Cl- (sorry the + and - should be up higher but I don't know how to do it). They are known as ions; or in particular 'anion' when it has an overall negative charge or 'cation' when it has positive charge. With opposite charges they become attracted to each other and when they come together, they form a neutral molecule by balancing out the charges.
Time to check out the samples.
I had prepared three salt samples.
First up, table salt.
It was pretty chunky and I had a little trouble mounting these without breaking a few glass cover slips. So I used only a few of the smaller pieces so I could mount the glass cover slip on top. I could have checked them out without the glass cover slip, however I would rather protect my microscope lens than worry about a few broken cover slips.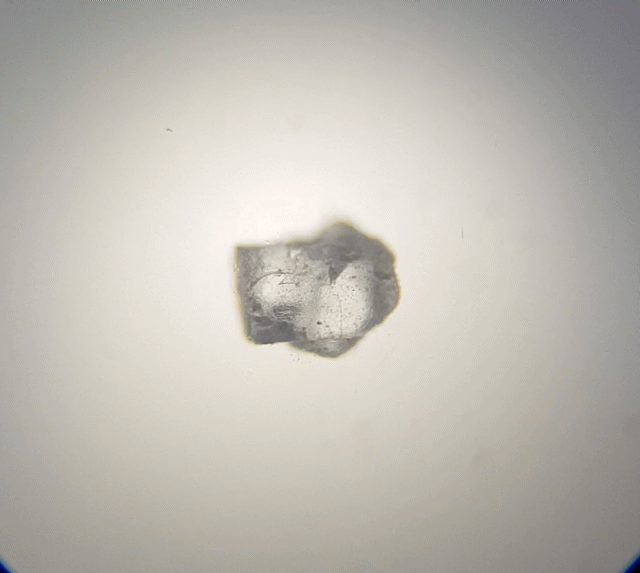 Looking at the table salt (above), we can see it is sort of cube shape like. Due to overlapping it is not a perfect cube. But if we broke it down more, it should break into smaller cubes. Hummmm maybe that is what I should of done, I should of broken it down with a bit of water on a needle tip whilst under the microscope to test it out. That would have been fascinating to watch.
Next up, ground pink himalayan salt.
This sample I just grabbed it off the edge of the salt grinder we use. I thought I would grab this sample to check out because it was more fine and is a different type of salt. The results were not as I had expected or hoped for.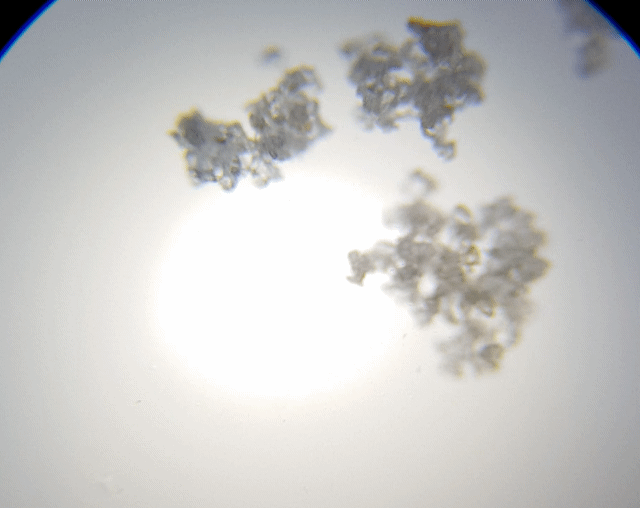 As you can see, it just looked like a big heap of mess. I did try to spread it out a little; maybe I should have grind fresh loose ones rather than using the left overs. I just thought I would make less mess if I did it this way. Ah well, lesson learnt. But we can still see some straight edges.
Lucky last, salt crystals formed on a Himalayan pink salt lamp.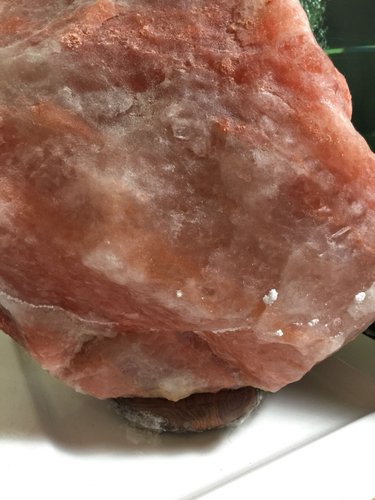 This sample came from my brother who owns a Himalayan pink salt lamp. Here is a picture of the salt crystals (white) forming on the salt lamp.
Apparently having a Himalayan salt lamps has many health benefits. It is claimed the salt lamp releases negative ions which are better than positive ions.
Is this true, does it really help? Does anyone here own one (or more) that finds it does help?
Anyways, here is the salt crystal under the microscope. It looks similar to our last sample of ground pink himalayan salt but more clear and transparent.
---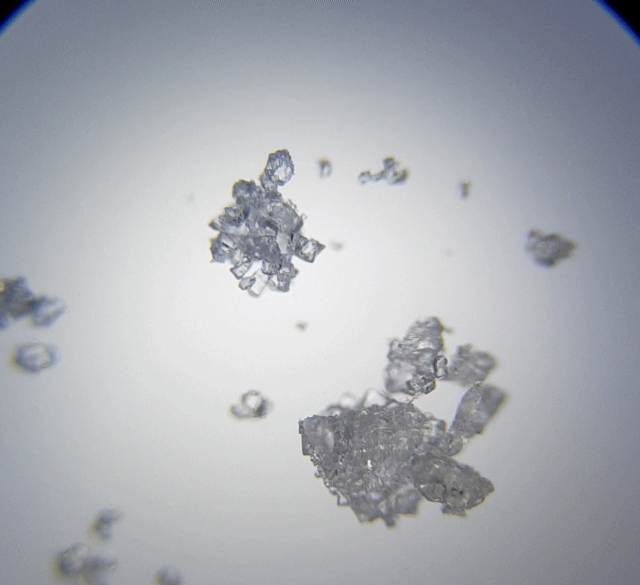 ---
How about sugar?

Image Credit: Wikimedia Commons, public domain
Sugar is a little more complex than salt. Salt, NaCl, is made from sodium and chloride atoms at a 1:1 ratio. Whereas sugar chemical formula (table sugar - sucrose) is C12H22O11. That means it is made from 12 carbon, 22 hydrogen and 11 oxygen atoms. So the structure would be a little more complex compared to salt.
---
So what shape would we expect to see under the microscope?
Sugar crystals look a bit like hexagonal pillars that have fallen over. According to the Beet-sugar handbook (Asadi, 2007), sugar crystals actually have a monoclinic form, which could end up as asymmetric hexagonal pillars. Source
This is interesting, I can't wait to check out my white sugar sample.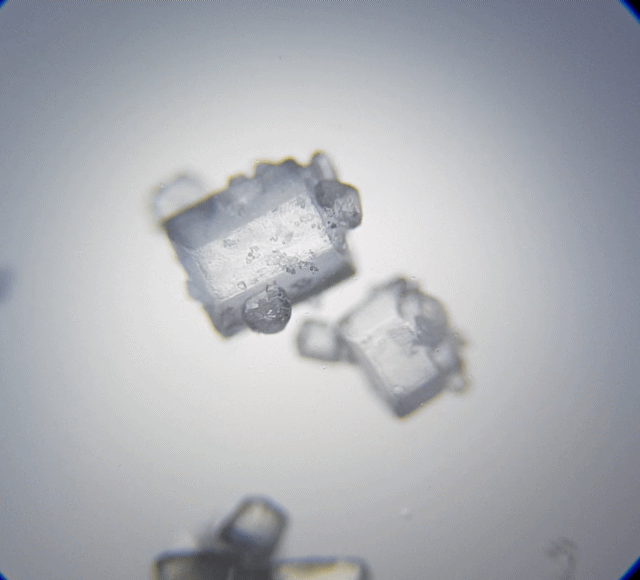 Oh my that is cool. They really do look like hexagonal pillars that had fallen down. They also remind me of beads you can string to make a bracelet. Sugar was far more interesting to look at under a microscope. From now on, when I think of sugar, I would think of hexagonal shapes.
---
Unless cited, all photos and gifs used belong to @supersoju
References:
Sugar and Salt Under the Microscope
What Are Ionic Compounds? - Definition, Examples & Reactions
Ionic Compound
12 Reasons To Keep A Himalayan Salt Lamp In Every Room Of The House
What Is the Chemical Formula of Sugar?