New atomic clocks measure time dilation at millimeter scale/Nuevos relojes atómicos miden la dilatación del tiempo a escala milimétrica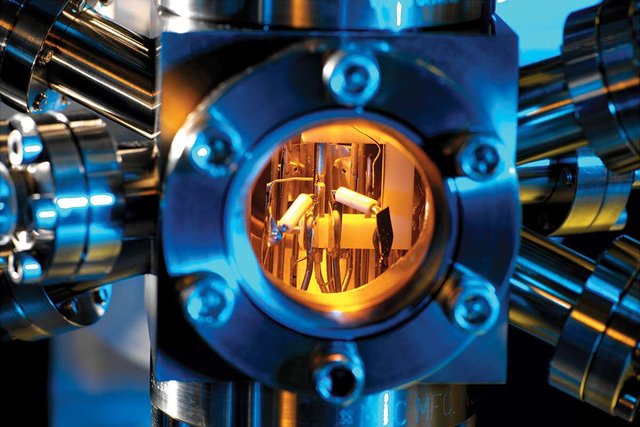 Source
As you all know, more than a century ago Albert Einstein taught us that time is not something absolute, that a second on Earth does not last the same as on the Moon, nor does it last the same on the top of Mount Everest as on the plains of the Serengeti, there is even deference in the passage of time between our head and our feet.
Como todos sabéis, hace ya más de un siglo que Albert Einstein nos enseñó que el tiempo no es algo absoluto, que no dura lo mismo un segundo en la Tierra que en la Luna ni dura lo mismo en la cima del Monte Everest que en las llanuras del Serengueti, incluso hay deferencia en el transcurrir del tiempo entre nuestra cabeza y nuestros pies.
In general, the speed at which time passes will depend on the speed at which we move and the force of gravity to which we are subjected, the higher the speed and the greater the gravity, the slower time will run, always in relation to our frame of reference here on Earth and at sea level.
En general, la velocidad a la que transcurre el tiempo va a depender de la velocidad a la que nos desplazamos y de la fuerza de gravedad a la que estamos sometidos, a mayor velocidad y mayor gravedad más despacio correrá el tiempo, siempre en relación a nuestro marco de referencia aquí en la Tierra y a nivel del mar.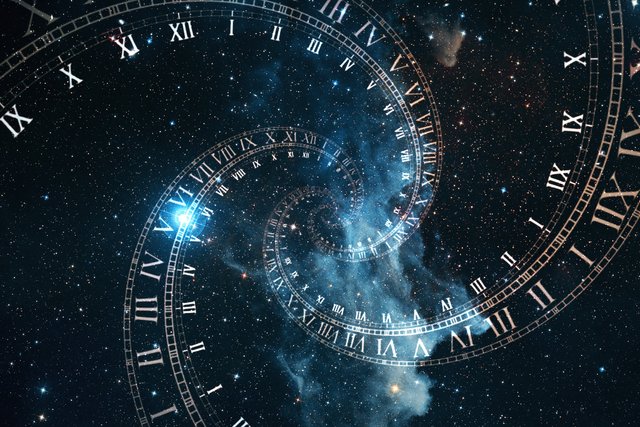 Source
Obviously these differences in the passage of time are extremely small, in the case of GPS navigation, for example, the difference between the satellite and the Earth is one billionth of a second, so in order to measure these differences, scientists make extremely precise clocks called atomic clocks.
Obviamente estas diferencias en el transcurrir del tiempo son extremadamente pequeñas, en el caso de la navegación GPS por ejemplo la diferencia entre el satélite y la Tierra es de una mil millonésima de segundo, por ello para poder medir estas diferencias los científicos fabrican relojes extremadamente precisos llamados relojes atómicos.
As these atomic clocks are perfected, we can appreciate these differences in smaller distances, the last one was in 2010 and this time dilation was recorded between two clocks located 33 cm high from each other and now, a group of Scientists from the National Institute of Standards and Technology and the University of Colorado Boulder have managed to break this record.
A medida que estos relojes atómicos se van perfeccionando podemos apreciar esas diferencias en distancias menores, la última había sido en 2010 y se llegó a registrar esta dilatación del tiempo entre dos relojes situados a 33 cm de altura uno de otro y ahora, un grupo de científicos de el Instituto Nacional de Estándares y Tecnología y la Universidad de Colorado Boulder han conseguido batir este record.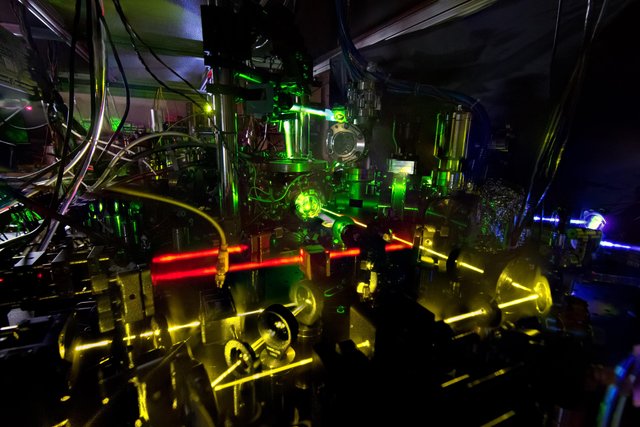 Source
The technology used in the construction of these atomic clocks is beyond my cognitive abilities and what is intended in this post, but it is enough for you to know that with this technology they have been able to measure this dilation of time between the upper and lower part of a sample separated by 1 millimeter.
La tecnología utilizada en la construcción de estos relojes atómicos se escapa de mis capacidades cognitivas y de lo que se pretende en este post, pero basta con que sepáis que con esta tecnología han sido capaces de medir esta dilatación del tiempo entre la parte superior e inferior de una muestra separadas por 1 milímetro.
According to scientists, the true utility of this technology is to be able to serve as microscopes to observe links between quantum mechanics and gravity or to search for the mysterious and elusive dark matter that, according to what is believed, constitutes most of the matter in the universe and not we are able to deal with it.
Según los científicos la verdadera utilidad de esta tecnología es poder servir como microscopios para observar vínculos entre la mecánica cuántica y la gravedad o para buscar la misteriosa y esquiva materia oscura que, según se cree, constituye la mayor parte de la materia del universo y no somos capaces a dar con ella.
More information/Más information
https://scitechdaily.com/new-atomic-clocks-measure-time-dilation-of-einsteins-general-relativity-at-millimeter-scale/
https://www.epe.es/es/tendencias-21/20220218/dilatacion-tiempo-produce-escala-milimetrica-13256148