Today marks 60 years since the famous "Sputnik moment" when the Soviet Union caught the world by surprise with their successful launch of the first ever human-made object into orbit on 4. October 1957. For the history books, Sputnik 1 is brought up in many contexts. It was the first ever satellite, it was a pinnacle moment of the cold war, and perhaps most notably, it marked the beginning of the space race between America and the Soviet Union which has lead to much of what we see in space also today.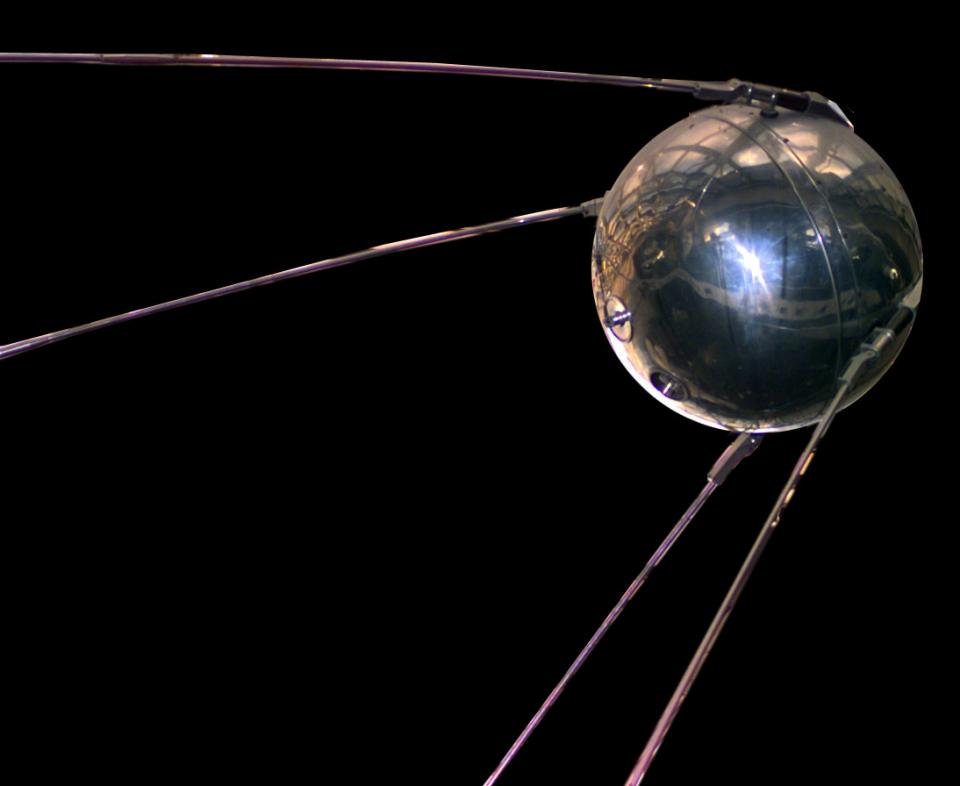 Sputnik 1, the first artificial satellite to orbit the Earth
Image by Wikimedia Commons, image name: Sputnik.jpg
Naturally, today is being celebrated by most people involved in the space sector all around the world. Here at the European Space Agency's Headquarters in Paris where I work, staff, contractors and ESA pensioners were invited this morning to join ESA Director General Jan Woerner to mark the occasion. Not something I could miss out on! Here we gathered in the main conference room used for the ESA Delegation meetings and council meetings for a series of presentations related to Sputnik and what it meant for space both in Europe and in the world.
It was quite fascinating to see all of the people, especially the old who remembers this day very well and who worked in the Space sector already in the sixties, come together for the occasion. While I do know our history very well, it also taught me quite a few new details not commonly talked about in the history books.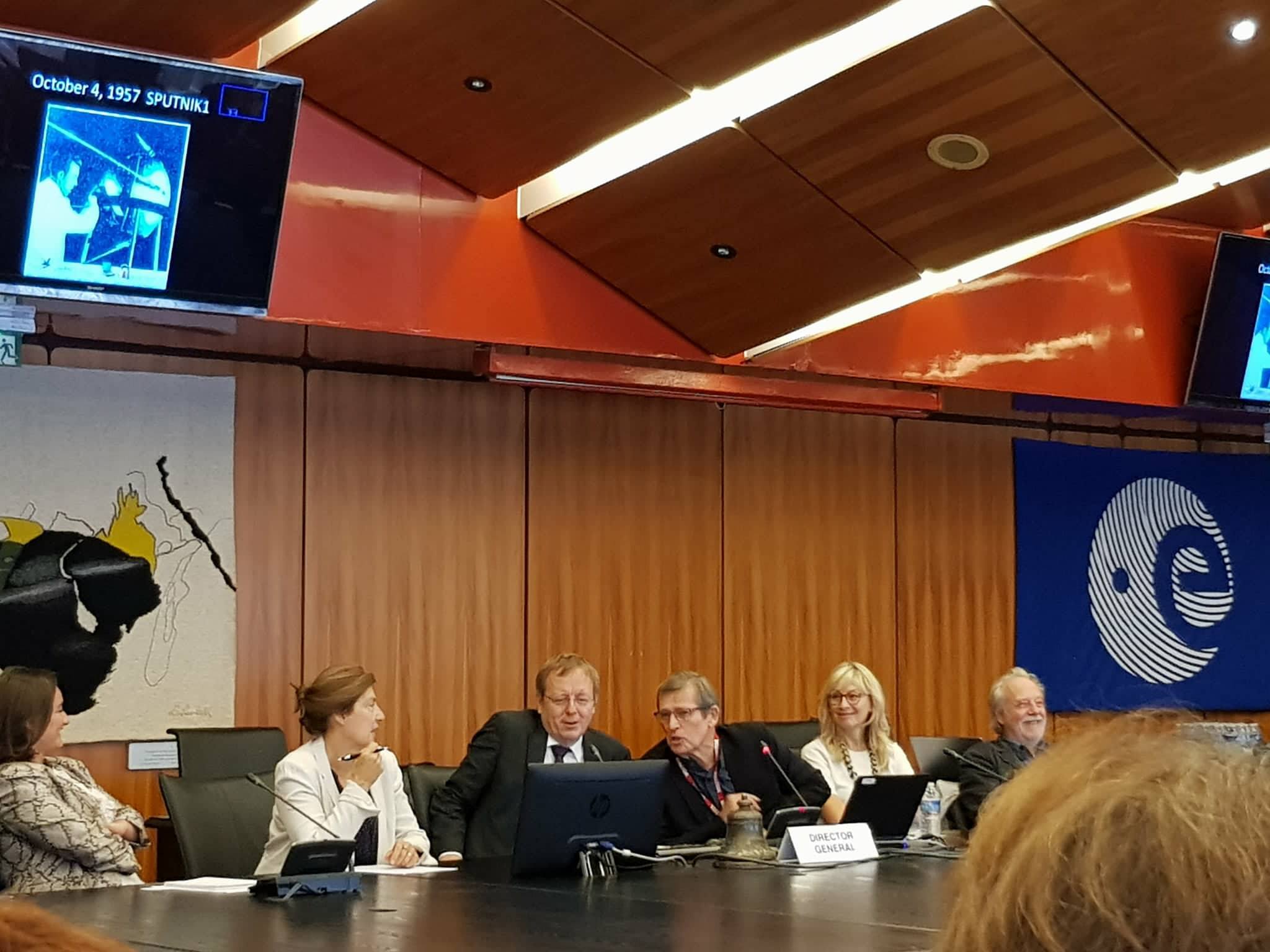 ESA Director General Jan Woerner opening the Sputnik celebration conference in the ESA Headquarter's main meeting room
Image taken by me
So, having just sat through a bunch of lectures, I thought it would serve as a good opportunity to share some information about Sputnik 1, and also add some of my reflections when looking back on the event that changed the course of history, and gave rise to the growth in space capabilities which again has offered me the opportunity to be where I am at today.
So why did a beach ball-sized piece of metal like Sputnik cause such a mess?
There are good reasons why Sputnik caught the attention of the world the way that it did 60 years ago. On the day, all the world's media, and any amateur radio enthusiast in all of the continents of the world, could receive and read Sputnik's radio signals. This was indeed a very powerful message, as nothing like this had ever happened before in human history, and nobody knew of anyone else having this sort of capabilities.
It's perhaps difficult to imagine what it must have felt like to citizens living at the time. Today, we take global communication for granted, and we expect to instantly get online to investigate ourselves what is going on. But if you look back at the state of technology, the average level of education, or how information is received and published at national levels in the fifties, you'll quickly realise that the average guy on the street must have perceived this technological achievement very differently. What would they imagine that the Soviets could be able to achieve next with their limited understanding of space and technology? Would the Russians now be able to overhear every conversation heard on the planet? Would they be able to spy on everyone with big earth observation satellites?! Would they be able to transport weapons and bombs into space capable of launching an attack on anyone at any time?!!? When your understanding is limited, but your fears are not, you'll quickly extrapolate. Just how doomed did people back then think that the future was?
American president Eisenhower, however, was not at all concerned. Indeed, when he first talked to the world following the event in the president's news conference, his words were not exactly filled with fear:
Now, so far as the satellite itself is concerned, that does not raise my apprehensions, not one iota... they say they have put one small ball in the air. - President Eisenhower, October 9, 1957
It's a little-known fact that the Americans also possessed the ability to build and launch satellites well before Sputnik 1 but chose not to go ahead with it (indeed it would be hard to imagine that they would be able to respond to Sputnik 1 within just a few months had they not possessed the technologies necessary). But why did they wait? There's a couple of reasons actually.
First of all, there were no laws in place as to whether national borders stretched upwards also into outer space. Treaties existed declaring that the aerospace above a country belonged to it, but where do aerospace end and outer space begin? None of this had been discussed before it was forced onto the international stage during the space age. Also, Eisenhower completely underestimated the prestige of being the first nation in space, and how it had an effect on the world's view of the two superpowers. Lastly, the launch vehicles possessed by the Americans at the time were all designed mostly by Wernher von Braun. It was simply "not ideal" that the first rocket successfully used by the US would be designed by a German in a time where Nazism was still strongly associated with the country. One might be tempted to say that this somewhat petty reasoning came back to bite them fairly when they then conceded this opportunity to the Soviet instead.
However, Eisenhower's tone soon had to change when the Soviet Union later launched Sputnik 2 with the weight of over half a tonne. Whereas we today remember Sputnik 2 mostly because it carried the dog Laika, at the time people's main concern was not focused on the spacecraft, but rather how powerful the launcher rocket would have had to be to successfully bring something that heavy into orbit. For Sputnik 1, people simply did not know what brought it into space. Demonstrating the ability to take a payload almost 10 times the weight into space, got people's imagination to wonder just how big the rockets were. And although the Sputnik rockets were small compared to what we use today, they certainly were exactly what people feared: Intercontinental Ballistic Missiles.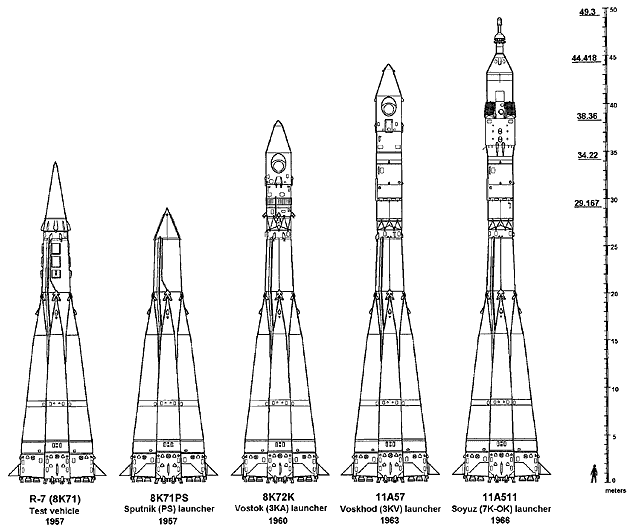 Sputnik 2 was carried into Orbit by Sputnik 8K71PS second from the left in the image.
Image credit NASA Commons Image source
Where we are today
Considering the tension and global sense of worry that the Sputnik moment triggered at the time, it's interesting now to read and watch how other Space Agencies in the West celebrates the Sputnik anniversary today. To me, it shows how much space has also been a driving force of binding countries together, and it's beautiful to see a time where scientific and technological advancements made in other countries are celebrated and not feared. Perhaps this is the most impressive and important development since Sputnik 1, more so than the scientific.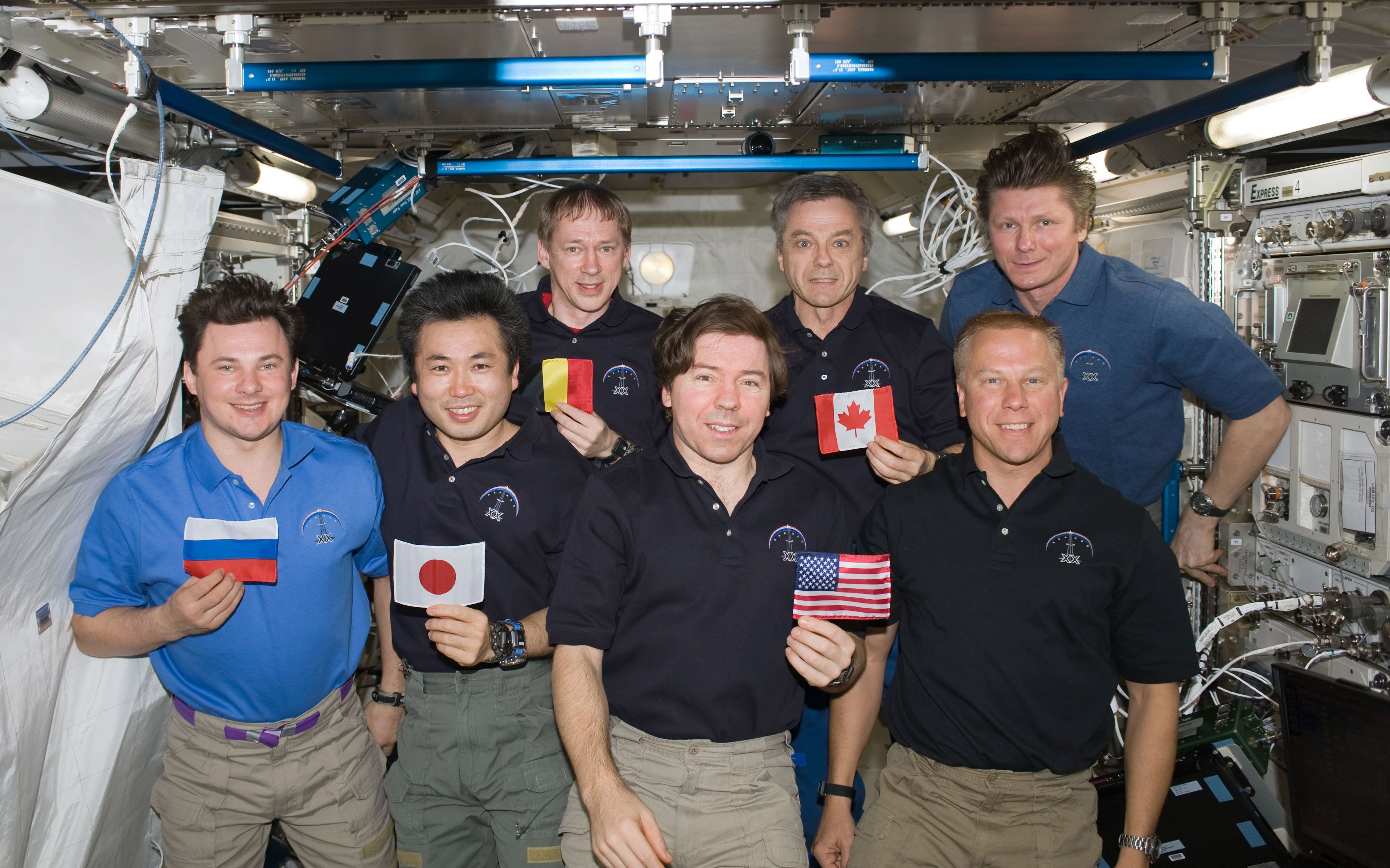 Picture of Astronauts onboard the International Space Station during Expedition 20. The first time all 5 space station partner nations were represented together on board the ISS
Image source
Today, I know space only as a collaborative enterprise where those involved, no matter where they were born, generally share the same visions, ambitions and dreams. It is beautiful to see the way in which Astronauts collaborate at Astronaut training centres worldwide or onboard the International Space Station. Having met Astronauts from most of the countries that have been represented in space, it's always been interesting to observe just how similar they all view politics, the world at large, and the importance of collaboration and diplomacy.
So now that the ink is dry, and we've seen just how much positive international collaboration, as well as scientific and technological advancements the space-era has provided, it's safe to say that it is a day to be celebrated!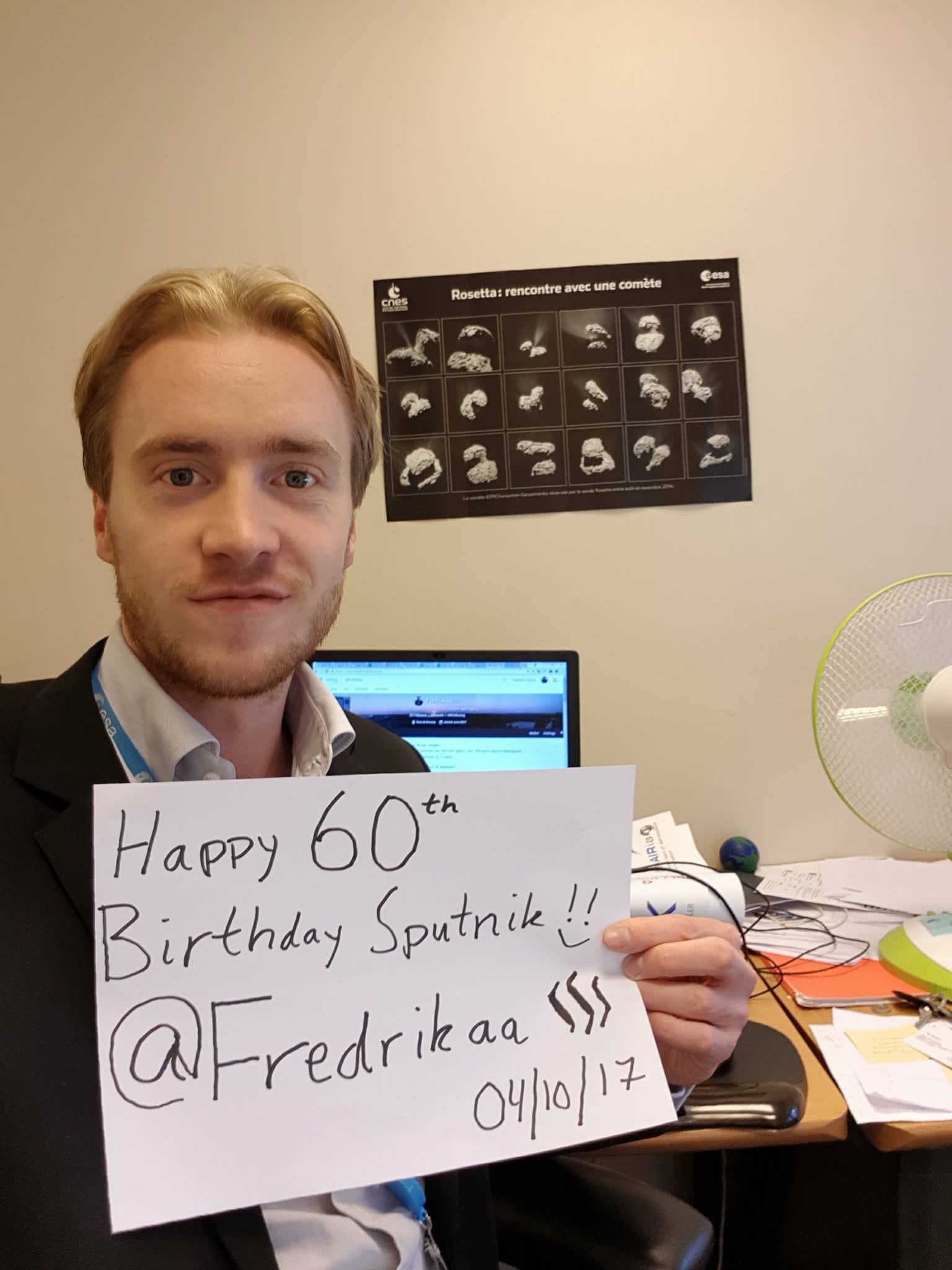 Me and my messy handwriting + an even messier desk from my office at ESA
So that's what's been occupying my mind for much of today :) I'm glad you've read this far and would love to hear in the comments what your thoughts are on the space legacy of Sputnik, where we are in space today, and where you see us going in the future!