The space agency signed a second agreement with the Uber company to work on the implementation of aircraft and its impact on traffic in cities
Source
The advance of the flying vehicles that Uber expects to have available within five years has once again the support of NASA for the development of systems to control air traffic, one of the main challenges that the company must face with this technology.
The announcement, second of its kind, was revealed in the middle of the Uber Elevate Summit that the firm develops this week in Los Angeles, United States, detailing that it is a new initiative to achieve a correct way to control mobility in cities.
Thanks to the use of the systems developed by NASA, Uber will be able to create a simulation platform that in 2020 will allow it to carry out the first tests announced also in this opportunity, in order to achieve its goal of having flying vehicles in 2023.
The previous agreement between both organizations was focused on the development of the necessary technology for autonomous flying vehicles, now, the motivation of this collaboration is placed in the system to control travel.
Stan Swaintek, head of aviation operations at Uber, explained that currently the Federal Aviation Administration of the United States (FAA), controls hundreds of thousands of flights. "At all times, there are at least five thousand airplanes in the air, Uber will have 10 times more flights than the FAA handles, in a single city."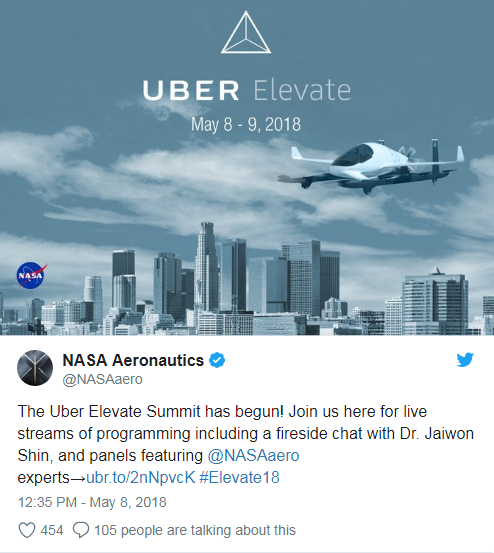 Hence, the agreement with NASA is of great importance, since, according to Eric Allison, Uber's head of aviation programs, one of the biggest challenges is to achieve "a network that works with the level of demand that we know that this service could have. "
For all this, the space agency will have its facilities in Texas, to simulate the transport of a small number of passengers.
"Air transport in cities could revolutionize the way in which both people and parcels move in each locality and, with it, fundamentally change the way we live now, almost as much as the arrival of telephones intelligent, "commented the associate administrator of the aeronautical research mission of NASA, Jaiwon Shin.
In the event, Uber also announced agreements with the United States Army and other companies dedicated to the creation of aircraft, since they assured that they will not enter that market, they will only be focused on the service offered to users through of the application.
A round of applause to these people who day by day congratulate us with their beautiful content. Congratulations and good wishes.
@gringalicious @z8teyb289qav9z @matt-a @kingscrown @boatymcboatface
You can follow some of the powers of this beautiful steemir community as they are @catherinegairard @surprisebit @bue @hr1 @timothyb @pharesim @justtryme90 @cub1 and this wonderful group as it is @babelproyect which is comprised by, @elguille @otitrader @jorgebit @thelastpoet @dannaxkana @abelinche @delusionalmadman @naijaboost @cryptokraze