David was one of the men who had a heart similar to God and this honored our creator. However, he was also one of the men who worshiped God with great praises with psalms, psalteries, harps ... with jubilations and new songs.
David came to know God in the most intimate and his praise and joy was manifested by many.
The Bible tells us that David also went through many tribulations and anguish but recognized God as his greatest strength.
In these psalms we can read the hope and confidence he had in God.
Psalm 18: 30-32 Reina-Valera 1960 (NIV)
30 As for God, his way is perfect,
And the word of Jehovah is surrounded;
Shield is to all who wait on him.
31 For who is God but only Jehovah?
And what rock is out of our God?
32 God is the one who encircles me with power,
And who makes my way perfect.
!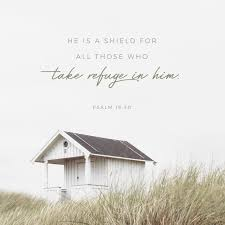 Source
David came to recognize that to be in God was to walk in the right and perfect way, since he declared that his word renewed and cleansed and to walk with Him he cleared his way in an integral and faultless way.
He also demonstrated through his afflictions that waiting on God was the right thing because he was also a shield to those he expected.
David really manifested the greatness of God as a strong rock because there is no other like him, because he is the one who gives power and strength to the weak and makes man's way perfect.
God is the only one who lightens our burdens and makes us strong even in weaknesses