SBD is back to one dollar, about 1.07 USD more precisely. STEEM is at 27.6 cents. STEEM sticks out not like a sore thumb but like a delicious ice cream cone from the otherwise red list of cryptos in a short-term correction. The list is ordered based on market cap. I don't think what little good the burnposts can do for the token price is any longer needed. Steemit, Inc is no longer bleeding because of the low token price owing to the fact that they are forced to sell no matter what to keep development going. It might no longer be desirable to have those ugly burnposts populate Trending.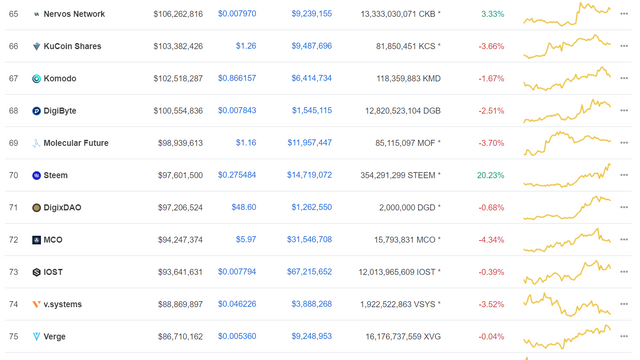 Source: coinmarketcap.com
As @edicted pointed out, the SBD Debt Ratio is already well below 10%.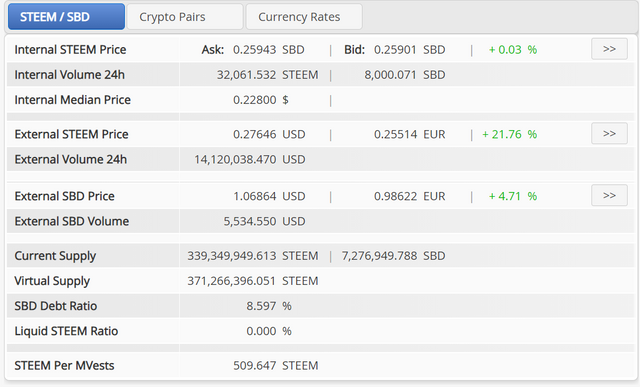 Source: www.steemworld.org
What this means is that SBD is being printed again, which lowers the STEEM inflation rate. Those who sell some of their earnings right away can now sell SBD directly or if they exchange they use doesn't have SBD, they must swap SBD for STEEM on the internal market on Steem first, which will create buying pressure on STEEM. Also, the printing of SBD means that less STEEM will be printed as rewards. Because the SBD Debt Ratio is already below 9%, no liquid STEEM gets printed at all, which spells reduced inflation and should send the price of STEEM rocketing! The SBD price being slightly above 1 USD also means that no one is incentivized to convert it to STEEM (which is when the SBD gets burned and 1 USD worth of STEEM is created).
Because SBD is a debt instrument redeemable for STEEM, there will be a time when a heavy debt burden will weigh on the price of STEEM once again. That debt will be created only at vastly higher levels of STEEM price when half the rewards and all of the SPS funding is in SBD, though. Or at least I hope so based on knowing how greedy speculators can be at the late stage of a massive bull run.