Want to get a FREE SAND Miner? the Same SCOT Steem ENgine Miners PAL and ENG have? Well soon we will be paying 1000 ENG and adding a 100,000 SAND Virtual Miner Reward Pool. I will also add 100,000 SAND for the Proof of Stake Pool , as POS staking rewards will also be enabled for everyone staking SAND soon so curation wont be needed. I may even activate the Vote Bot system so we can burn SAND to get posts seen, and I am adding $150 Advertising package so the Ads on App.SanDiegoCoin.org can buy back Steem SAND
SAND is really a billboard for EOSIO in San DIego, CA and a local portal for developers. Now that we have https://developers.eos.io SAND can become a megaphone for the $3 billion dollar Block One who have $3 billion and $1 Billion for Projects, even $100M just for one EOS VC fund, enough to fund 2,000 projects with $50,000 and, if we use all $1 Billion over lets say 5 years thats 20 THOUSAND EOSIO projects each getting 50,000 In CASH, EACH getting $50k.... that means basically EVERY project could get some funding. So just show up and write your proposal to https://vc.eos.io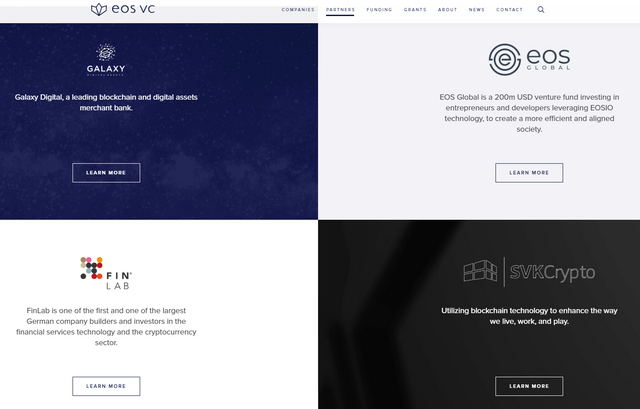 https://developers.eos.io/ is my new mission, SANDEV I will buy a few thousand SAND on EOS off the market JUSt to save as Bounties for Developers and Anyone wanting to learn and go through these documents and learn to use eosio. in fact I just saw this page about skipping cleos and having eosio environmment a in a web dapp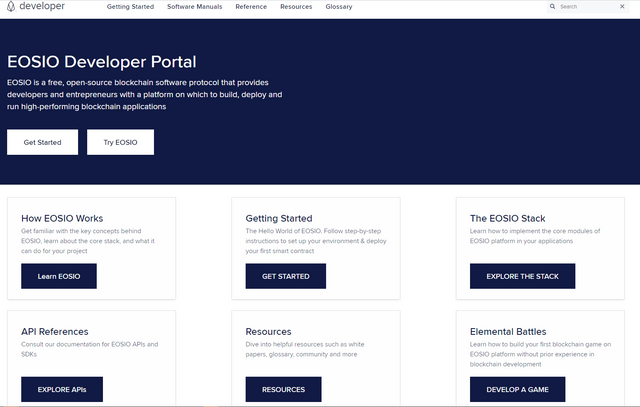 if you need to learn more, come to my new site https://t.me/eosiochat
Or try this new domain I bought http://sand.chatcrypto.org or https://discord.sandiegocoin.org
ALSO My SanDiegoCOin.org site is also redirected now from THIS domain http://SanDiegoEOS.com
ALSO I have http://EoSteem.org which I redirected to https://newdex.io/trade/steemoneosio-steemp-eos so people can buy and sell STEEM with
ALSO I have http://eosio.club which I have redirected to
AND I have http://TeloSPEAK.org i redirected to https://steempeak.com/trending/telos
i plan on taking inspiration from Marshal Islands SOV with its 4% inflation a year. SAND has its own inflation rates set by Smart Contract Side Chain (SCOTBOT) and soon with real EOSIO smart contract (EOSCOT Bot )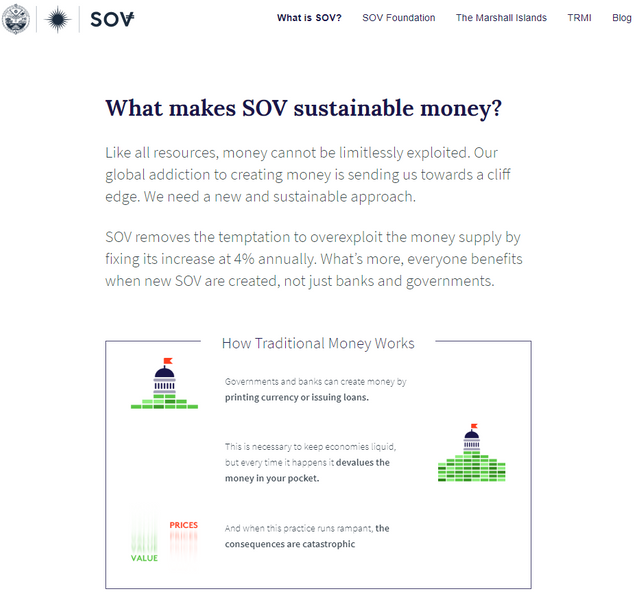 In will take ten years for SAND to produce over 1 Million out of 10 Max Supply.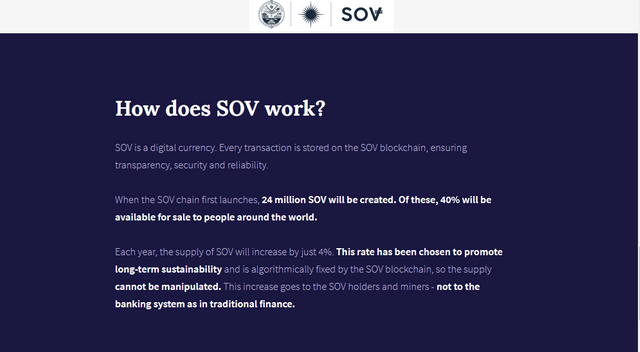 https://sov.foundation/
SAND inflation is like Steem's with a reduction every year, but its around 0.5% perfect a year I believe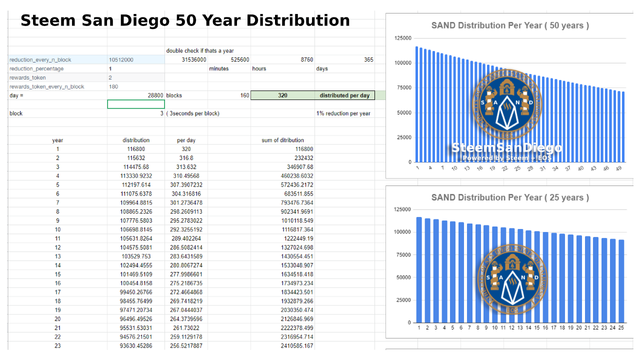 SAND is Approx 3% Inflation with 0.55 Reduction so, every year its less and less but its good to know, by

It will take 20 years for 2 Million SAND to have been distributed , basically 1 million a decade so, 6 million tokens of unissued SAND will take over 60 years to issue. I can always slow it down to stretch it out over 60 years, however, we will simply enable the ads to buy back SAND and have a higher reduction and or just a new curve so we give less over time, if we need a 150 year reward pool. But approx 75 Years or so worth of STEEM ENGINE SAND which ISSUES to EOS SAND is ready to distribute .
SAND GOVERNANCE from the 1 Million SAND proposal pool will use +EOSDAC or Telos Dac whatever comes first maybe 500K TLOS in each but we will do a TEDP style system, for using that proposal sand for an economic development fund, a Smart COntract Worker Proposal system FOR SAND, (which works here




We will even have a Telos TEDP style Staking fund maybe 100k SAND will be in at the Proof of Stake Fund which i will pay 1000 to enable soon
Now I may enable a staking pool of 100,000 SAND so anyone can earn SAND by just staking it, something I like, fire and forget. I can even have a nice front end with treasure chests etc to show my points as they come in,.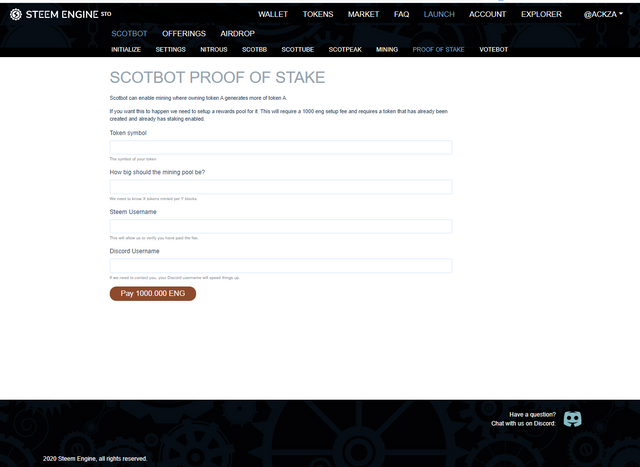 I may also follow @richardcrill from @weedcash and enable Mining, for 1000 ENG and, Ill have to put 1 Another 100,000 SAND in the staking pool. OR I can do this... I will add more but ONLY allow San Diegans to own these Miners, I will not sell the tokens on the market but only give to steemians to make enough local posts!
I will require Local users like @mariannewest have at least 100 #sand posts and verified San Diegans to get her first Miner token. I would use those to allow Locals to get a Faucet style system. This way i can issue the SAND MINER tokens to allow users to EARN SAND but only LOCALS. And they can sell them but why when they got it for free? Also locals should be inclined to give them to other locals, I will even have referral programs like @ctptalk but where I can earn SAND if I refer a verifiable local user who makes local post and or posts verification of an existing social media account to prove your location. (@challengedac and worbli also being used and considered for local KYC for signing up all local EOSIo users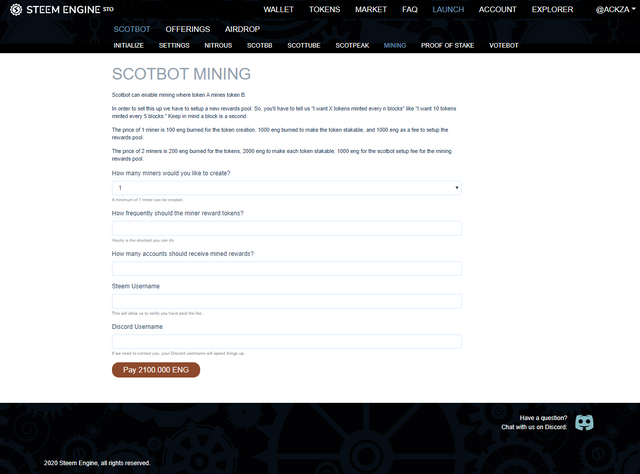 I ALSO have an EVERIPEDIA Program if you can write HIGH QUALITY Everipedia posts, especially about San Diego, CA you can earn $47+ per post or $10 per referral! Talk to @citimillz or go to @steemoneos https://steemoneos to learn more
Anyway come talk here https://t.me/sandiegocoin if you are a LOCAL SAN DIEGANS and you need a FREE STEEM ACCOUNT!
Im excited tos ee SCOT staking and mining so we can Mirror the staking on EOSIO and allow EOSCOT EOSIO staking and distribution bot set to an Inflation number Over Time....
I want SAND to be like Marshal ISland EOSIO based SOV https://Sov.Foundation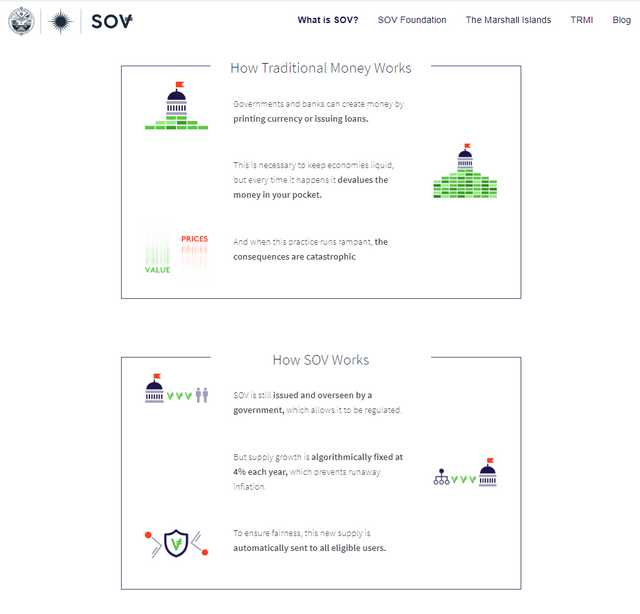 3% Inflation for 75 years is a nice balance of Game Theory and Tokenomics for a local population of 1.5 + million and a tech savvy population of hundreds of thousands all abe to post Blockchain posts and EOSIO proposals and earn SAND and or claim MSIG proposals . SAND will flourish with @ratzen and others help me with the