Not all hackers are bad. The differences between white, black and grey hat hackers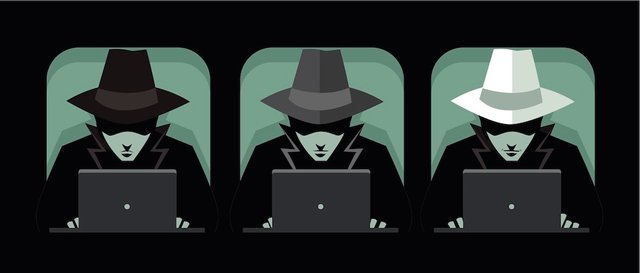 What do you picture when you try to imagine a hacker? Is it a young, skinny guy sitting in front of a large monitor, typing furiously as green symbols appearing on the screen are reflected by his huge glasses? Or maybe a bearded, unkempt dude in a cheeto-stained undershirt sitting in a basement and saying things like "isolate the node and dump it on the other side of the router"? Perhaps, as it is the case with me, your mental image of a hacker is Angelina Jolie from the cult classic 1995 movie Hackers?
The media portrayals have given us some depictions of hackers that have shaped our perception. But as it is often the case, those portrayals don't necessarily have much to do with reality.
Here's another untrue thing you might believe about hackers: hackers are bad.

Well, of course, some of them are. Those nasty hackers waiting to get their hands on our credit card numbers, various account passwords and cryptocurrency wallets are definitely no angels.
But the topic of hacking is much more complicated, and it's definitely not all black and white.
It is in fact black, white and grey - just like the metaphorical hats worn by hackers.
You see, hackers are classified into 3 main categories: white hat, black hat and grey hat. What does that mean, exactly? Let's take a closer look! 
Hackers with hats as black as their souls!

Simply put, black hat hackers are the bad guys, who use their hacking powers for personal gain. Whenever you hear that you should watch out for hackers as you browse the Web - you're being warned against the ones "wearing" black hats.

Selling personal data, stealing credit cards, leaking nude photos of celebrities, conducting malicious attacks on websites and services - those are generally the signature moves of black hat hackers.

They are also the reason why you have to change your password so often - and make it so complicated, with all those special characters, uppercase letters and other annoying things to remember. So, thanks for nothing, black hat hackers!
Fortunately they're not all that the hacking community has to offer. 
Knights in white hats
Imagine that you are the head of security for a bank which offers its customers online services. Or, better yet, the owner of a cryptocurrency exchange.

Now imagine that there's a vulnerability in your system that might allow black hat hackers to steal your customers' money and/or private data. That would be a disaster, right?
Fortunately, you don't have to wait for a malicious attack to find about those security issues. You can always just find an expert hacker and pay them to try and hack your system for you - and let you know how to fix any problems that might let someone else do the same.

This kind of hacker-for-hire who is paid by companies, corporations and even government organisations, is called a white hat hacker. They're basically digital security experts, who use their knowledge and experience to make sure that the system they're testing stays unhackable.

As such, those white hat hackers actually work to protect your data and your money from the black hat hackers. Just like knights on white horses! Except, they get paid in salaries instead of half-of-a-kingdom and the princess' hand. 
50 Shades of Grey Hats
But wait! There's more!

As we said, it's not all black and white. This means that there's also place for grey hats in the world of hacking.

But who exactly are those grey hats? Are they the good guys, the bad guys or the in-between guys?
Of course, that depends from your perspective. From their own point of view, most of the grey hat hackers consider themselves to be on the side of good. They hack, but not for personal gain. In fact, they might be doing a similar type of work as the white hats do - without being asked for it. This means that their assistance is not necessarily appreciated or wanted. However, it might also happen, that they do get recognised for it - and are hired as white hat hackers.
But many of the grey hat hackers follow their own moral code and do what they do because they think it's good. The opinion of others, especially those considered to be parts of the establishment, is not important. And they might not want to be paid by corporate money.

Some of grey hat hackers consider themselves to be hacktivists - which means activists who use hacking to bring about some form of social change.

One of the most famous examples of hacktivists is WikiLeaks - the group which hacked and leaked a huge amount of classified information from governments all over the world. Their motif was allegedly not monetary gain, but transparency as well as uncovering corruption. They have succeeded in uncovering some major political scandals worldwide.
Another notable hacktivist group are the infamous Anonymous - who have conducted attacks on targets ranging from the Church of Scientology to Dark Web sites related to child pornography. 

What colour is your hat?

As you can see, there's more to hacking than just breaking into other people's clouds to leak their private photos and stealing someone else's hard-earned money (or Bitcoin). Some hackers work for the good of all of the other netizens, finding security issues before anyone else does - and making sure they get fixed as soon as possible.
Unfortunately, the black hats giving all the hackers a bad name are out there - which means you should definitely stay alert. If you need some tips on how to protect yourself from potential hackers, check out our article on staying safe on the Internet!

Website: Darb Finance
Our Proof of Trade