Good day Steemians! // Dzień Dobry Steemianie!
Today I would like to tell you why running is still in my life.
When I went to the Silesian University of Technology I have started to run for my University. I would like also to run more, however on my second year I caught an injury and I had something with an Achilles so I had to stop.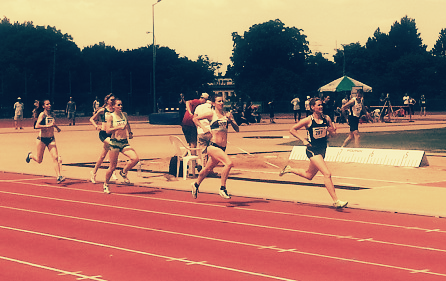 Fighting for my University on 800m race - here on 3rd place
On my third year of study I needed someone who arrange training plan for me and thanks one of my friends I have found person who is my coach since this time – it is 4,5 years now.
When I started to train again I promised myself that I will never give up again and despite of everyday life I am still faithful my promise which is not always easy.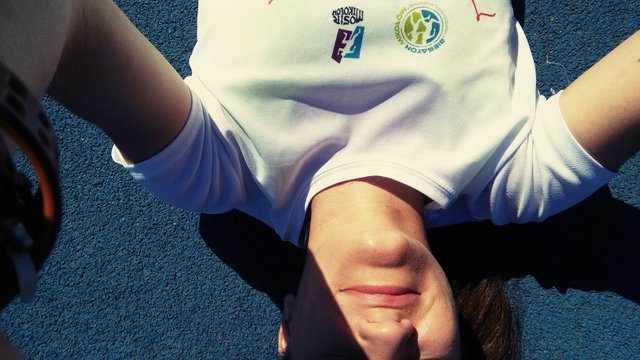 Go hard or go home!
From this time I have run a lot of kilometers and I still believe that I can progress my times on 5 and 10 kilometers as I have broken my record on 10 km in March 2016. Unfortunately in 2016 my body has stopped collaborating with me and it took me long to discover what is going on but hopefully now everything seems to be fine!
Currently my best time on 10km is 41:24 minutes and on 5 km it is 19 minutes and 43 seconds.
I believe that this year will be ground-breaking (not only in running) and it is worth to be patient.
So why I am still running? Because it let me live fully and that there is something more in this life, it gives mi strength and makes me happy!
Thank you for reading! Next time I will tell you about forthcoming competition!
Have a great day!
Dziś opowiem Wam dlaczego bieganie wciąż jest w moim życiu.
Kiedy poszłam na studia zaczęłam biegać dla mojej uczelni reprezentując ją w różnego rodzaju biegach. Chciałam również biegać coraz więcej jednak na drugim roku studiów złapałam kontuzję Achillesa więc musiałam przestać biegać na dość długi czas.
Na trzecim roku studiów potrzebowałam kogoś kto ułoży dla mnie plan treningowy i dzięki jednemu z moich znajomych znalazłam osobę, która jest moim trenerem od tego czasu – aktualnie mija 4,5 roku!
Kiedy znów zaczęłam trenować obiecałam sobie, że już nigdy więcej się nie poddam i pomimo obowiązków życia codziennego wciąż jestem wierna swojemu postanowieniu co jednak nie zawsze jest proste.
Od tego czasu przebiegłam setki, a nawet tysiące kilometrów i wciąż wierzę, że jestem w stanie poprawić swoje czasy na 5 i 10km gdyż ostatni raz rekord życiowy pobiłam w marcu 2016 roku. Niestety po tym biegu mój organizm przestał ze mną współpracować i zajęło mi bardzo wiele czasu żeby odkryć co właściwie jest nie tak z moim zdrowiem, jednak aktualnie wszystko wydaje się być w porządku.
Aktualnie mój rekord życiowy na 10km wynosi 41:24, a na 5km 19:43.
Wierzę, że ten rok będzie przełomowym (nie tylko w bieganiu) i warto jest być cierpliwym.
A więc dlaczego wciąż biegam? Ponieważ bieganie pozwala mi żyć pełnią życia i pozwala wierzyć, że życie warte jest dużo więcej, ten sport daje mi siłę oraz mnie uszczęśliwia.
Dzięki, że tu jesteś! A już niedługo napiszę o zbliżającym się wielkimi krokami biegu na 10km.
Pięknego dnia!