What I talk about when I talk about running
by Haruki Murakami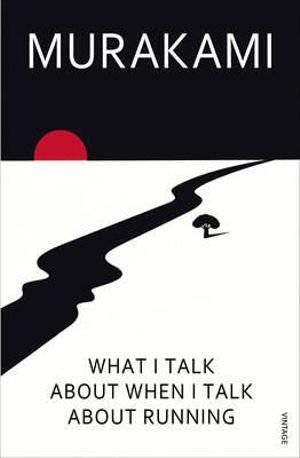 I've been a semi-serious runner for over ten years now. I ran competitively in high school but when I started university after school I barely did any physical activity at all and got to be pretty unfit. I'd always had the desire to one day run a marathon. Not long after I met my (now) wife, we had a discussion about things we'd like to do before our next milestone birthday (I was 27, so 30 was my next milestone). One of the things I said was that I wanted to do was to run a marathon, and she pretty much laughed at that idea. I told her I'd taken up running again and that it was not a completely ridiculous idea. This was not a total lie - I had been for a few jogs around the neighbourhood but was only doing it every couple of weeks and only for short periods as my fitness level back then couldn't sustain runs of more than 10-15 minutes. But once I'd set that as a goal I started to take it a bit more seriously. I didn't run a marathon by the age of 30 but I at least ran a half marathon by that time. I lived in England between the ages of 25 and 30 and after I moved back to Sydney I kept the running up. One of my good friends was also in to running and lived not too far from where I was living so we were able to run together a fair bit and that helped. We trained together for marathons and I ran my first marathon at the age of 31 and ran another one a year or so after that. Since then I haven't run another but I have vague intentions of training for this year's Blackmores marathon in September. The marathon I really want to run is the 6-foot track marathon in the Blue Mountains (which is actually 45km — more than a marathon — so technically shouldn't be called a marathon) and you need a qualifying time, so I could do that next year if I complete another marathon this year. The main running event I look forward to competing in every year is the City to Surf, which is 14km. I usually train for that (mainly to maintain a my place in the Red group), but this year I'm hoping to do a lot more.
The app I use to track and route my runs has weekly and monthly challenges and last month I joined a few of those. I mentioned those in my Actifit posts from last month, which really helped motivate me to complete them. This month I've joined another challenge - 60km, which is a step-up from May's 50km. Last week I randomly thought of Haruki Murakami's book, What I talk about when I talk about running. I read this book a few years ago, and I decided to pick it up and read again thanks to my renewed enthusiasm for running. Not long after deciding to read it again I thought, 'Hey I could write a review for this book!'. Then I had another thought, I could write little vignettes reviewing excerpts that resonate with me and at the same time document my training efforts.
Murakami is one of my all-time favourite authors. I would have read at least 10 of his novels, but this book it is a little different - it's essentially his musings on his life as a runner, and how the discipline of running helped him as a writer (and vice versa). A brilliant writer but unremarkable runner, he was nonetheless a good runner - his accomplishments are far far more impressive than mine! He managed to run a marathon every year from when he took up running at the age of 33 at least until he wrote this book in 2005, when he was 55. He claims that he peaked as a runner in his late forties (which gives me hope!) and until then his average marathon time was around three hours and 30 minutes. After that his times were around the four hour mark. The book documents his training regimen for the New York marathon in 2005, and the hours and distances he ran dwarf my current challenge of 60km for one month. It has hit home hard that I need to step up my training. Here's an example of the discipline it takes to be a consistent marathon runner:
No matter what though, I keep up my running. Running every day is a kind of lifeline for me, so I'm not getting to lay off or quit just because I'm busy. If I used being busy as an excuse not to run, I'd never run again.
For so long I've made excuses to not run more. I (almost) never run during the week because I'm 'too busy' or 'too tired' from work. I keep forgetting that running actually gives me more energy and that I feel great after a good work-out. My mid-week runs don't need to be that long. It's dark when I get home anyway but just to get in the habit of getting out on a Tuesday and Thursday will make a massive difference. Making this habit will be my goal over the next few weeks!
Posted using Partiko iOS