Ross Ulbricht was the Founder and Creator of the original Silk Road Website circa 2011.
---
His aim was to provide a Free Market that would allow people to buy and sell whatever they wanted using cryptocurrency through the Silk Road Website. Bitcoin had only been created about two years prior, so it is very rational to say that the silk road economy played a large role in the practical adoption and early expansion of the bitcoin network!
So what did the government decide to do to him when they found out some users on the website bought and sold some weed? They gave him a Double Life Sentence plus an additional 40 years in a maximum security prison in Colorado.
For being a fucking web designer.....
Lyn Ulbricht is Ross's Mother and is his only Lifeline to the real world. She spends her days traveling the world, speaking about the horrific injustice and how it affects way more than just Ross and her family.
Lyn explains it all to Carmen (@chickencaam) of The State of Anarchy at Coinvention 2018 in Philadelphia!
---
---
It's worth mentioning that the people who sold the actual drugs on the platform got little to no punishment, with the next-in-line worst sentencing being 10 years.
---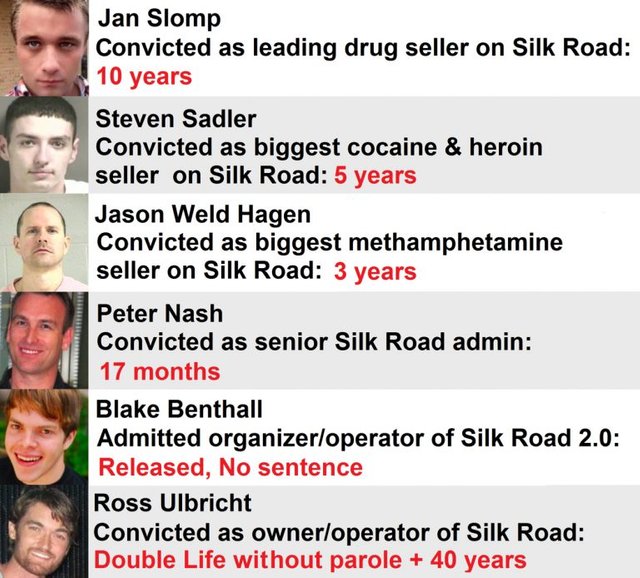 ---
Yet they give the man who created a free Market Economy that functioned outside of the government's influence a double life sentence plus 40 years....
What does that say about our government and it's motivations?



---
"Most clear-headed people who can see what should be, are against this sentence. It is absolutely barbaric and unnecessary. People's lives are being destroyed while the Government is making money, as are Private Prisons, as are lots of subsidiary industries off of Mass Incarceration" - Lyn Ulbricht
And Mass Incarceration is no joke. People are starting to realize how much money there is to be made by locking people up in cages. Here are some Private Prison Statistics Courtesy of NBC News: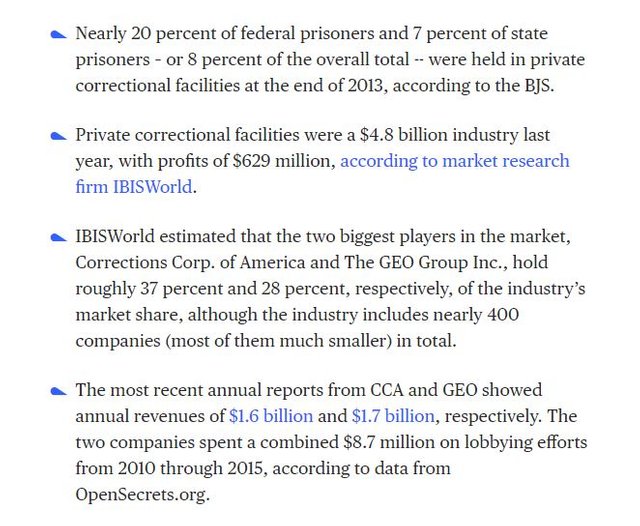 ---
"If you're making money off of Human Lives, as far as I'm concerned, that's Human Trafficking" - Lyn Ulbricht
TSOA Couldn't Agree More...
---
The whole story smells rather fishy and I (@chickencaam) personally think it is a conspiracy to scare people away from The Crypto Space as well as the concept of True Free Markets and Liberty!
Please if you are still reading this, that means you can help! Go to https://FreeRoss.org/petition and Sign the Petition to commute Ross's Sentence!

Instagram: @thestateofanarchy
Website: http://thestateofanarchy.com/
YouTube: http://bit.ly/TheStateofAnarchy
Statebook: http://bit.ly/TheBookofAnarchy
Steemit: @SonnyMazzone @chickencaam @PatrickALeach


Bitcoin: 17w77NVmtTxj78d1Dnx3vh5FjwHvzpkts8
Bitcoin Cash: qzvxljvm82hywnrsdv6vqd9m2zjj207y65fc04f2w5
Binance: 0x49e06218d5D05923F0e442265cD2A419D4d17C4D
Dash: XqVzxHF6wi1F9uA8vc8hhWZFyqLgjZCbH7
Ethereum: 0x49e06218d5D05923F0e442265cD2A419D4d17C4D
Lisk: 13974177123382109591L
Ark: ALVqR9qiEwRbHBcZ7kuw5Xwqqzd4nXSMDc
Monero: 458xXh879UPVHNjDmShgPXPtHbYdCVBSE5L5kZ1CnJYuMGLNqZiGPqB9XDSms5RqVBjHNfgxMfo6d6oNjFYKEG1iA7UmRp3