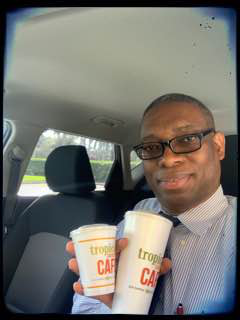 This afternoon I went to Tropical Cafe to grab some fruit juice
and I met a nice young lady from Jamaica.
I was eager to ask her a bunch of question about Jamaica.
Believe me she was proud to tell me a bunch.
Actually she explained me about Bob Marley.
She knows a lot of genres in Jamaica.
She even sends me to do some research the genres of style
Jamaican people follows.
At first it looks reggae is the only but there are more.
Dancehall, Calypso and many new ones.
As you can see in the picture she is so nice as to give me all the juice that I order.
I did order two big cups of classic mango mix with other fruits.
When you go between 2-5PM. the classic smoothie is $2 off.
She did take care of me and as you can see, she put the left over in a small cup.
I did get my money worth with good customer service.
She was great and my smoothie tastes so good.
Kudos to you, young lady.
Since she is at work I cannot hold her for long.
I gave her my card and wrote in the back reggaesteem.io.
I showed her quite a few posts I made already like the reggae boyz.
She is into sport and telling me everything about them like
Jamaica went to the world Cup in 1998.
She knows her stuff.
And then the conversation took that turn where #jahm got involved
with #steem.
I did invite her to come and join #jahm.
I will feel proud to have her coming over.
I will definitely going back and see if she checks the site.
I know the support she will get by coming over to #jahm.
You guys are true to your words and glad you put Jamaica
way high in #steem blockchain.
The reason I am writing this post is simple.
I get to talk about Jamaica and #reggaesteem.
I get to let others know about a site where same like minds
share what interest them.
Cannot post a #jahm post without one
Here this:

Stay put!
---
Posted via ReggaeSteem | Reggae Culture Rewarded