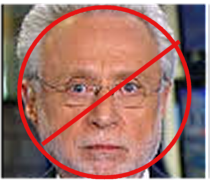 Thank God ESPN removed Robert Lee from broadcasting a University of Virginia football game. Poor guy, this Robert Lee, who has been disgraced by means of the name he's been saddled with from birth. Kudos to you ESPN!
I have found some other NAME offenders...
WOLF BLITZER. A name that is violent in nature, beginning with a dangerous animal, and then BLITZER! This name sounds nauseatingly-similar to BLITZKRIEG.
Only an vile, sick, war-monger would have a name like WOLF BLITZER! Personally, I'm offended, because it conjures up memories of Eddie Wolfgang Munster! Any self-respecting individual would have long-ago changed their name to something nicer, like Sven. CNN (the Criminal News Network) should remove this vile swamp-dwelling creature ASAP!
DON LEMON! There should be a "Lemon Law" against someone who has such a sour, vile-sounding name. And his head looks like a deformed lemon, which is a disgrace to oranges and other fruits world wide.
Rachel Maddow! MAD. What more needs to be said. A vile woman with a name that can literally make you MAD! Get her the hell off of the air!
Van Jones.... a disgrace to all motor vehicles. Anyone with a van should be given a ticket!
Joe Scarboroug - His last name is "SCAR BOROUGH" The definition of "Borough" is a self-governing walled town. So this punk's name literally means a town of Scars. And we know scars come from injuries. His name conjures up dreadful thoughts of injuries inflicted by sharp-bladed weapons and evil violence. In conclusion, JOE MUST GO!!!
There's a long list of many others - but lets start with these, and get them the hell off of the air! Only then can we start to make America Great Again!