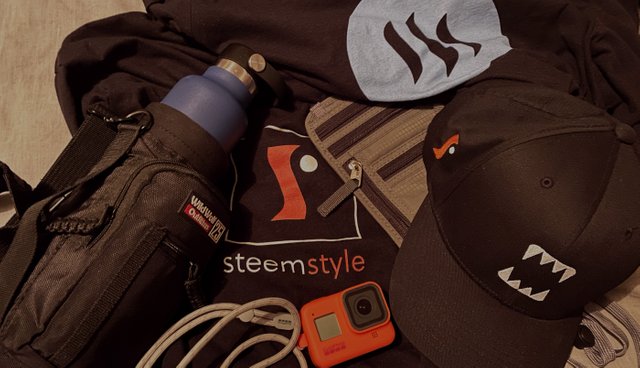 So my wife @raynie pointed out that we've neglected to participate in the #roadtosteemfest topic points. Apparently, every week there's a new topic to post about, all related to preparing for SteemFest. To learn more, check out this post from @anomadsoul:
https://steempeak.com/steemfest/@anomadsoul/the-road-to-steem-fest-or-catching-up
Thankfully, it sounds like there's an easy way to catch up! So that's what we're gonna do!
Since we're so far behind, we decided to each write up a post that entails all the topics thus far. I'm pretty sure her post will probably be more entertaining, so you might as well stop reading and go see what @raynie posted:
https://steempeak.com/roadtosteemfest/@raynie/road-to-steemfest-my-catching-up-post
You're still here? Alright, fine. Guess I better write more words then...
Planning, Wanting, Doubting
When the location for SteemFest was first announced, my wife and I looked at each other and went "Ooooooooo...!" What's funny is that you probably think that means we're cultured international travelers that were looking to scratch that part of the world off our bucket list.
Nope.
The truth is we love Thai food. So most of our motivation for going is to shovel Thai food in our mouth.
But as much as we like to eat Thai food, there were a lot of hurdles (financial and otherwise) that we needed to grapple with before we could make the commitment to travel to the other side of the world. Sometimes, it didn't seem like it was going to be possible.
But little by little, we paid for a reservation here and a ticket there. We chipped away at making the adventure a reality. It's hard to believe it's now literally days away!
Who Would You Like to Meet in Thailand?
All the speakers seem interesting. @aggroed and @travelgirl are fellow Splinterlands team members who will also be there. So that's cool. Maybe we can walk in slow motion together.
I'm looking forward to hangin' out with @andrarchy again.
I think @theycallmedan is supposed to be there. Maybe he can rub my belly with weight loss powder and make my fat go away. That would be cool. Particularly since I plan to eat so much. So maybe he should rub my belly AFTER I've eaten for several days. Smart!
Budgeting
We're gonna have to break ties with Amazon after this trip. They make buying stuff way too easy. I swear...you click the buy button on some cool, amazing thing, and suddenly there's a delivery guy knocking on the door!
Today, I got some immune system supplements (to ward off the malaria and typhoid fever and all that jazz) and a cool secret pocket thingy to hold money and stuff. My master plan is to have a different secret emergency stash located in almost every part of my body (no, not IN my body). If I get mugged, the thief would need to be exceptionally thorough to get everything.
Then again, would that make me a human piñata? Well, let's hope they don't play that game in Asia.
Funding
Gimme some upvotes, so I can buy more Thai Bubble Tea!
I'm gonna be slurping that stuff 24/7. Mmmmmmm...
The Thai Life
As much as I joke about the food, I think one of the primary motivations for making this trip happen is the sense of adventure. We haven't had many adventures, and this seemed like the perfect opportunity.
I'm really looking forward to exploring before and after the actual SteemFest days. I want to visit an island and hike through some forest. I want to feast with a monkey king and ride a magical elephant to the secret mountain of the coconut. Hopefully, they have that there.
Business or Pleasure?
BOTH!
But to be honest, the business is pleasure and vice-versa. I'm sure a lot of you would agree that if you're involved with a Steem project, it's equal parts business and pleasure.
I'm always working on Splinterlands. The wife and I are also running Steemstyle, a lifestyle brand for Steem.
The Actual Road
My wife is better at keeping track of this stuff.
What I know for sure is that we fly out from San Francisco. I think it's 19 hours of flying. We have a layover in China. Assuming we don't end up in a Chinese jail, we'll be in Thailand the next day and do a little sightseeing for a few days before SteemFest starts.
Three Truths and One Lie
I have six kids.
We keep the youngest kid on a leash.
I love onions on everything.
I'm an optimist.
Fears
My biggest fear is probably that I get bitten by a radioactive monkey and the resulting super power has something to do with throwing feces. It would really suck to finally get a super power, only to have it end up being weird or embarrassing. Or smelly.
Another big fear is that when I walk into SteemFest, everyone turns and laughs at me because I'm not wearing any pants.
Actually, speaking of fears...
My wife had the brilliant idea of finding movies about Thailand. She thought it would be an entertaining way to get the kids acclimated to the culture I suppose.
So what did my dear wife decide to show our children as a warm-up to the trip? Well, let's see. Over the past few months, she's had us watch:
The Beach. Leonardo DiCaprio visits an island in Thailand where he witnesses a guy get brutally attacked by a shark, he joins a cult-like group, goes insane, and is in constant danger of being killed by gun-toting drug dealers.
No Escape. Owen Wilson and his family run for their lives the entire movie, trying to stay one step ahead of the rebel uprising that is taking place in the country. All Americans are being brutally killed in retaliation against political policies.
The Impossible. Naomi Watts and Ewan McGregor take their family to Thailand for fun in the sun. Unfortunately, that's when the historic 2004 tsunami hit, killing like 230,000 people. Basically, it's a nightmare based on a true story.
Suffice it to say, our kids are now traumatized. I'm pretty sure they expect the entire trip to involve lots of screaming and running.
---
So in conclusion, Amazon made us broke, my wife is bonkers, my kids are scared, and this trip is gonna be awesome.
See ya there!