Hello dear Steemians and all beautiful Blockchain people!
As I have mentioned already a few times (probably) I am going to attend Steem Fest 4 that will take place in November 6-10 in Bangkok.
So, this is the Steemit account of Steem Fest: @steemfest, organized on an annual basis by @roelandp. And this is the official site of Steem Fest: https://steemfest.com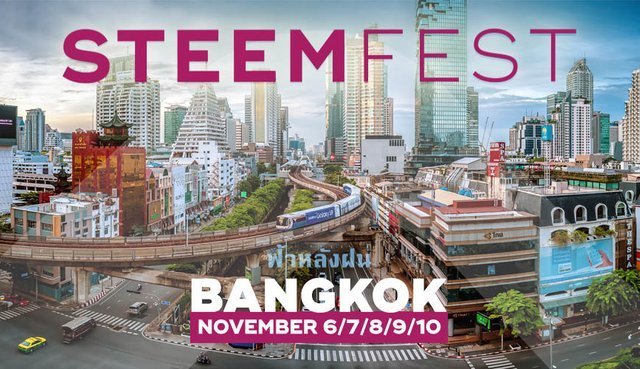 ---
In my previous post relating to Steem Fest I wrote about the Steemians who I would like to meet at the Steem Fest.
Now, let me tell you about my budgeting (the amount of money that I will need in order to be able to make it to Steem Fest 4 and to cover my expenses). Actually, I already wrote a very similar post before on this topic.
---
So, as I said before I expect to have approximately the following costs:
1) A hotel room. 250-260 SBD for accommodation/ a room in a hotel for 5-6 nights.
2) Plane tickets. Round trip from Europe to Bangkok. Approximately 550-600 SBD.
3) A ticket to Steem Fest!
4) Pocket money! In my view: 100-150 SBD for food, transfers, etc.
In total I will need minimum 900-1000 SBD and a ticket to Steem Fest.
---
Now let me tell you about my plans on financing my trip to Steem Fest and on how much I have saved so far ...
1 ) About the hotel.
In the first half of the year I was very active in Steem Blockchain! (Of course, I knew that I had to start to save money for Steem Fest in advance). So, I was able to earn some money just by steeming and in the spring I saved about 250 SBD. Of course I converted those 200-250 SBD into USD and have been keeping them on my bank account/card since April. By this bank card I booked almost 3 monthw ago a room in a hotel in Bangkok for 5 nights. So, I already saved money and booked a hotel in Bangkok.
As I said before I've booked a room in Prince Palace Hotel Bangkok on the site of https://www.agoda.com. I've chosen that hotel, because it is recommended on the site of https://steemfest.com: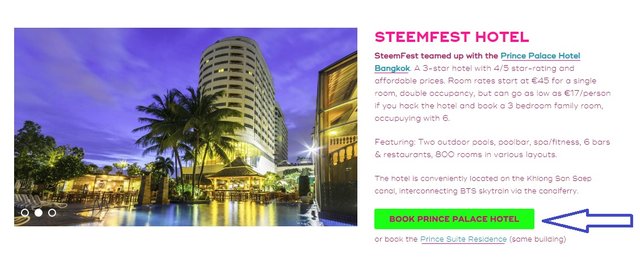 And, also, I would like to say that in this hotel there will be many Steemians, so it will be really fun to be there!
2 ) About the plane ticket.
As I said before, in my previous post, getting from Europe to Bangkok will not be cheap ... And I thought that I would be able to pay for the plane ticket by bonus (flight) miles that I have accumulated so far. But, unfortunately there has no been any good deals for flights in November from Europe to Bangkok for which I could pay by bonus (flight) miles. So, this is a big surprise to me!
That's why it seems that I will need to buy a flight ticket if I want to attend Steem Fest. And the prices for a round trip in November are not cheap. According to SkyScanner, the cheapest tickets are about 420-430 EUR (or approximately 550-600 SBD):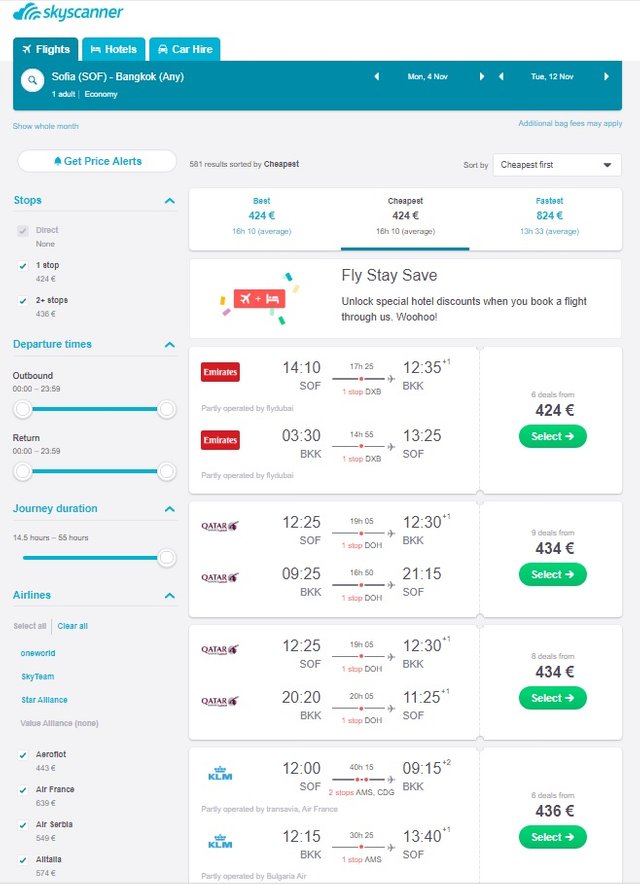 The problem is that it is too expensive for me, because I remained without a job at the beginning of the year and because of it I have moved back to my home country Bulgaria from Moscow, Russia. Now, this is the only costs that bother me. I still don't know if I will be able to find/save money for the flight ticket ... Let's see what will happen! There are still almost 3 months ahead!
Important!
Almost 2 months ago @gtg wrote a post about "Exclusive discounts (up to 15%) for flight tickets!" for Steemians who are going to attend Steem Fest in Bangkok.
Now, as I will have to buy a flight ticket, I will check all those discounts that @gtg and @steemfest mentioned in the post and it would be nice if I find a ticket that is cheaper than 400 EUR.
3) About the ticket to Steem Fest!
According to the official site of Steem Fest (https://www.steemfest.com), these are the prices of the tickets to Steem Fest: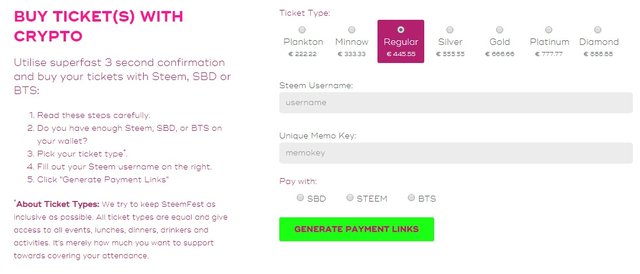 The cheapest ticket is 222.22 EUR. I have a bit over 1000 STEEM in one of my crypto accounts. I saved this money in May-June and prepared it for the ticket to Steem Fest. So, if I go to Steem Fest I will pay for the ticket by STEEM.
4 ) About the food (or pocket money)!
As I said before, last year at Steem Fest 3 in Kraków it was like "all-inclusive"! @roelandp organized the Steem Fest so well! In the price of ticket to Steem Fest was included almost everything! Everyday we had breakfast, lunch, dinner and in-between buffets (coffee breaks, etc.). There were a lot of food and it was so delicious. So, I hope this year will be the same. I say this, because I want to outline that a Steemian will not need a lot of money in Bangkok during the Steem Fest.
That's why I think I will need to have in my pocket about 150-200 SBD. I will need this money in case I have to pay for transport within the city, for some souvenirs, etc.
So, in order to save 150-200 SBD by the beginning of November, I am going to be very active on Steem Blockchain and to participate in almost all contest organized by @steemfest and promoted by @anomadsoul. I have so far in my Steem account a bit over 300 STEEM. So, I am sure I will be able to earn the rest on Steem Blockchain in the next 2-3 months ... The only problem for me (at the moment) is the flight ticket!
---
That's almost all I wanted to share about my budgeting for Steem Fest 4!
Fellows, if you are true cryptocurrency enthusiasts and devoted Steemians, do everything possible in order to attend Steem Fest 4! It will be something amazing! So hope to see you there!