English - German
Introduction
As described in the previous article, a shaman dies of a disease or is consumed by another shaman. However, the funeral process is basically the same. It consists of several phases that I would like to describe in this article.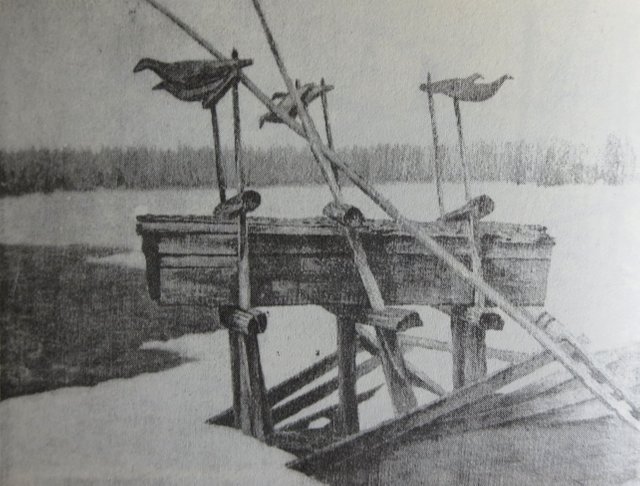 After death
Disassembly of the bed in which he died. In its place a felt is laid and the dead one is laid on it.
At the head end a candle is lit and the body covered with a cloth.
Relatives invite another shaman, who then determines the direction in which the soul went. There, a cloth is held and the evil spirits are caught in it.
The incense burner is lit: "All right, go there!" - says the shaman, as if he is talking to the deceased's spirit. And concerning the deceased's relatives, he asks, "Are your blood relatives in the place where the deceased's soul departed?"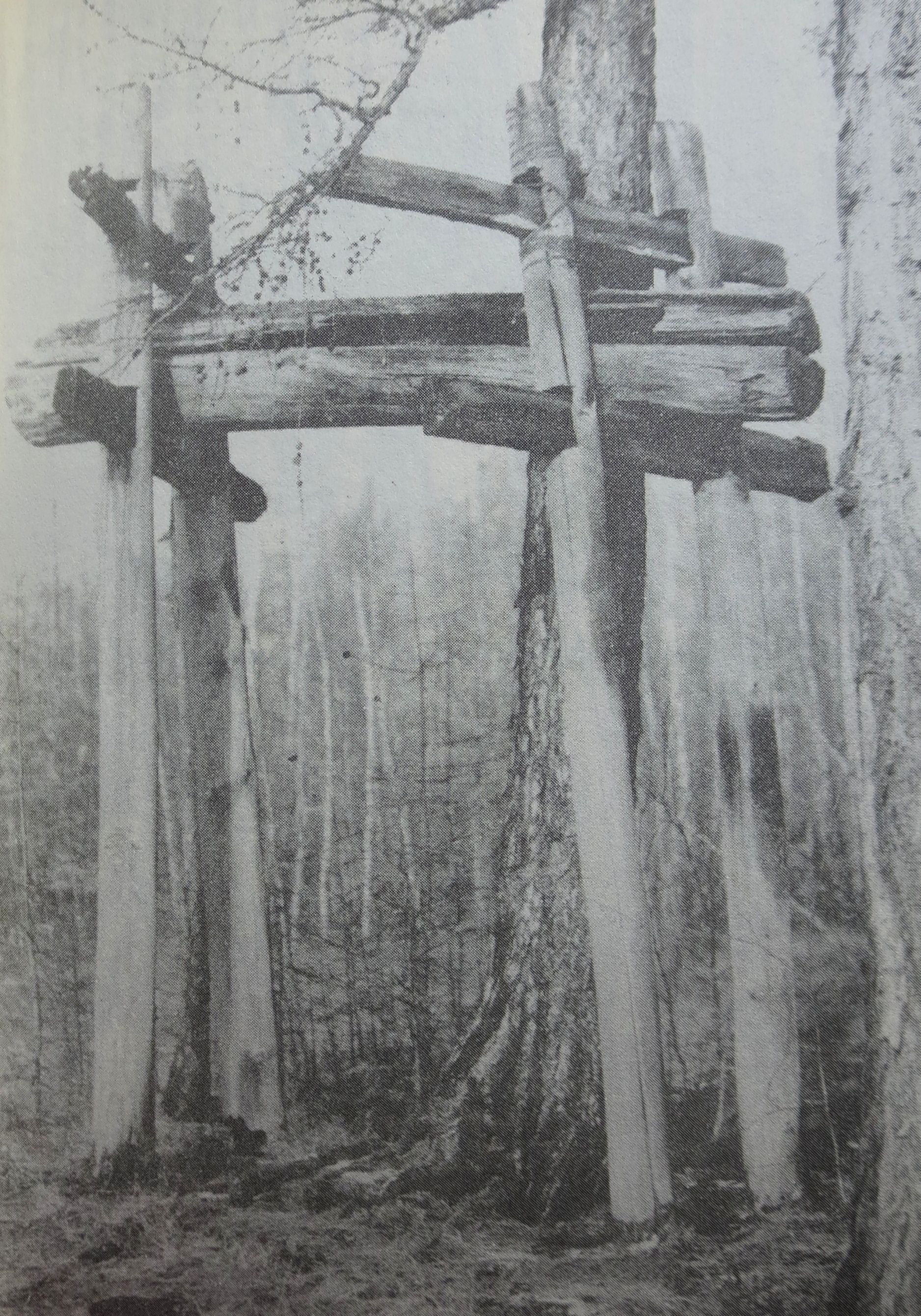 Tomb of a juvenile shaman
Choice of burial place
It is strictly forbidden to bury a shaman in the mountains. The best place is a cave or a steppe clearing. A place far from the tombs of ordinary people is chosen. At the chosen location relatives arranged a larch platform, put on the last clothes to the dead shaman, and things - tambourine and ereni (power objects) - were put on a stick next to the platform.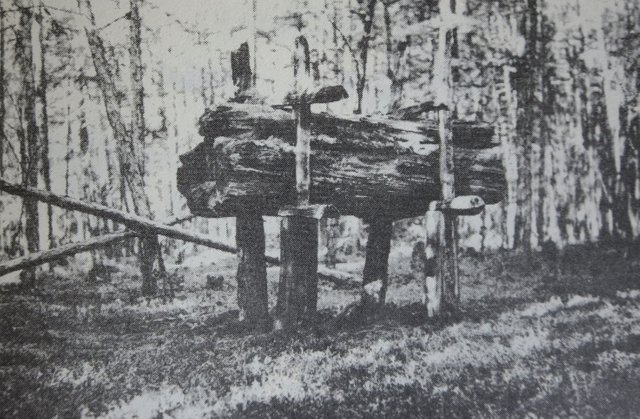 Funeral
Obligatory 3, 5, 7 and 9 persons participate in the burial of a shaman, that is an odd number of people whose number depends on the former strength of the deceased shaman. As a rule, participation in funerals of women and children of both sexes was prohibited.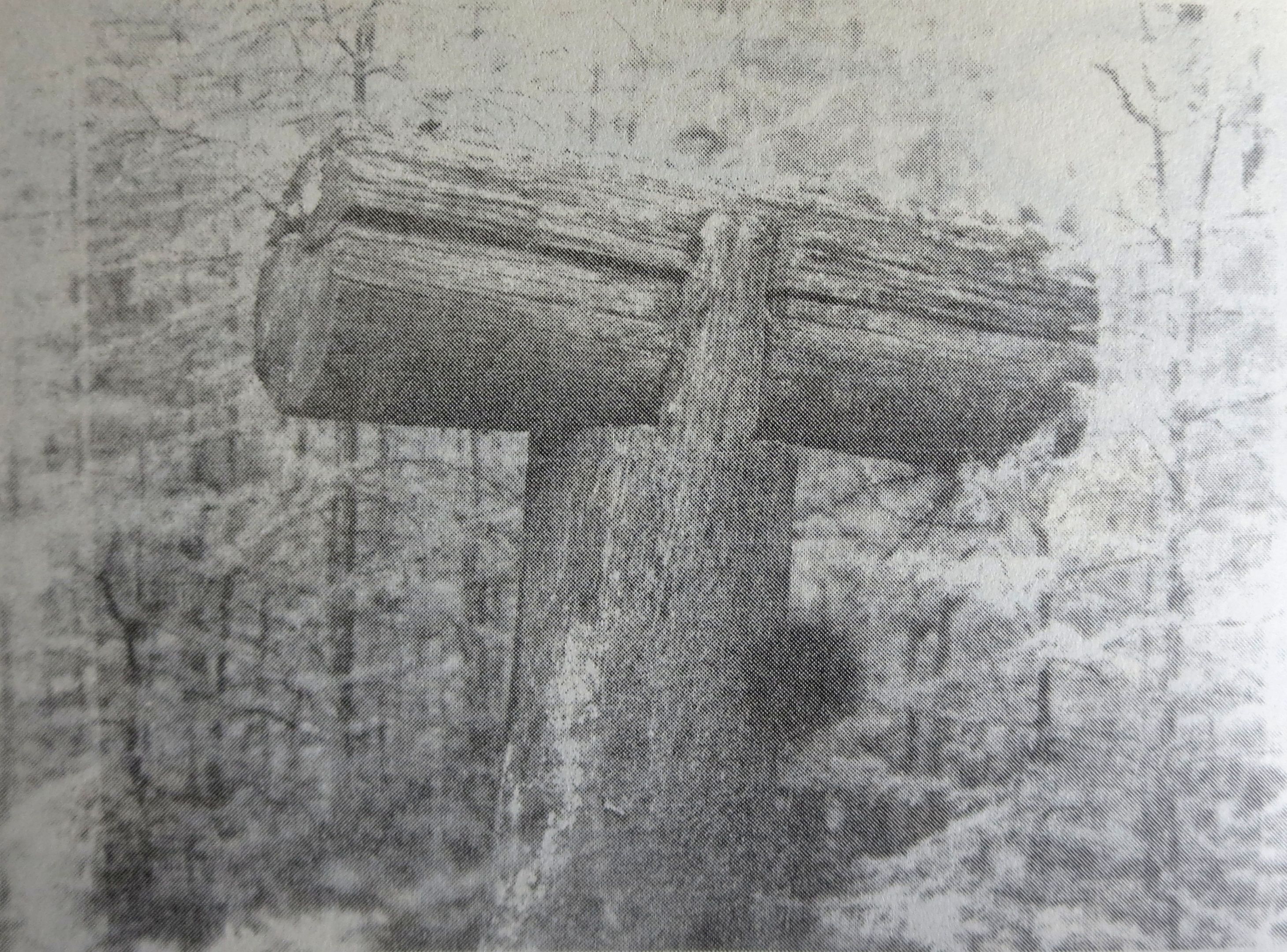 Coffin of a child
Air funeral
This characteristic type of burial is build with four columns on which a wooden coffin rests. All accessories of the shaman are hung on it.
Source
The information comes from the Russian book "Tuvan Shamans" by Kenin Lopsan, the living monument of the shamans. Photos from Yakutian sources by @schamangerbert.

Einleitung
Wie im vorherigen Artikel beschrieben stirbt ein Schamane an einer Krankheit oder er wird von einem anderen Schamanen aufgegessen. Der Beerdigungsprozess ist jedoch grundsätzlich der gleiche. Er besteht aus mehreren Phasen, die ich in diesem Artikel beschreiben möchte.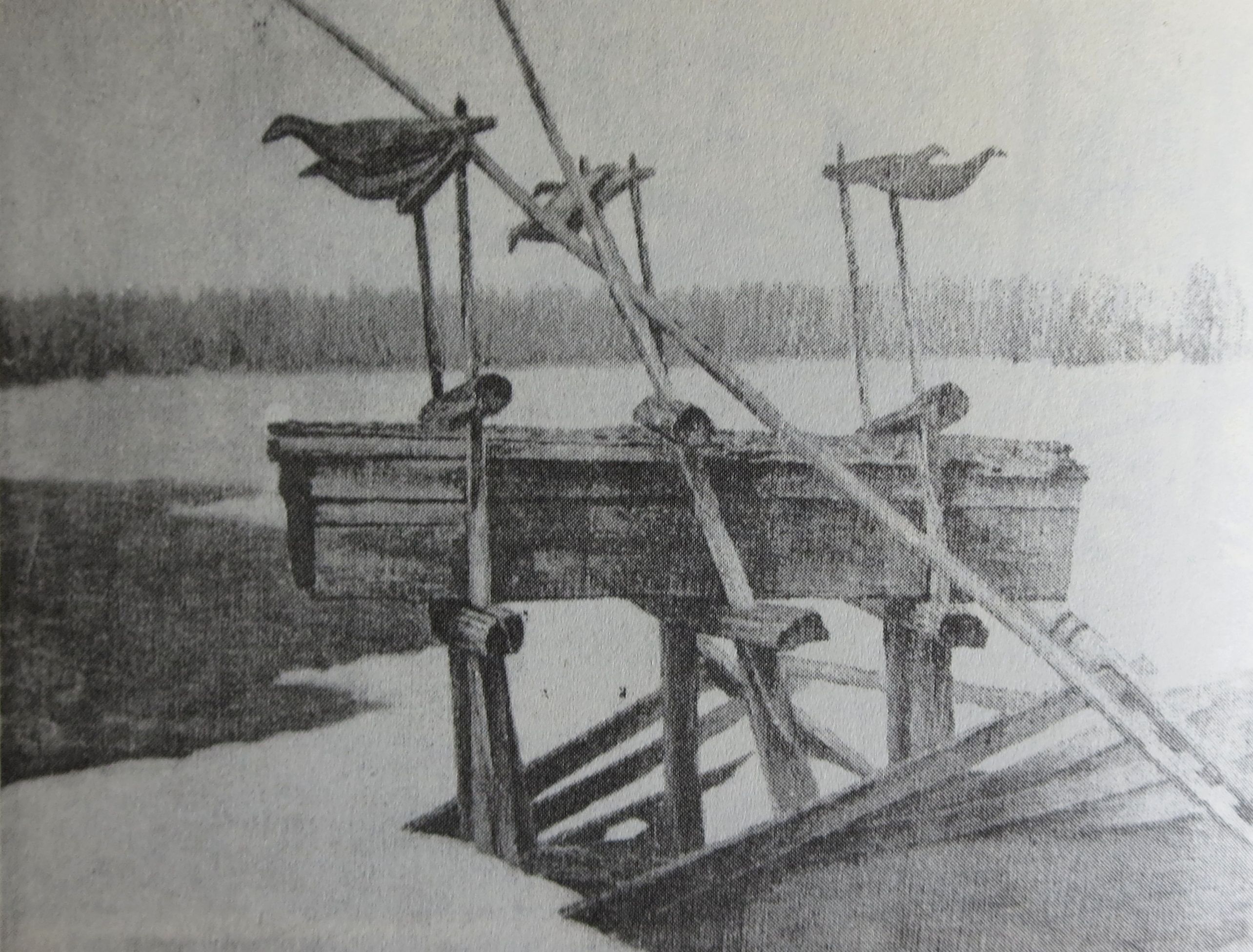 Nach dem Tod
Demontage des Bettes in dem er starb. An seine Stelle wird ein Filz gelegt und der Tote wird darauf gelegt.
Am Kopfende wird eine Kerze entzündet und der Körper mit einem Tuch bedeckt.
Verwandte laden einen anderen Schamanen ein, der bestimmt die Richtung in die die Seele gegangen ist. Dort wird dann ein Tuch gehalten und die bösen Geister werden darin gefangen.
Das Räuchergefäß wird entzündet: "In Ordnung. Na, geh dahin! "- sagt der Schamane, als würde er mit dem Geist des Verstorbenen sprechen. Und in Bezug auf die Verwandten des Verstorbenen fragt er: "Sind deine Blutsverwandten an dem Ort, wo die Seele des Verstorbenen fortgegangen ist?"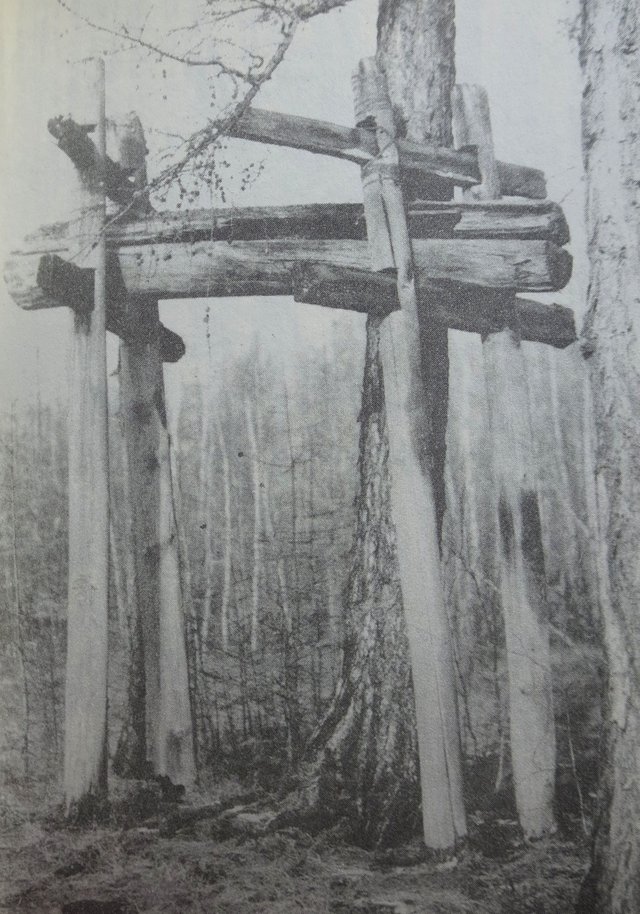 Grabstätte eines jugendlichen Schamanen
Wahl des Begräbnisplatzes
Es ist strengstens verboten, einen Schamanen in den Bergen zu begraben. Der beste Ort ist eine Höhle oder eine Steppenlichtung. Es wird ein Ort weit entfernt von den Grabstätten gewöhnlicher Menschen gewählt. An der gewählten Stelle arrangierten Verwandte eine Plattform aus Lärche, sie legten dem toten Schamanen seine letzte Kleidung an, und Dinge - Tamburin und Ereni (Kraftobjekte)- wurden auf einen Stock neben der Plattform gestellt.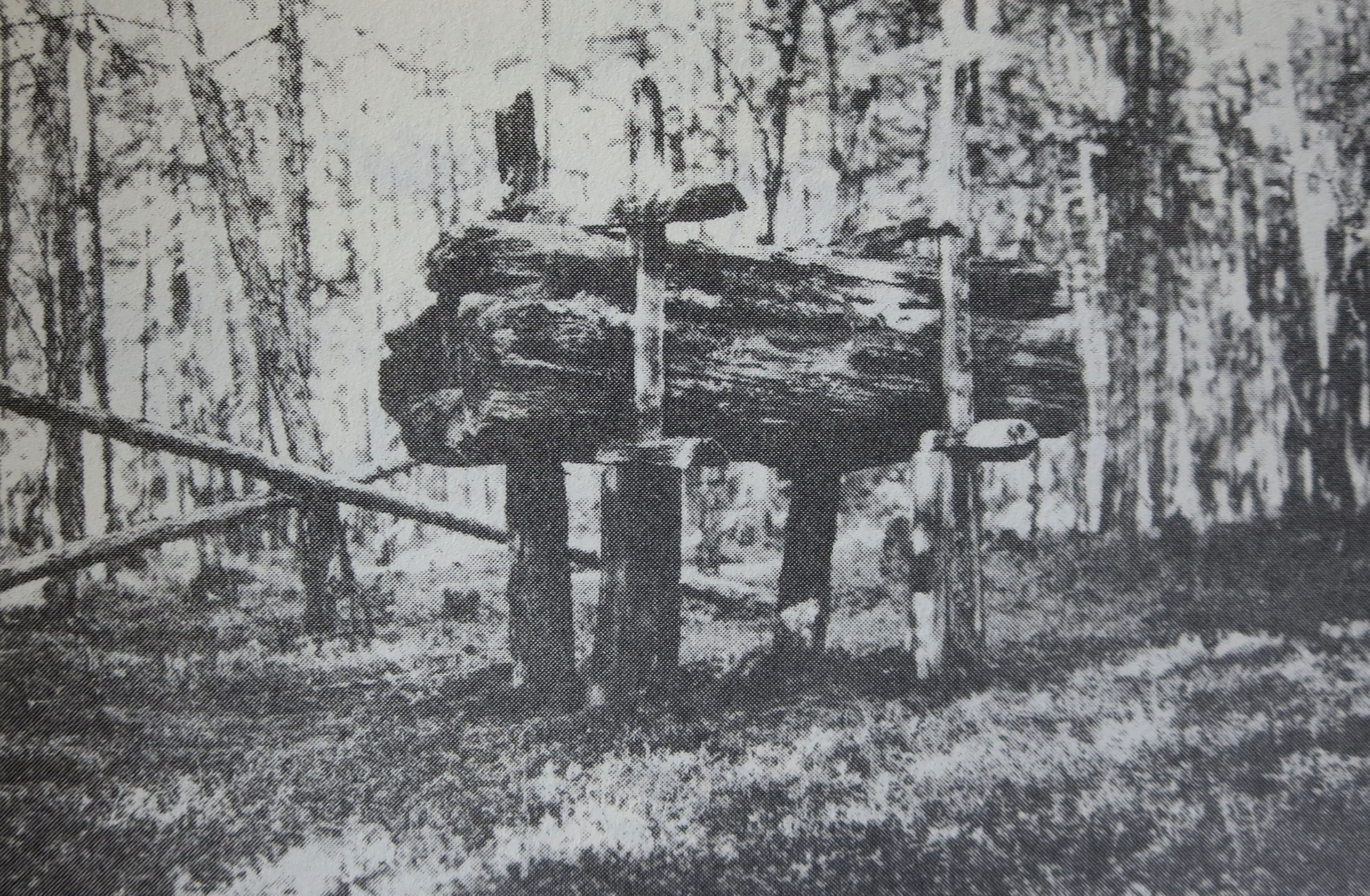 Begräbnis
Bei der Beerdigung eines Schamanen nehmen verpflichtende 3, 5, 7 und 9 Personen teil, das ist eine ungerade Anzahl von Menschen, deren Anzahl von der früheren Stärke des verstorbenen Schamanen abhängt. In der Regel war die Teilnahme an Beerdigungen von Frauen und Kindern beider Geschlechter verboten.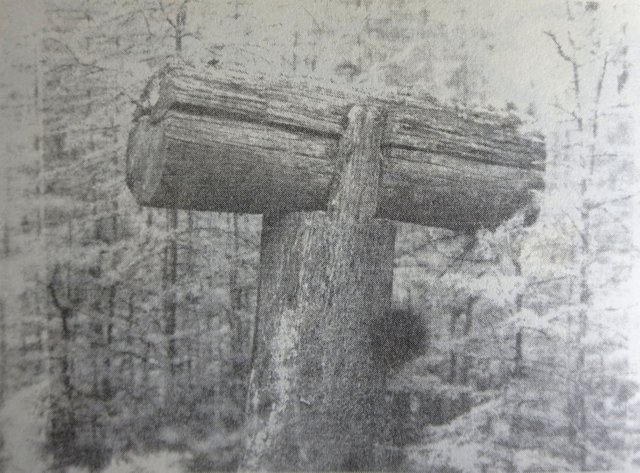 Sarg eines Kindes
Luftbestattung
Bei dieser charakteristischen Art der Bestattung handelt es sich um vier Säulen auf denen ein Holzsarg ruht. Alle Accessoires des Schamanen werden daran aufgehängt.
Quelle
Die Informationen stammen aus dem russischen Buch "Tuwinische Schamanen" von Kenin Lopsan, dem lebenden Denkmal der Schamanen. Fotos aus jakutischen Quellen von @schamangerbert.

See you next time! / Bis nächstes Mal!
Thank you for your attention! / Danke für Deine Aufmerksamkeit!
Original content by