English - German
Introduction
Each attribute of a shaman supports his own character, whether he is going on a long journey, fighting with the enemies of a patient's health, treating serious illness, or fighting the enemy shaman. For every shaman the mirror "Kuzungu" is the most important companion.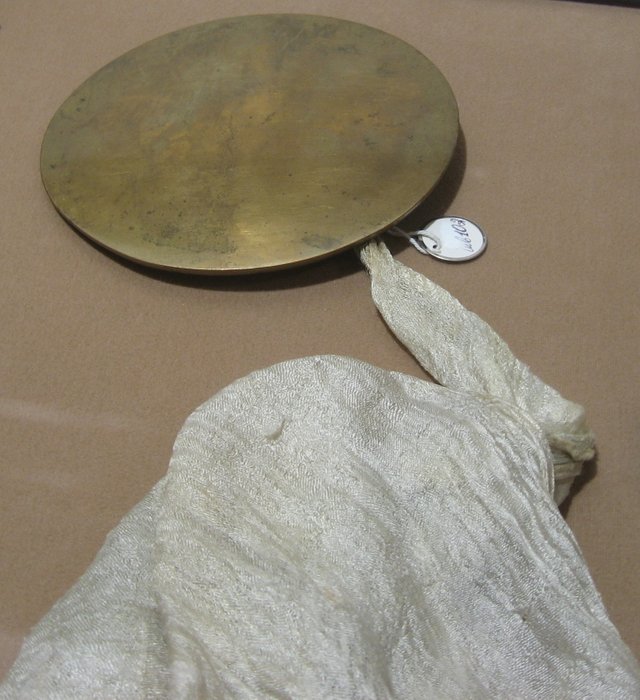 Invocation of the mirror
The shaman's spirits have the common understanding and ability to inaudibly play the voice of a person, birds, and other animals and spirits. There is a poetic dialogue between the shaman and the spirits. This dialogue reveals to the shaman the purpose of the evil spirit, the cause of illness or the future. Without this dialogue he can not do anything. In the following example the shaman refers to his main assistant, the mirror "Kuzungu":
Example 1
My mirror Kuzungu made of yellow copper,
He sank down from the yellow clouds,
He landed so fast,
With a stroke he broke the yellow stone.
My mirror Kuzungu made of red copper,
He fell from the red clouds.
He flew in a red light,
Destroyed a red stone in one fell swoop.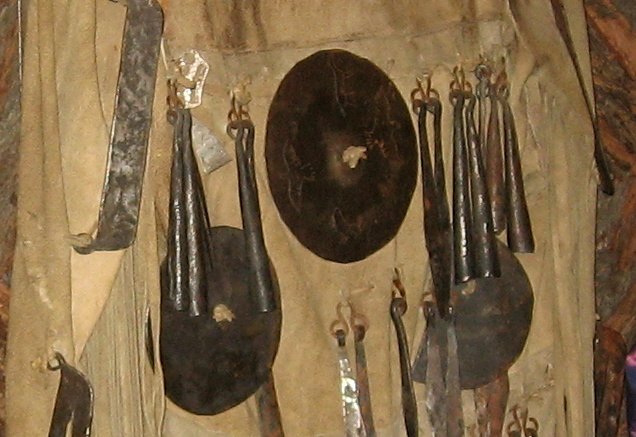 Example 2
Another song about how Kuzungu became a shaman's companion:
If I am invited,
I hold my kuzungu in my bosom.
When I'm in the Otherworld,
I wear my kuzungu on my belt.

Meaning
Here the shaman poetizes his invocation clearly. First, the idol Kuzungu is never a gift of the devil, second, it is a godsend, and third, Kuzungu is from bronze. The power of the shaman is determined by the large number of his idoles. This assumption is supported by scientists who have discovered and described 17 different idols.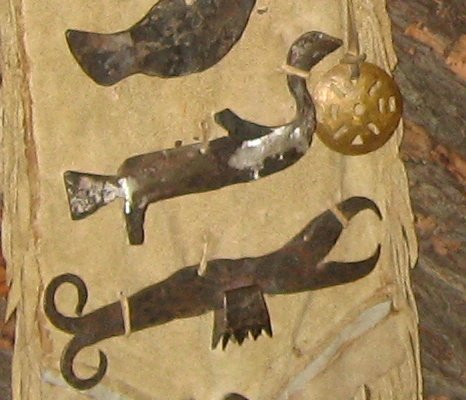 Source
The information comes from the Russian book "Tuvan Shamans" by Kenin Lopsan, the living monument of the shamans, they have been translated by me and edited so that it is understandable. Photos by @schamangerbert from the National Museum of Tuva and the ethno village in Yakutsk.

Einleitung
Jedes Attribut eines Schamanen unterstützt seinen eigenen Charakter, ob er auf eine lange Reise geht, mit den Feinden der Gesundheit eines Patienten kämpft, bei der Behandlung von schweren Krankheiten oder wenn er den Kampf gegen den feindlichen Schamanen führt. Für jeden Schamanen ist der Spiegel "Kuzungu" der wichtigste Begleiter.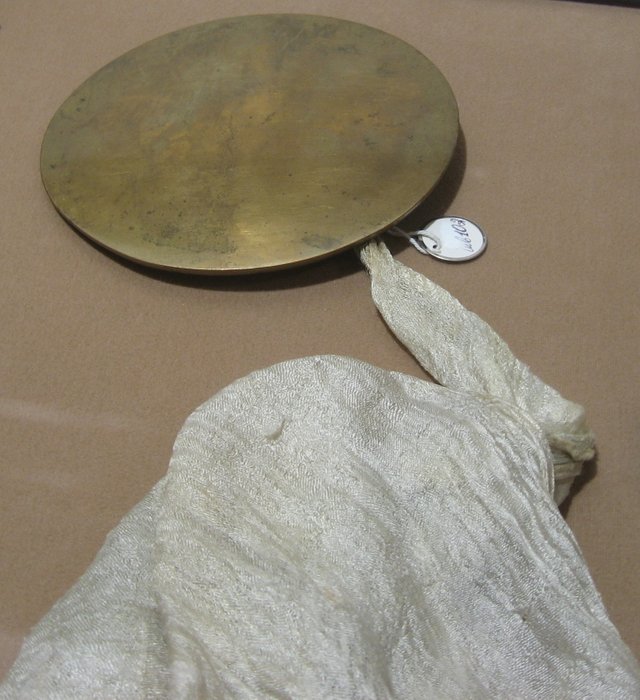 Anrufung des Spiegels
Die Geister des Schamanen besitzen das allgemeine Verständnis und die Fähigkeit die Stimme einer Person, der Vögel und anderer Tiere und Geister unhörbar zu spielen. Zwischen dem Schamanen und den Geistern findet ein poetischer Dialog statt. Dieser Dialog offenbart dem Schamanen die Absicht des bösen Geistes, die Ursache für Krankheit oder die Zukunft. Ohne diesen Dialog kann er nichts ausrichten. Im folgenden Beispiel bezieht sich der Schamane auf seinen Hauptgehilfen, den Spiegel "Kuzungu":
Beispiel 1
Mein Spiegel Kuzungu aus gelbem Kupfer,
Er sank von den gelben Wolken herab,
Er ist so schnell gelandet, -
Mit einem Schlag brach er den gelben Stein.
Mein Spiegel Kuzungu aus rotem Kupfer,
Er fiel von den roten Wolken.
Er flog in einem roten Licht, -
Einen roten Stein mit einem Schlag zerstört.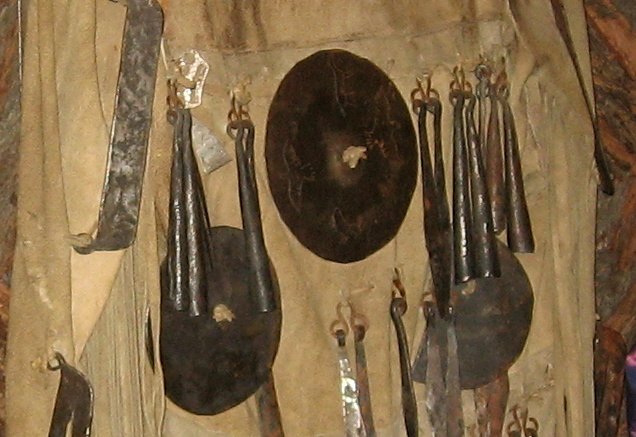 Beispiel 2
Ein anderes Lied darüber, wie Kuzungu ein Gefährte des Schamanen wurde:
Wenn ich eingeladen werde,
halte ich meinen Kuzungu in meinem Busen.
Wenn ich in der Anderwelt bin,
trage ich meinen Kuzungu am Gürtel.

Bedeutung
Hier poetisiert der Schamane seine Anrufung eindeutig. Zum einen ist das Idol Kuzungu nie ein Geschenk der Teufel, zweitens ist er ein Geschenk des Himmels, und drittens ist Kuzungu aus Bronze. Die Größe des Schamanen wird durch die große Anzahl seiner Idole bestimmt. Diese Annahme wird durch Wissenschaftler unterstützt, die 17 verschiedene Idole entdeckt und beschrieben haben.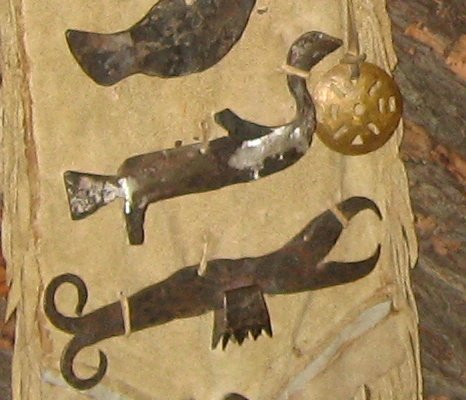 Quelle
Die Informationen stammen aus dem russischen Buch "Tuwinische Schamanen" von Kenin Lopsan, dem lebenden Denkmal der Schamanen, es wurden von mir übersetzt und soweit bearbeitet dass es verständlich wird. Fotos von @schamangerbert aus dem Nationalmuseum von Tuva und dem Ethnodorf in Jakutsk.

See you next time! / Bis nächstes Mal!
Thank you for your attention! / Danke für Deine Aufmerksamkeit!
Original content by