English - German
Introduction
The third part of the attributes is dedicated to the costume of the shaman. As in the previous articles, I put the emphasis on the invocation, since the description of the individual elements attached to the cloak has already been extensively set forth by many researchers. The term shaman is used by me only in the male form, but this is only a simplification. Udagan is the name for the women, the term shamanka (as in Russian), is used only by foreigners. In countries like Korea, the proportion of women is 90%, in Tuva about 40%, in Yakutia 60%.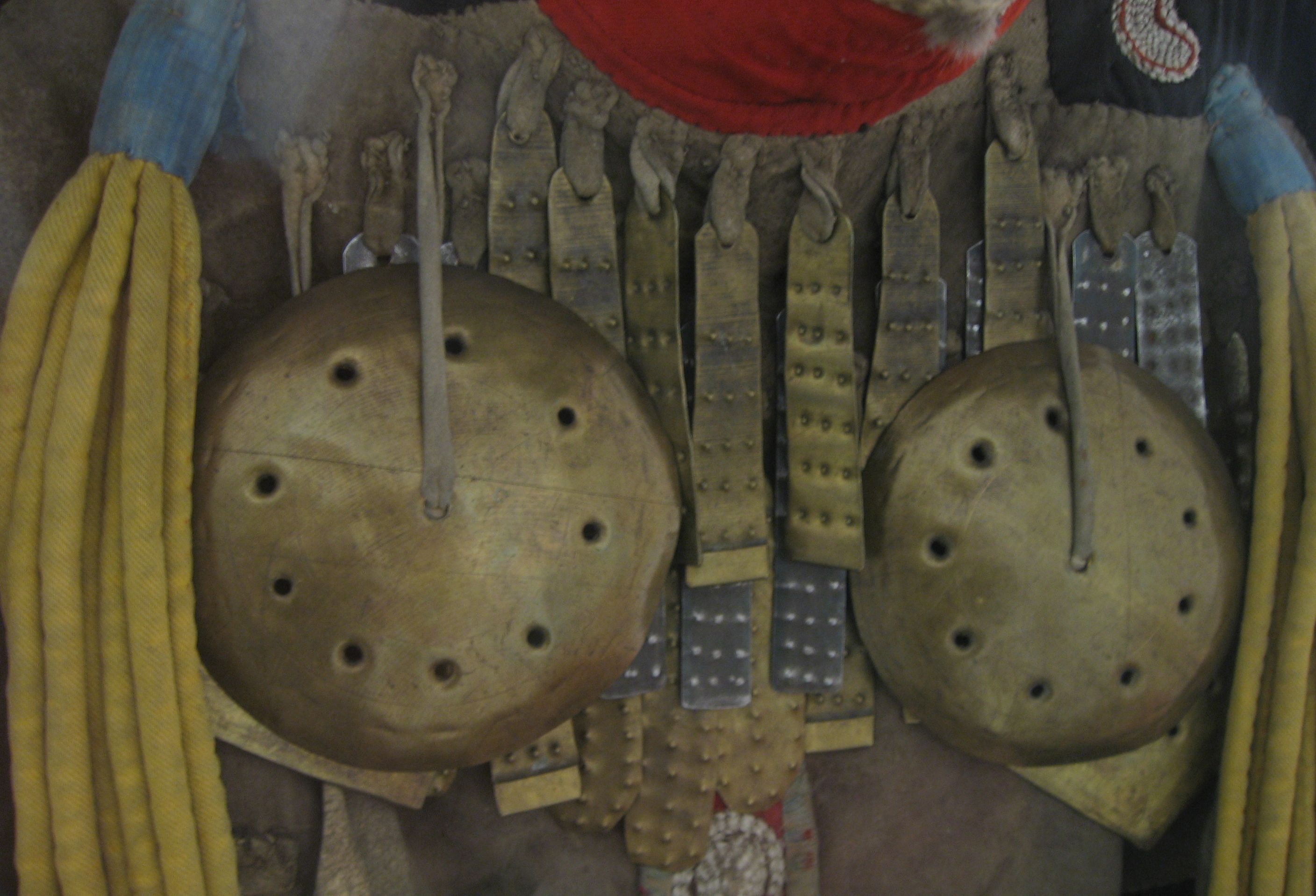 The cape for the ritual
The songs about the shaman coat are very rare. Apparently, the fact of spectacular impact on patients is far more important than the psychological impact. The cloak plays the role of armor, protection and disguise. The shaman thus protects itself against the "poisonous bullets" of the enemies. Every part attached to it has a meaning. The shaman is proud of all the idols attached to it and gives him the certainty that he has nothing to fear.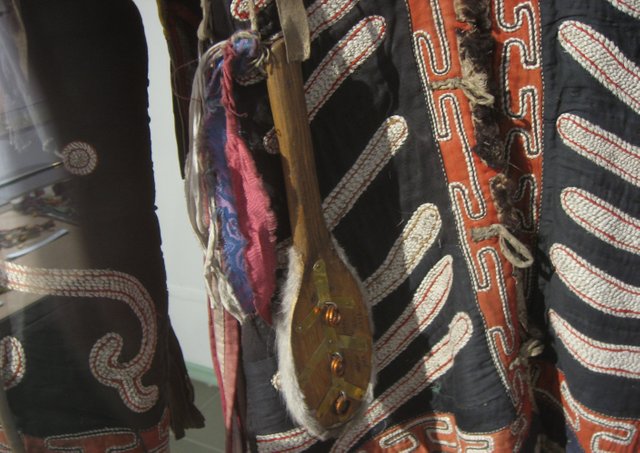 Let's look at an example:
When I had a ghost shield,
I walked around like a breeze.
When I had a manchak fin,
I flew like a winged bird.
I held my reins
the serpent stitched to a pattern.
I have the idol
hanged in the side with a black spot.
In these lines of poetry the power of the ritual costume is expressed. The idols serve as shields for defense. The image system is very simple but expressive. The transformation into a wind or a bird shows the subservience of the normal reality. A thread becomes the skin of the serpent, in his hand to reins over the beast.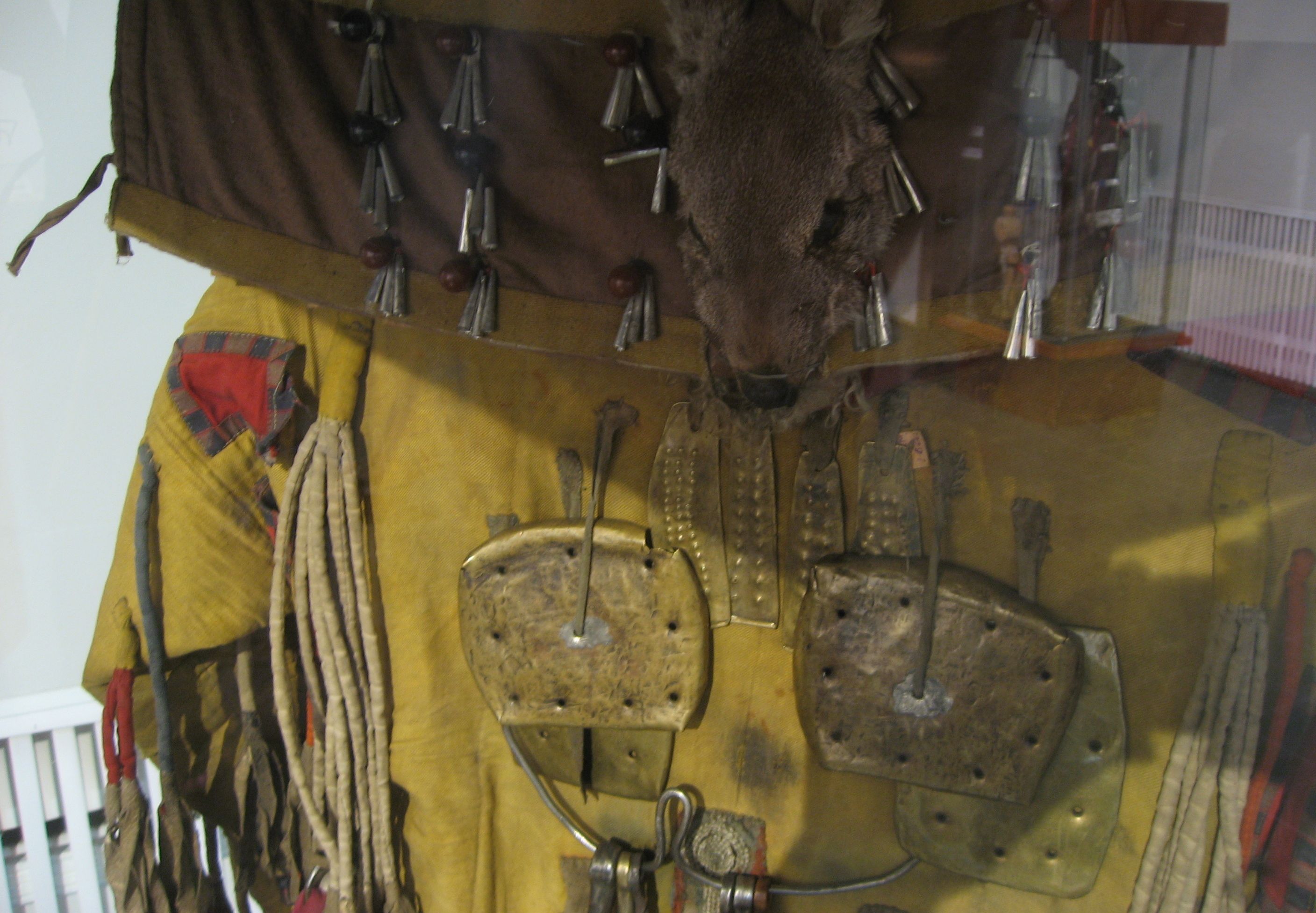 Source
The information comes from the Russian book "Tuvan Shamans" by Kenin Lopsan, the living monument of the shamans, they have been translated by me and edited so that it is understandable. Photos by @schamangerbert from the National Museum of Tuva.

Einleitung
Der dritte Teil der Attribute widmet sich dem Umhang der Schamanen. Wie in den vorherigen Artikeln lege ich den Schwerpunkt auf die Anrufung, da die Beschreibung der einzelnen Elemente die am Umhang befestigt sind bereits ausführlich von vielen Forschern dargelegt wurde. Der Ausdruck Schamane wird von mir immer nur in der männlichen Form verwendet, das soll aber nur eine Vereinfachung sein. Udagan ist die Bezeichnung für die Frauen, der Begriff Schamanin, schamanka auf russisch, wird nur von Ausländern benutzt. In Ländern wie Korea ist der Frauenanteil bei 90%, in Tuva bei etwa 40%, in Jakutien bei 60%.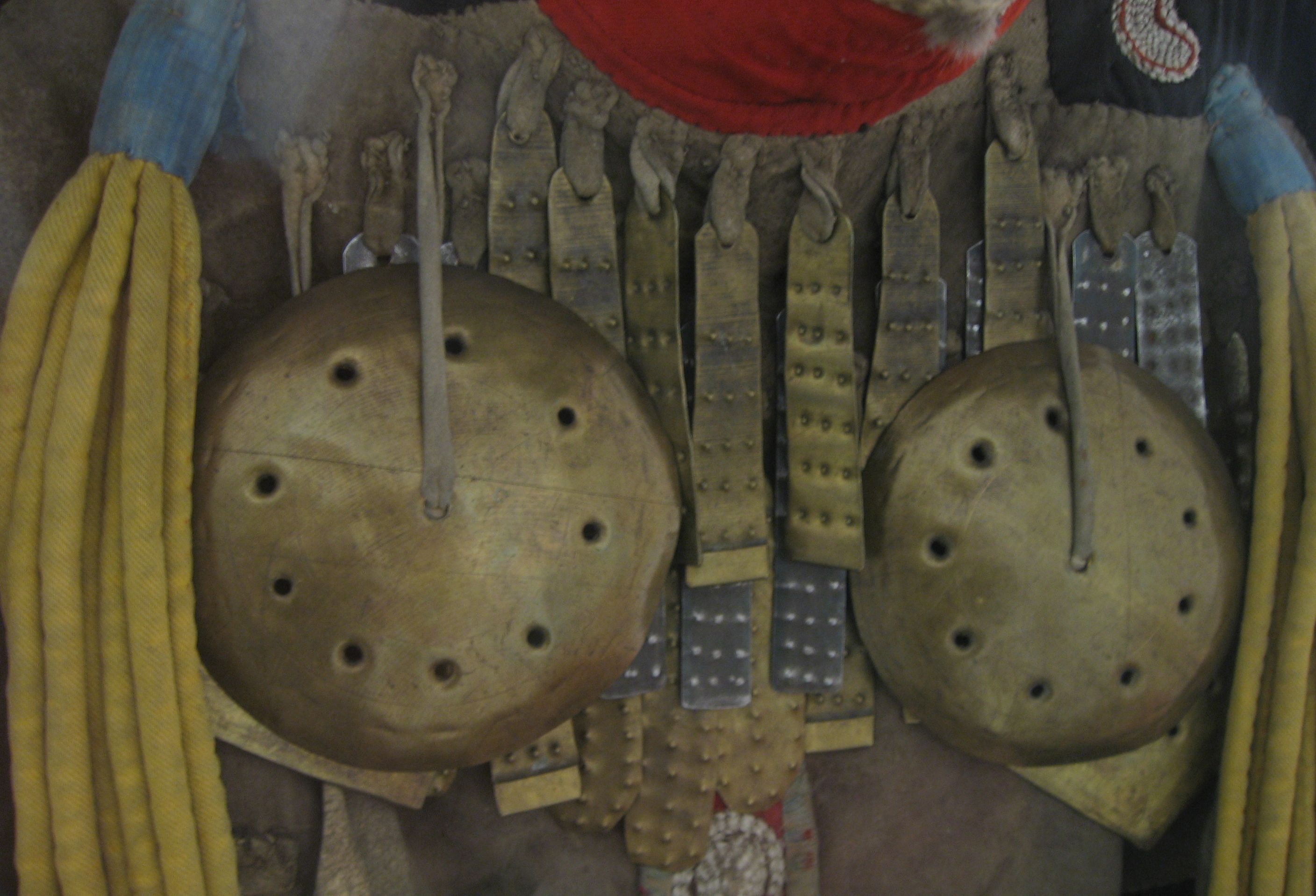 Der Umhang für das Ritual
Die Lieder über den Schamanenmantel sind sehr selten. Anscheinend ist die Tatsache der spektakulären Wirkung auf die Patienten weitaus wichtiger als die psychologische Auswirkung. Der Umhang spielt die Rolle der Rüstung, des Schutzes und der Verkleidung. Der Schamane schützt sich damit selbst gegen die "giftigen Kugeln" der Feinde. Jedes daran befestigte Teil hat eine Bedeutung. Der Schamane ist stolz auf alle Idole die daran befestigt sind und geben ihm die Sicherheit dass er nichts zu befürchten hat.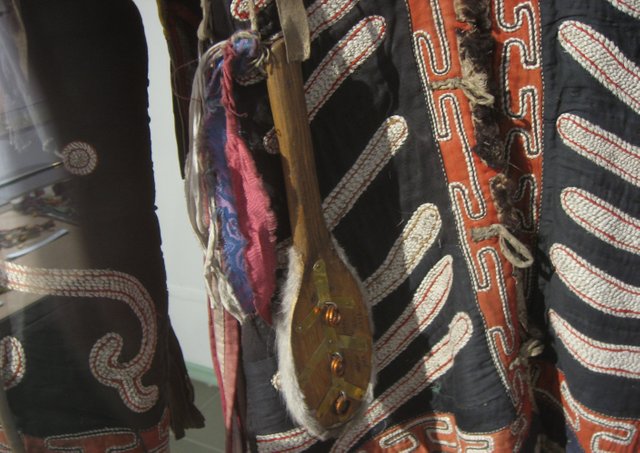 Schauen wir uns ein Beispiel an:
Als ich ein Geisterschild hatte,
ging ich umher wie eine Brise,
Als ich eine Manchakflosse hatte,
flog ich wie ein geflügelter Vogel.
Ich hielt meine Zügel
die zu einem Muster vernähte Schlange.
Ich habe das Idol
mit einem schwarzen Fleck in die Seite gehängt.
In diesen Zeilen der Poesie drückt sich die mächtige Kraft des rituellen Kostüms aus. Die Idole dienen der Verteidigung wie Schilde. Das Bildsystem ist sehr einfach aber ausdrucksstark. Die Verwandlung in einen Wind oder einen Vogel zeigt die Unterwürfigkeit der normalen Realität. Ein Faden wird zur Haut der Schlange, in seiner Hand zum Zügel über die Bestie.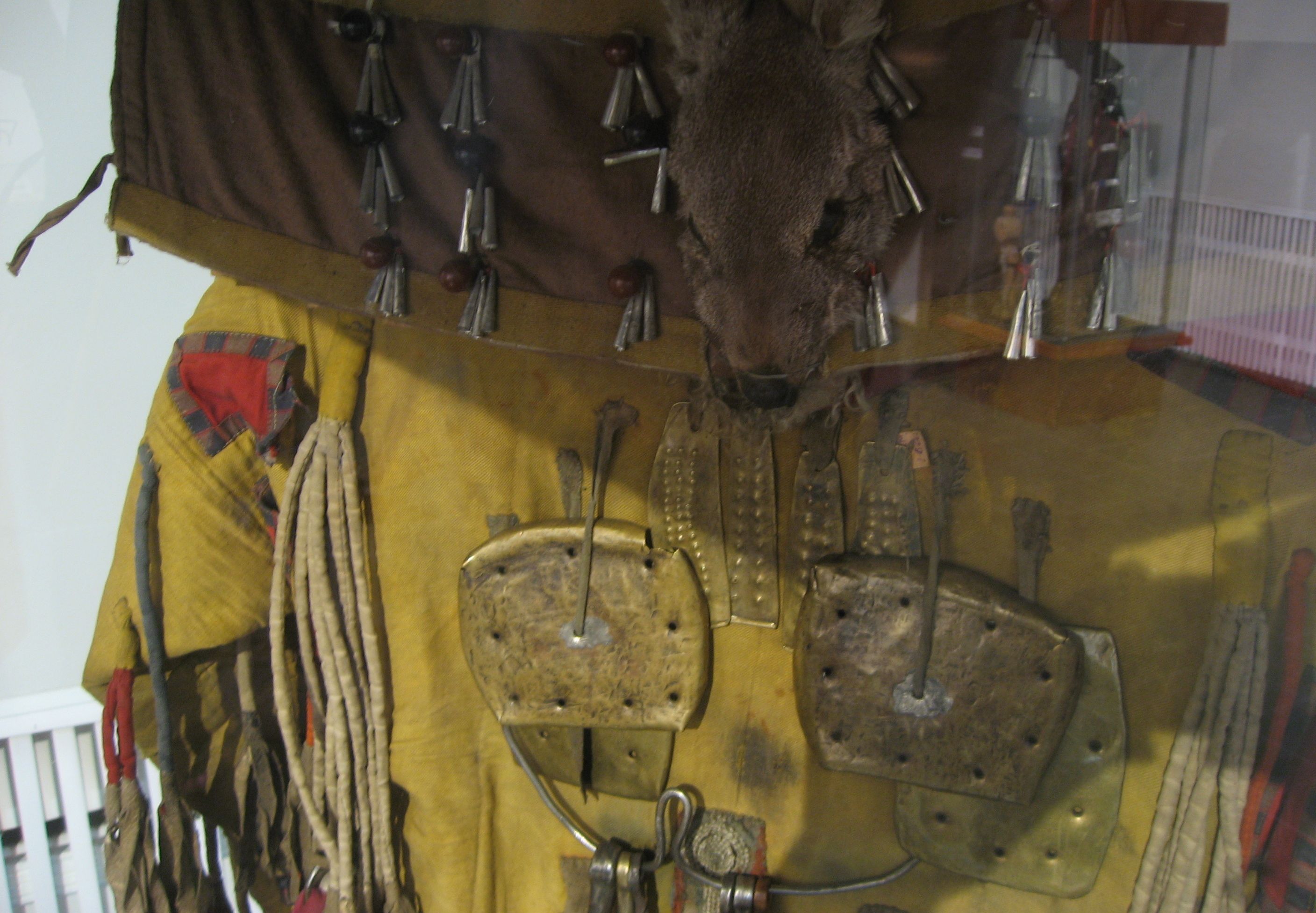 Quelle
Die Informationen stammen aus dem russischen Buch "Tuwinische Schamanen" von Kenin Lopsan, dem lebenden Denkmal der Schamanen, es wurden von mir übersetzt und soweit bearbeitet dass es verständlich wird. Fotos von @schamangerbert aus dem Nationalmuseum von Tuva.

See you next time! / Bis nächstes Mal!
Thank you for your attention! / Danke für Deine Aufmerksamkeit!
Original content by