Ripple Reviews: XRP / USD Technical Analysis
#XRP continues to decline.
The nightmare may not be over for XRP, which has dropped from the third largest cryptocurrency ranking to the seventh cryptocurrency ranking by total market capitalization. XRP, which went below the $ 0.50 line with the sharp decline in the Bitcoin (BTC) price, thus left behind the dreams of staying above the $ 0.60 resistance in the short term.
🔴Will You Buy Ripple?🔴
The $ 6 billion trade volume of the XRP price in the last 24 hours shows that the interest has been gradually lost and both the buying and selling pressure has stopped. Looking at the XRP / USD technical analysis, it is seen that the XRP price reached $ 0.685, which corresponds to the 1.272 Fibonacci retracement level and did not get approval from there.
XRP, which adapted to the downtrend that started on Monday, fell to $ 0.36 on some exchanges. It can be said that XRP, which is trying to hold on the $ 0.40 band as of the time this article was written, is actually in a better position than yesterday. The downtrend for XRP price continues, and closing below $ 0.45 could lead to a return to yesterday's position.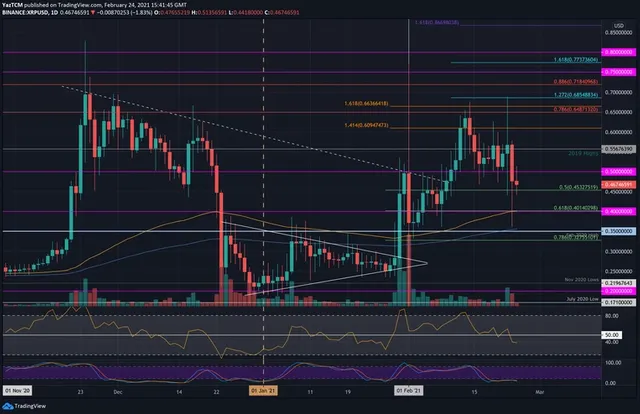 XRP / USD is critical at $ 0.35, which corresponds to $ 0.40, $ 0.36 and the 200 EMA after the $ 0.45 support, according to short-term technical analysis. If the price is stuck below the $ 0.35 and $ 0.372 levels again, its rise may not be as easy as a month ago.
On the other hand, the probability of the XRP price to recover is above $ 0.5. Breaking the $ 0.5 resistance will soon lead to a rise to $ 0.556, from there to $ 0.65 and the .786 Fibo level to $ 0.65. After that, it is seen that the resistances to the record are at $ 0.685 and $ 0.718.
🔴XRP / USD Technical Analysis🔴
In the first hearing of the case, which took place on February 22, the answers expected by XRP investors did not come. This caused the XRP price, which had risen before the hearing, to bottom again with the void of expectations.
The only issue that XRP investors are currently relying on is the recovery of the leading cryptocurrency Bitcoin and the market's overall altcoin rally. While the XRP price is still holding its value somewhat against the US Dollar, the situation in the XRP / BTC trading pair has not gone unnoticed.
Note: The information, comments and evaluations contained here are NOT covered by Investment Consultancy