October 18, 2019 West Chester East at West Chester Rustin Football Game - Senior Night for Rustin!
Summary: On October 18, the Vikings from West Chester East high school came to Rustin for the Golden Knights' last regular season home football game of the year. As an intra-school district rivalry, this game is always exciting. The night was also Rustin's "Senior Night" where 12th grade members of the marching band, cheerleading squad, and football team were recognized. This post contains a photo-essay from the night.
---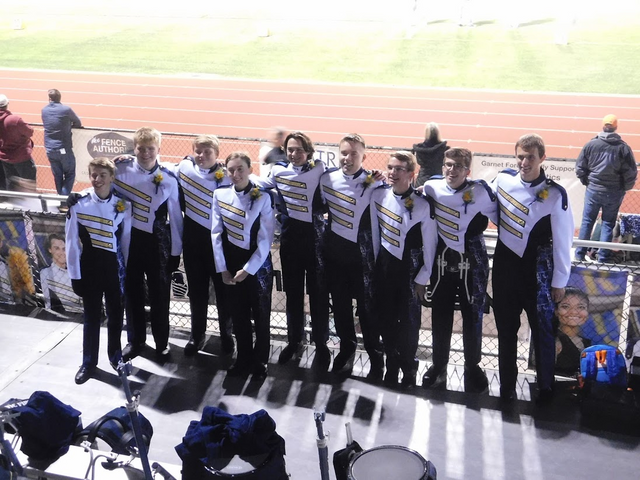 Original photo of some of the bands' seniors taken by @remlaps
---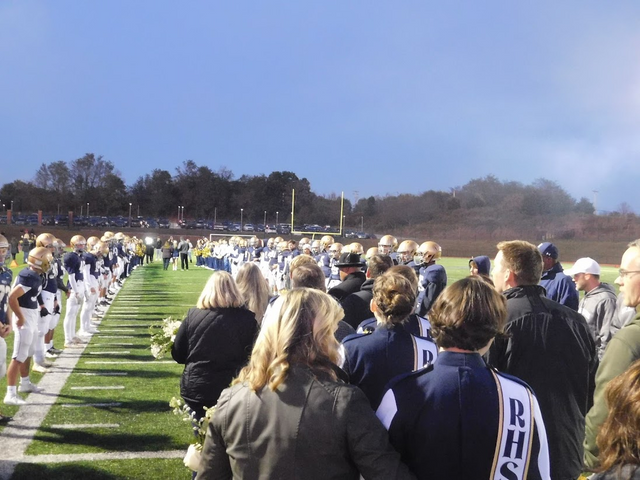 Here's what the reception line looked like from a participant's viewpoint - Original photo by @remlaps
The schedule for the game activities was quite irregular because of senior night activities. During pre-game, 12th grade students from the marching band, cheerleading squad, and football teams were called to the field with their parents in order to be recognized and photographed. For this parent, it was a strange feeling to realize that this weekly tradition is coming to an end after four years of coming to these games with the marching band on Fridays.
Because of these Senior Night recognitions, it was not possible for a band to play a pre-game show, so the Rustin dance team and the visiting band, from West Chester East, both performed during half time, then Rustin's marching band performed to a small audience of die-hards at the end of the football game.
I'm late posting this, so I'm already starting to forget the details of the football game, but it was a heart-breaker for Rustin.
West Chester East pulled ahead by a score of 7-0 in the first quarter, and Rustin had a chance to tie it up just before the end of the first half. In my opinion, Rustin ran the ball across the goal line, but the officials on the field ruled otherwise and a player from East emerged from a big pile-up with the ball. After that, there was a major momentum shift, with East scoring two unanswered touchdowns in the 3rd quarter. In the fourth quarter, Rustin got some momentum back with a single touchdown, and a chance for a 2nd with a near-goal-line series of downs, but they couldn't convert that into a score, and East iced the game with yet another touchdown.
Maybe it was due to cold weather, but for whatever the reason, Rustin was also plagued by repeated turnovers and penalties, and the game ended with East winning by a score of 27-7.
---
Here is the box score
---
| Team | Location | Name | Q1 | Q2 | 1st Half | Q3 | Q4 | 2nd Half | Final |
| --- | --- | --- | --- | --- | --- | --- | --- | --- | --- |
| East | Visitor | Vikings | 7 | 0 | 7 | 14 | 6 | 20 | 27 |
| Rustin | Home | Golden Knights | 0 | 0 | 0 | 0 | 7 | 7 | 7 |
The remainder of this post will contain a photo-essay from the game. If you're viewing this in steempeak.com, you can click on photos to make them larger. On other platforms, you might have to open them in new tabs.
Unless otherwise noted, all images are original photos that were taken by @remlaps.

---
Senior Night
Here are some photos of various aspects of recognition of senior class members.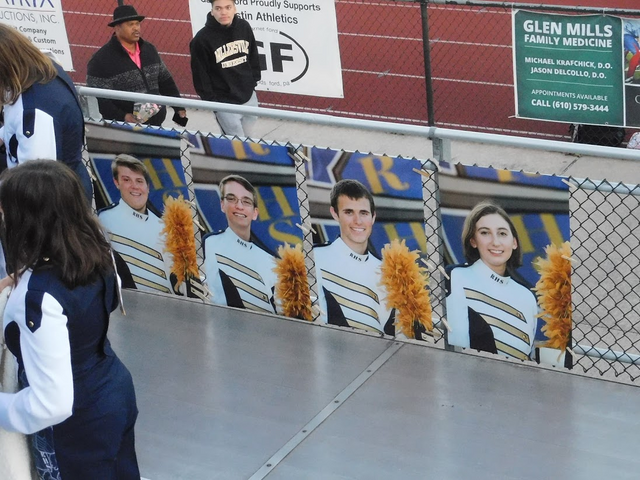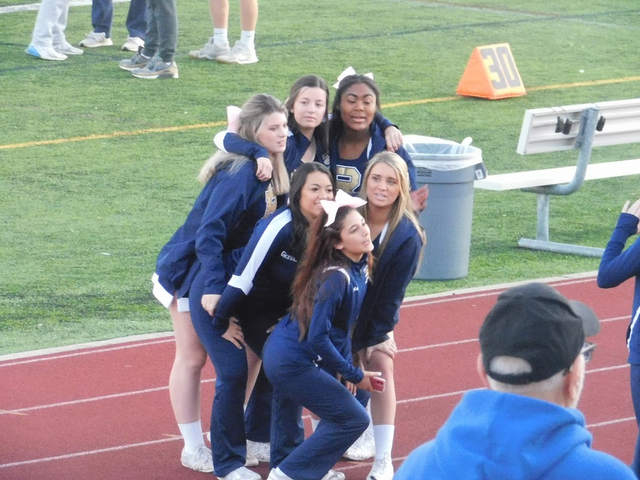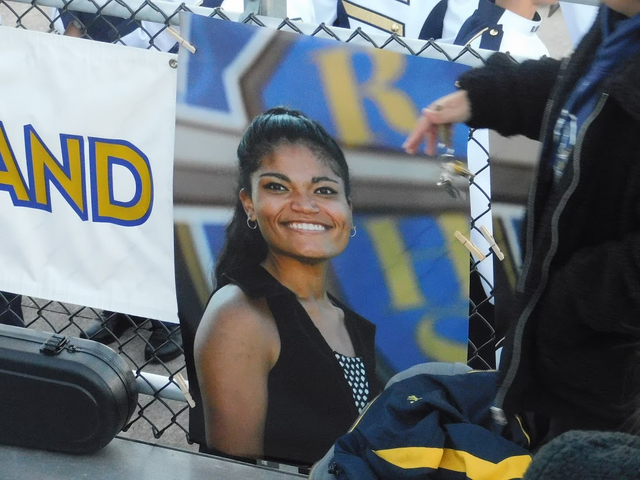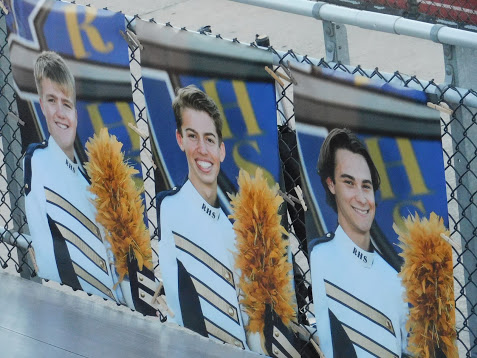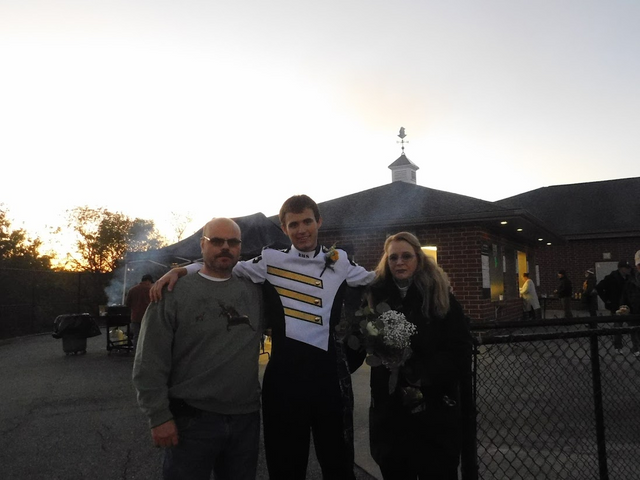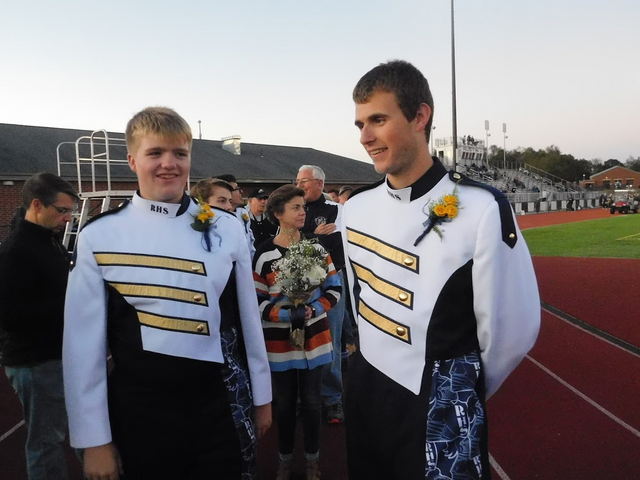 ---
Football
I'd like to say that Rustin lost because of the blown touch-down call just before half time (not to mention some questionable calls later in the game), but that's only part of the picture. In the second half, continued penalties and turnovers made it hard for the team to recover. And Rustin's defense had particular difficulty stopping East's #2 throughout much of the third and fourth quarters. Additionally, East did a good job of shutting down the running threats from Rustin's #8 and #21 for most of the game. On this particular night, East might have had some tailwinds from the officiating, but they also played a better game.
Rustin is wearing the blue, gold, and white uniforms.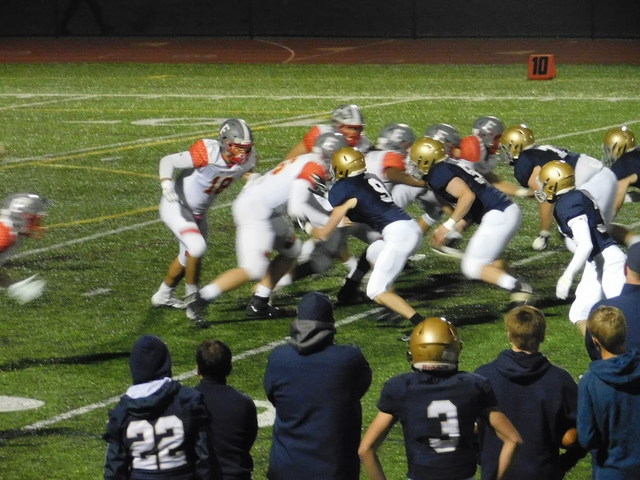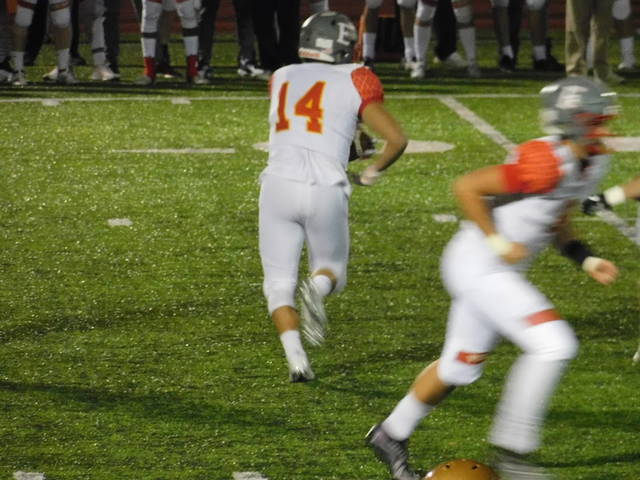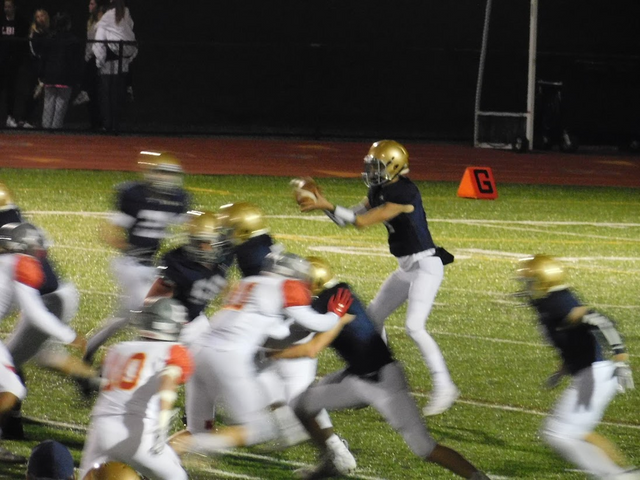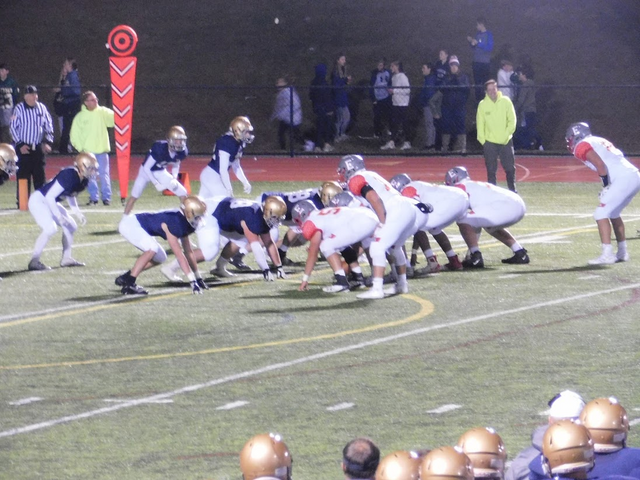 ---
Cheerleading and dance team
Rustin Cheerleading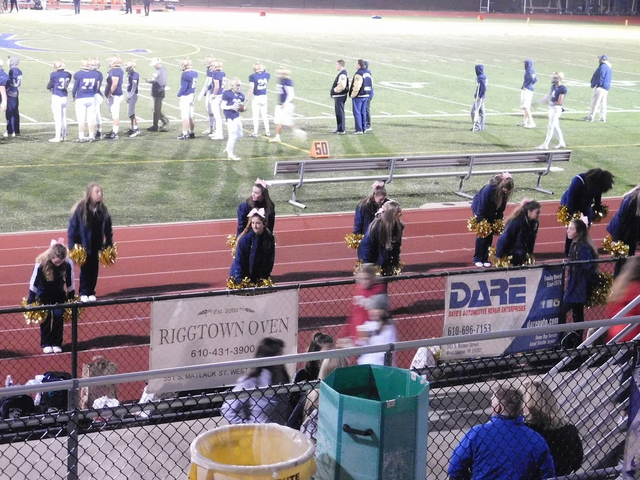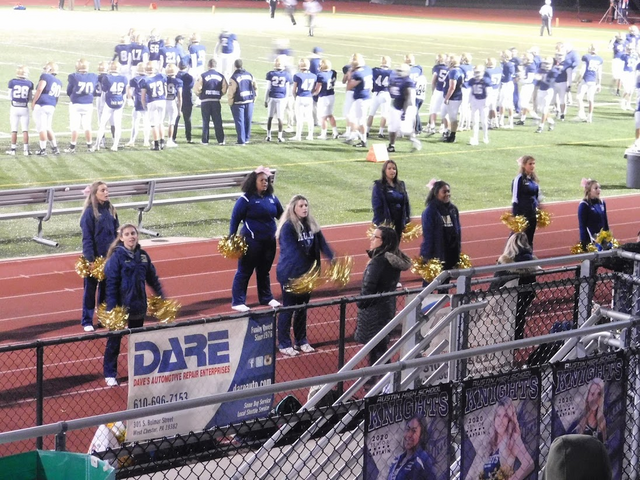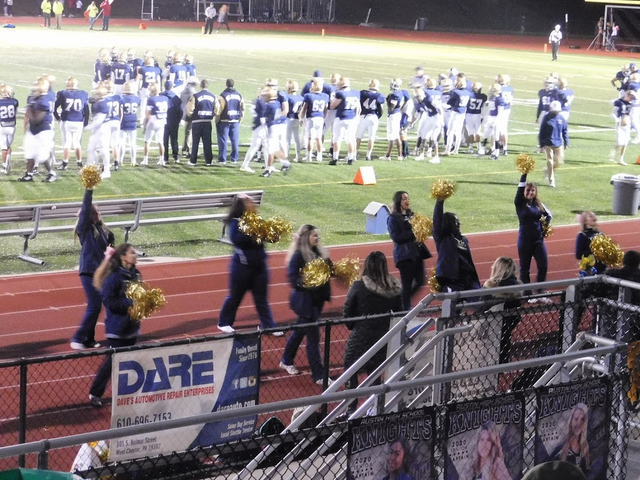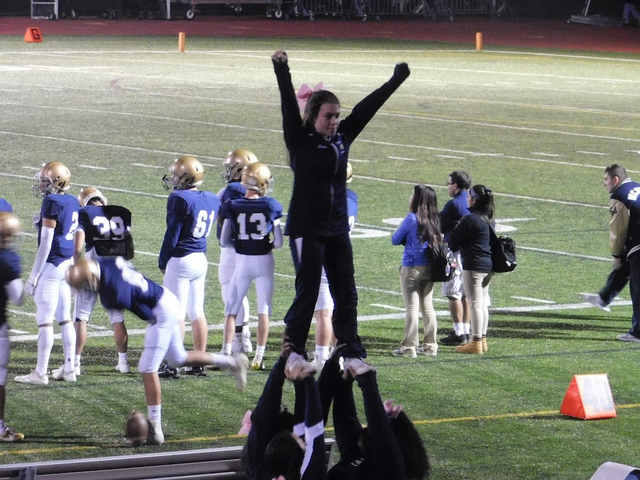 Rustin Dance team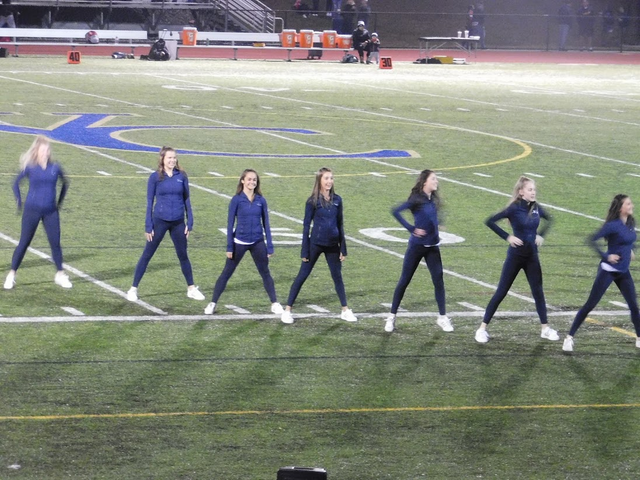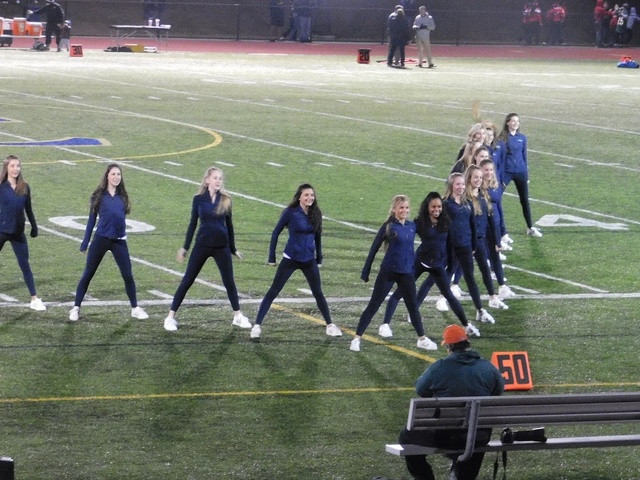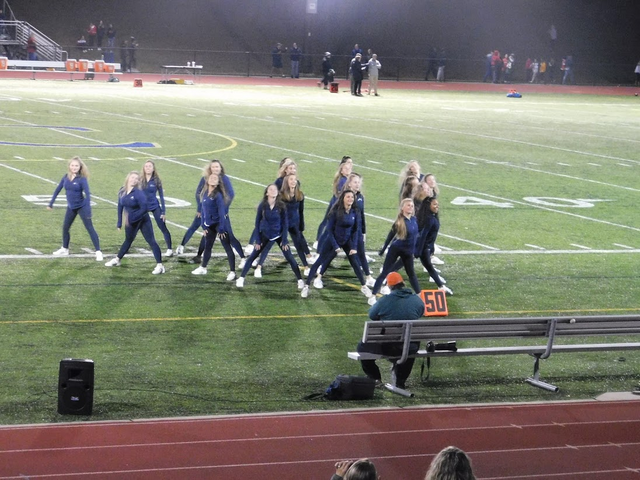 ---
Marching band - Half time show by West Chester East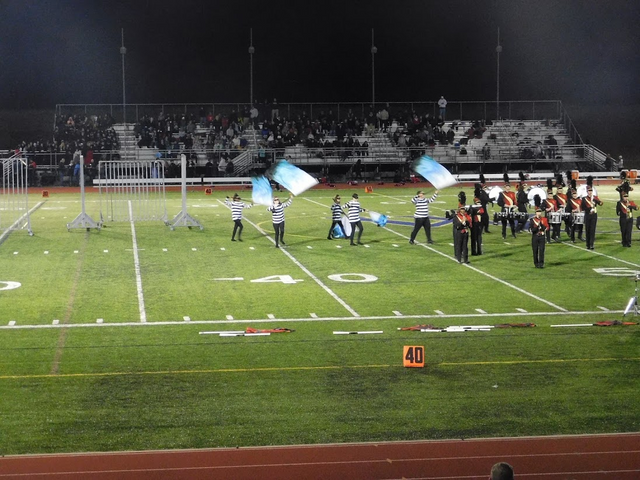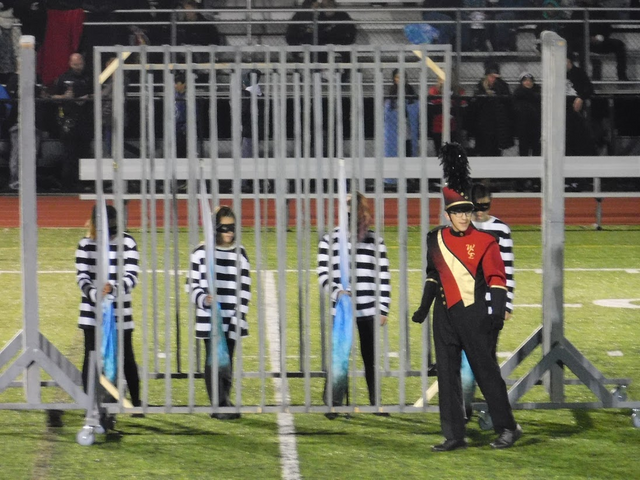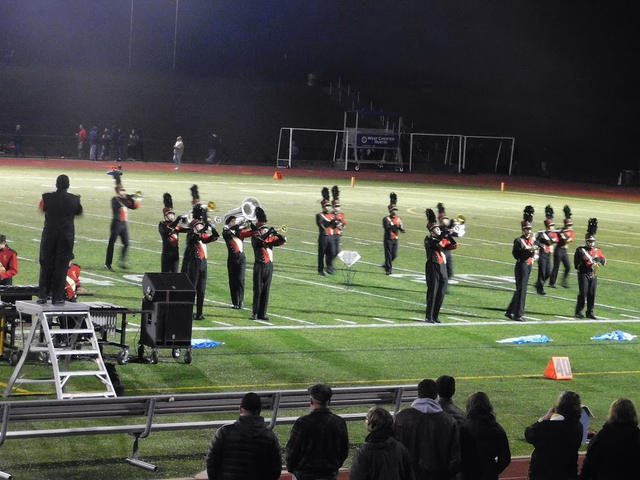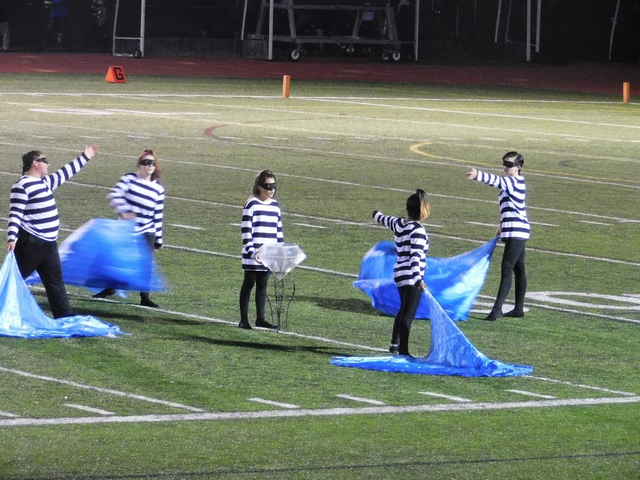 ---
---
Marching Band - Post-game Show by West Chester Rustin
Rustin's show this year is called, "Descent into madness," and it features Green Day's Basket Case, Leonard Cohen's Hallelujah, and Queen's Bohemian Rhapsody.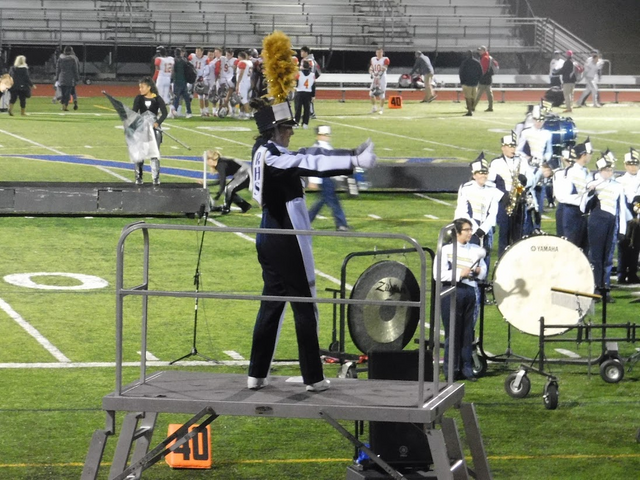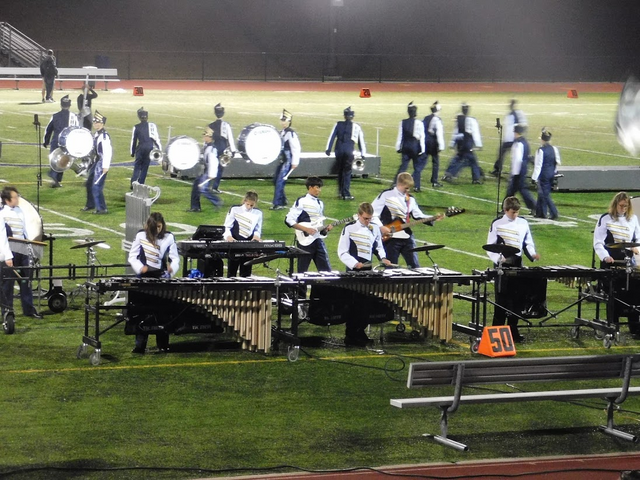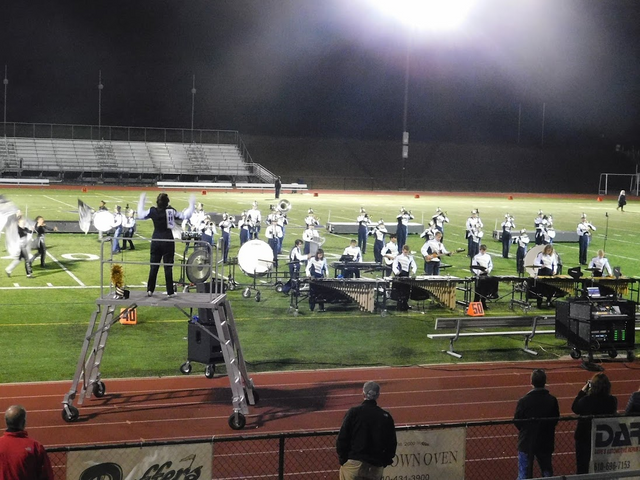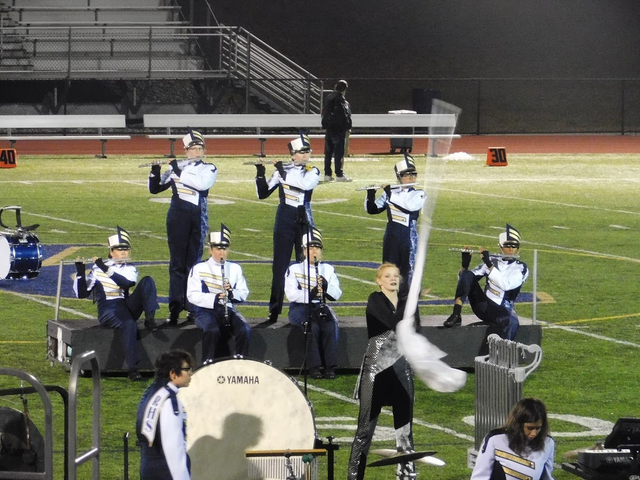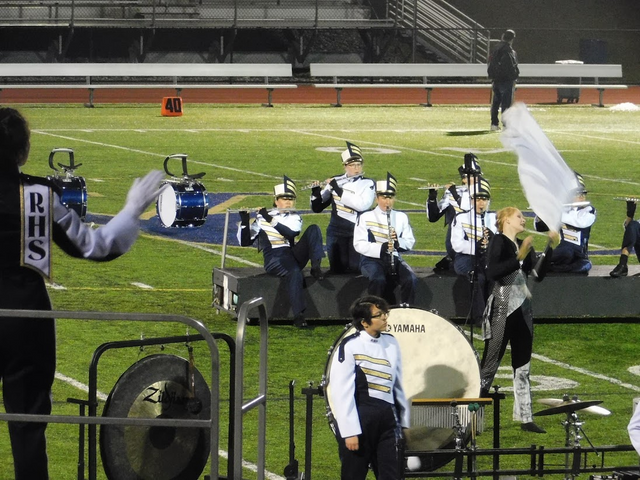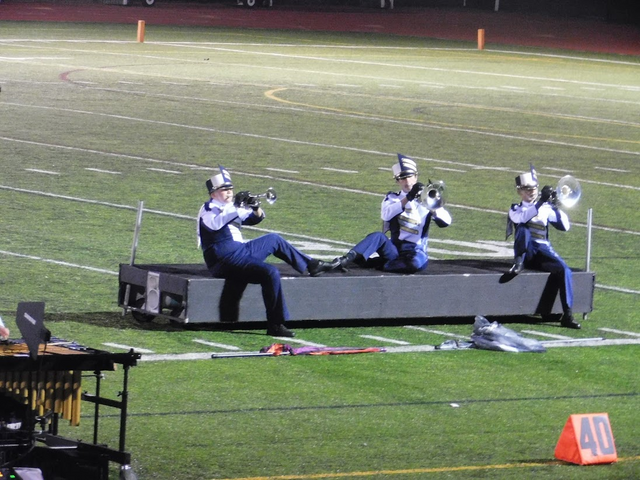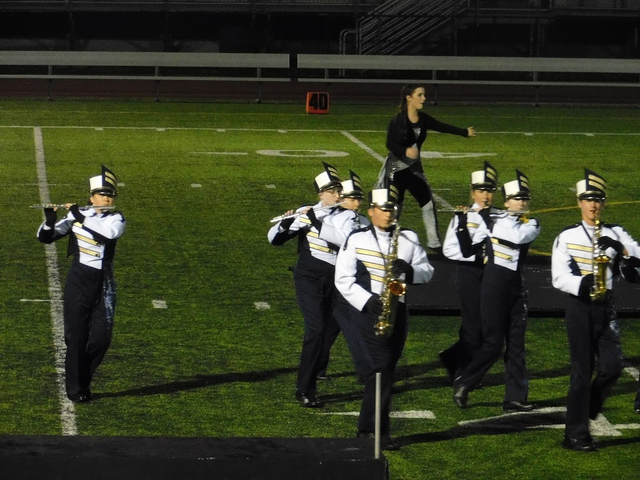 ---
Marching Bands in the Stands
West Chester East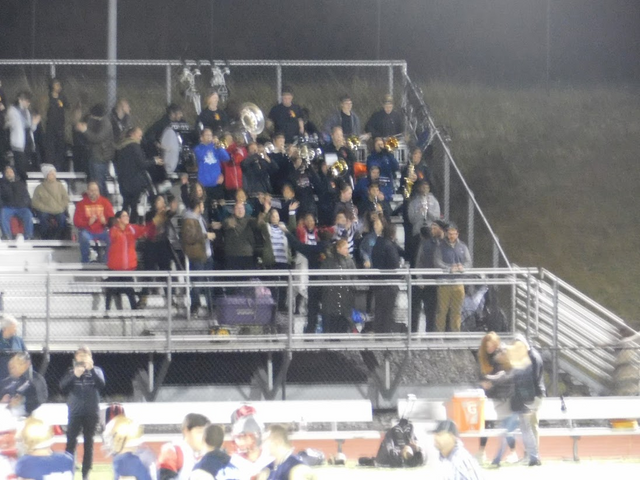 West Chester Rustin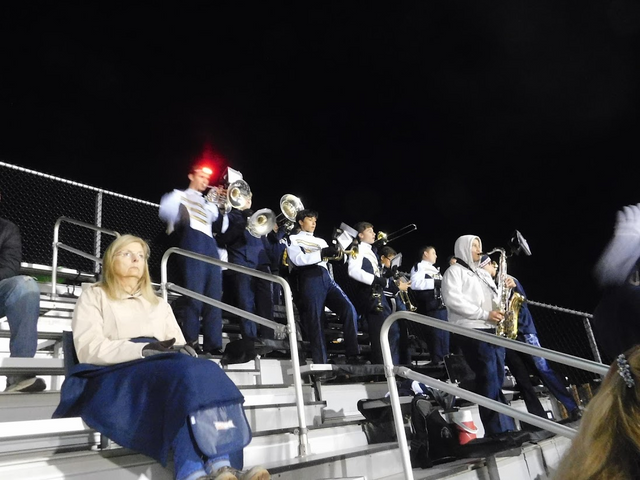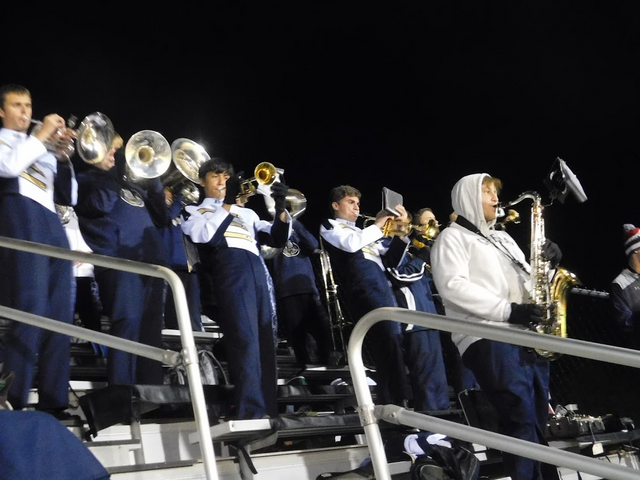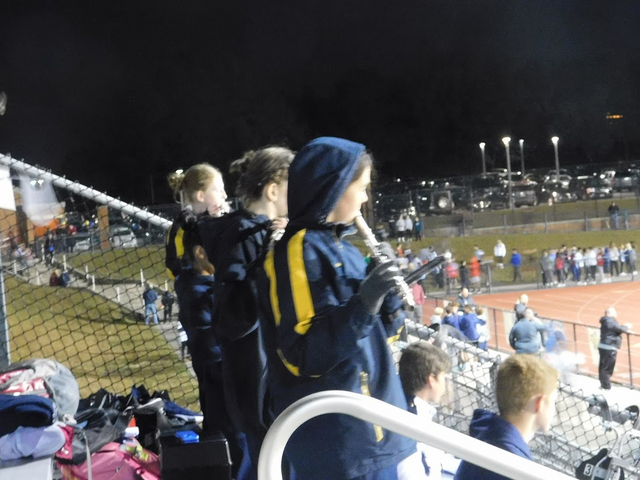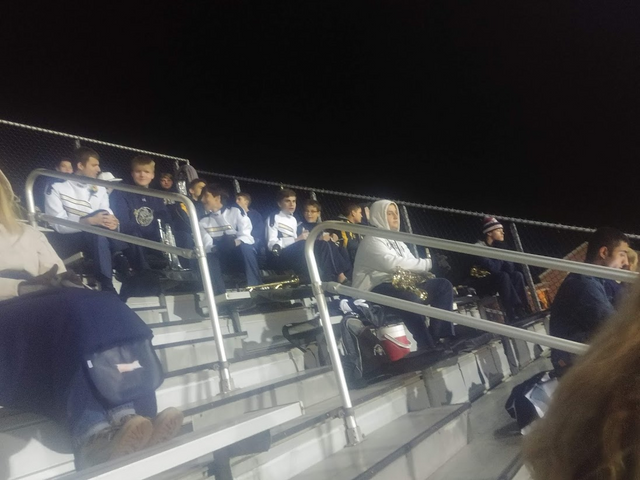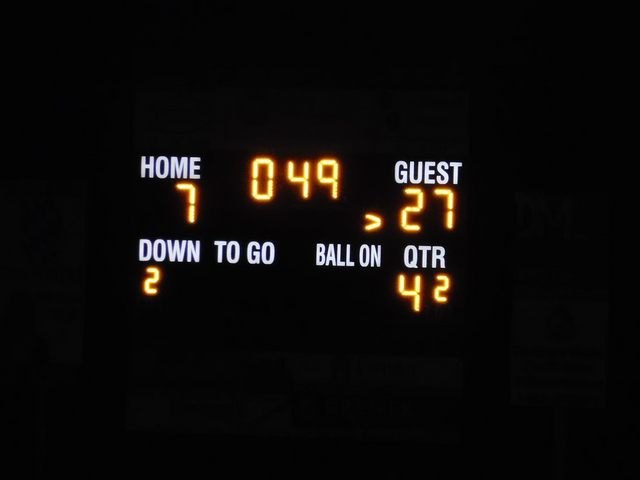 This game was the kick-off to the start of an exceptionally busy period for Rustin's marching band. The next day, October 19, they competed in a marching band competition at West Chester University of PA. Then, on October 23, they marched in the local Halloween parade. In addition to the regular football games every Friday, they also had/have marching band competitions on October 26 at the school's own campus, then on November 2 in Allentown.
The last regular season game was on October 25, against West Chester Henderson, the third high school in the district. All three of the West Chester teams also made the playoffs. Rustin's first playoff game will be at home, against Upper Dublin. Ironically, it was Upper Dublin that knocked Rustin out of the playoffs last year, so it will be interesting to see this rematch.
Before the West Chester East game, Rustin's football team was ranked 3,929 in the nation, 123 in the state, and 30 in class AAAAA. Now, after games against East and Henderson, the team is ranked 2,891 in the nation, 87 in the state, and 21 in class AAAAA. Additionally, they're ranked #7 in District 1/Class 5A. Upper Dublin is ranked #10, so it looks to be a competitive game. As noted above, Rustin lost last year's game by a score of 35-28 in round 2 of the playoffs.
If I read the tournament brackets right, whoever wins this week's game between Rustin and Upper Dublin will move on to playoff round 2 and play the winner of this week's game between West Chester East and West Chester Henderson. (East is ranked #2 in District 1/Class 5A, and Henderson is ranked #15. East beat Henderson by a score of 35-14 back in September.)
And here is the rest of the 2019 schedule for the marching band
Saturday Competitions: (ALL)
- 9/28: USBands Competition @ Boyertown
- 10/19: PA State Championships @ WCU
- 10/26: HOME SHOW!!! USBANDS REGIONAL @ Rustin
11/2: USBands A Class National Championships (Allentown)
Parades: (All) Times TBD
- 7/4: Thornbury Delco 4th of July Parade
- 10/23: West Chester Halloween Parade
11/10: West Chester Veteran's Day Parade
12/6: West Chester Old Fashioned Christmas Parade
Here's the full 2019 football schedule:
all games are at 7pm
Regular Season
8/23 - AWAY @ Sun Valley - Rustin 53 / Sun Valley 7 (W)
8/30 - HOME vs Great Valley - Rustin 47 / Great Valley 7 (W)
9/6 - HOME vs Kennett - Rustin 7 / Kennett 12 (L)
9/13 - AWAY @ Oxford - Rustin 46 / Oxford 23 (W)
9/20 - HOME vs Avon Grove - Rustin 28 / Avon Grove 14 (W)
9/27 - HOME vs Coatesville - Rustin 7 / Coatesville 31 (L)
10/4 - AWAY vs Chichester - Rustin 28 / Chichester 6 (W)
10/11 - HOMECOMING vs Unionville - Rustin 28 / Unionville 7 (W)
10/18 - HOME vs WC East - Rustin 7 / WC East 27 (L)
10/25 - AWAY vs WC Henderson - Rustin 46 / WC Henderson 0 (W)
Regular season record: 7 wins, 3 losses (5-2 conference record)
Playoffs
11/1 - HOME vs. Upper Dublin (District 1, Class 5A round #1 playoffs)
---

The @rgkmb-unofficial account is an experimental account that is operated by Steve Palmer (@remlaps). The account's purpose is to demonstrate the viability of a fund-raising model that is based on use of the Steem block chain in the community. For more information, see our introductory post: Introducing Steem to the Rustin Golden Knights Marching Band
---
Thank you for your time and attention.
---

Posted by Steve Palmer (@remlaps)