For quite some time, I have
"felt"
that the earnings on posts seemed less than they had previously been, but didn't bother to confirm it. So, I pulled some numbers from paid-out posts in my blog and the confirmation is definitely there. Just as one example, my "Happy New Year" post in 2018 earned $2.26, and the one from 2019 earned $0.76 (total post payouts, in both cases).
Examining the data, the turning point seems to have occurred sometime around the middle of November, 2018. Comparing mid-November through the beginning of February for the past couple of years, here is how the data looks: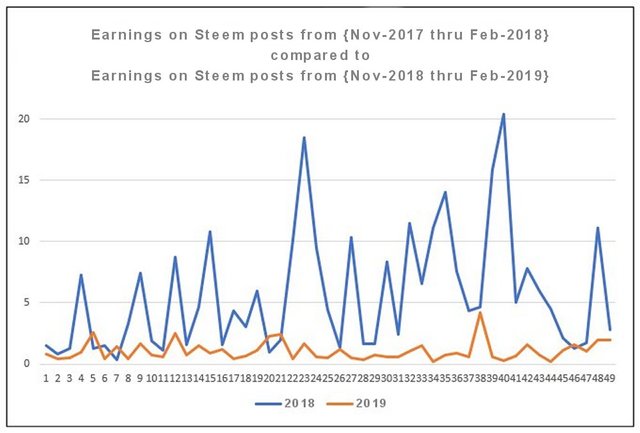 The decrease in earnings might be due to the exodus of many from the platform who were upvoting our posts. However, with fewer people blogging on the platform, there should be more rewards coming for those of us who are still here. So, that makes it rather puzzling, especially when some posters seem to consistently be earning $10 or more on every post, regardess of content and even without the use of bid-bots. I have quite a few very lengthy and complex posts in mind to write (science, math, etc.), but with smaller payouts than we previously had, I seriously wonder if it is worth spending 6–8 hours or more researching and working on posts as I once did, just to earn $0.50–$4 on them. 😕
Fortunately, the sense of community here is still strong-enough to make most of us want to stay, even with less earnings. So, heads down, Steem On, and hope for the best!

 😊