Have you heard of the just launched Reviewhunt : My short Review
Introduction
Reviewhunt is a marketing channel on the Hunt platform where makers suggest bounty missions for early-adopters.

Reviewhunt is the right place for you If you love trying out cool new products and enjoy being an early-user of products that have the potential to be world famous. You can try out cool new tech products such as a mobile apps, games, web apps, gadgets, and so much more before they have gained mainstream attention and you'll also earn rewards which can be exchanged for real money!!
How Does Reviewhunt Work?
Reviewhunt enables tech makers to run review campaigns for their new products with unique quests and mission bounties so that they can easily build a strong early user base and community exposure.
Hunters who have participated in the quests create impactful review content and spread it out to a variety of tech channels that they are heavily involved with, such as Steemit, Instagram, Reddit, Youtube, Twitter and what have you for a certain amount of reward thereby bringing the buzz and creating the hype makers need , hence rewarding hunters for accomplishing tasks. As a hunter, your HUNT tokens will be distributed within a week after your reviewed campaigns are finished. You can find your tokens via the wallet tab on your profile page.
With this the primary problem makers and bounty hunters are facing on the blockchain is nipped to the bud.
Signing Up
As a hunter, Setting up and verifying my account was pretty easy.
You can sign up quickly by using this link https://review.hunt.town/i/315 and click JOIN
NB: You can either join as a HUNTER or a MAKER
Read through the guidelines and click sign up, it immediately takes you to a page where you will complete your profile by filling your social media/buzz accounts.
Adding 'Buzz Channels'
The first thing you need to do after you've signed up to ReviewHunt, is add your Buzz Channels that is your social media accounts. You can add just about any popular social media channel you've got. The fun part of adding your channels on Reviewhunt is that you can find how much a single post is worth on your channel - calculated by a specially designed value monitoring algorithm.
PS: You can be banned permanently for registering channels that you don't own.
Check mine out: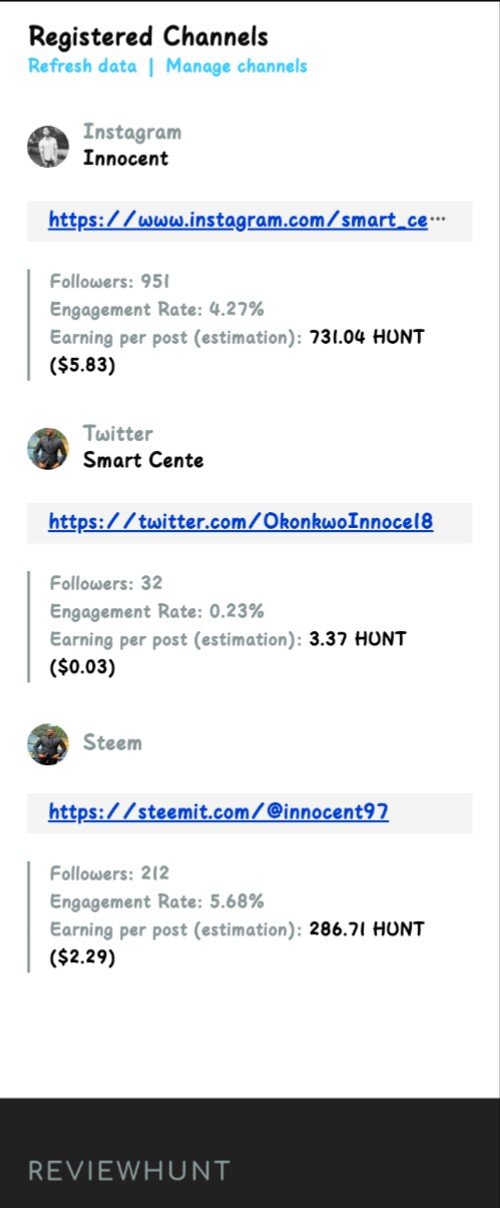 Joining Campaigns & Completing Quests
On the ReviewHunt homepage, you can find many campaigns to join for a start. The first campaign I joined was what looked to be an easy task that they call "Quest". The ReviewHunt On boarding Quest is basically getting your account setup the rest of the way.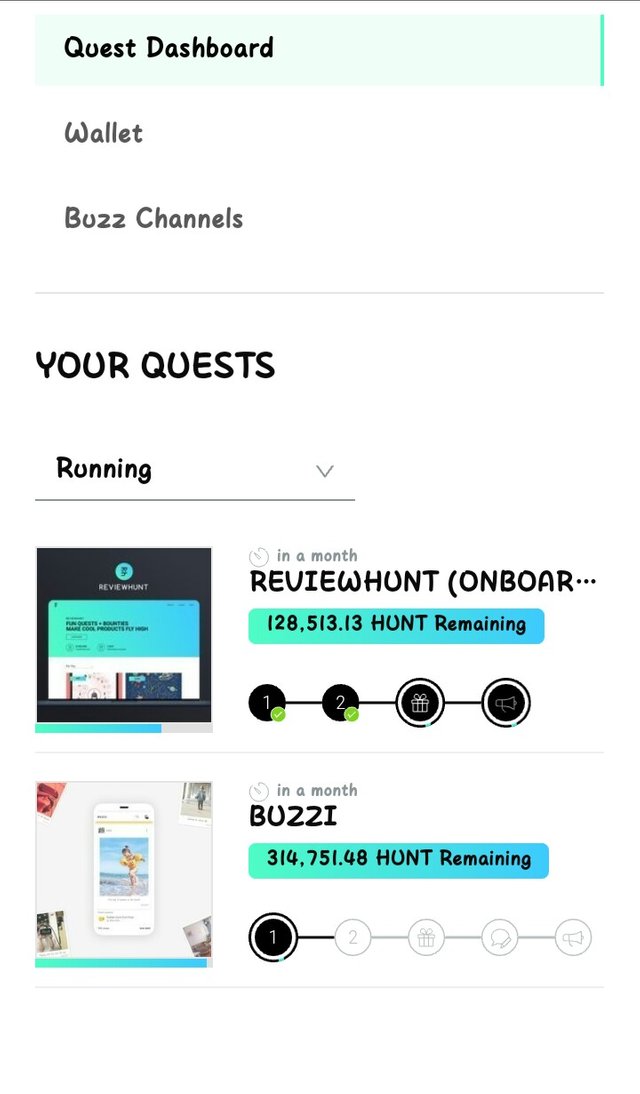 I am working on the "Buzz" task, which is writing this post. Once you get the first two tasks completed or waiting to be approved, you can move on to two more optional tasks. One of them appears to be starting some of the other available quests and the other like I said it promoting ReviewHunt via your buzz channels.
PS: Always read the campaign requirements very carefully before you join a quest, because if you can't complete a quest, you can get penalty poins which may impact your account standing.
Quests are always explained thoroughly and you can also see how much you might earn after quest completion.
Referral Program
There is an upcoming unique referral program on Reviewhunt which I think is very cool. This will make the platform have stable growth.
In a Nutshell
If you haven't signed up for ReviewHunt yet, I encourage you to do so. For more info on this Check out the post from Reviewhunt here
All images are screenshots from my profile on reviewhunt
All questions about this post are kindly welcomed. Enjoy the rest of your day