ReviewHunt is a social service for product and service makers and for those who love cool products and services. Effort and Time spend gets rewarded in various ways, including payments in Hunt tokens.

© ReviewHunt (source)
Makers can execute marketing campaigns towards a crowd of Reviewers and Influencers. Makers can request the Reviewers and Influencers to fulfil specific tasks, including writing reviews and spreading the word around by sharing reviews to followers on a wide range of social networks (from Instagram and Twitter, to Medium and crypto based social services such as Steemit). Completed tasks are rewarded, paid from the campaign budget set by the Maker.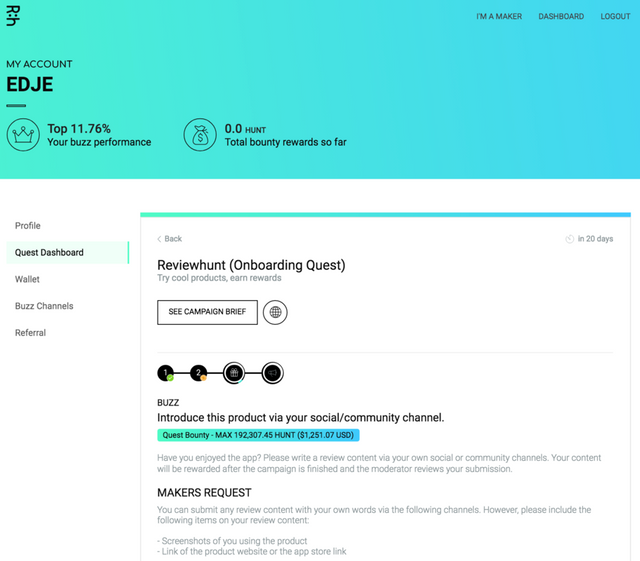 working on BUZZ QUEST for ReviewHunt campaign (source)
The service was launched just 2 weeks ago and already gained an interesting crowd of Reviewers and Influencers - most of them already active as curators and reviewers at last years launched sister service: SteemHunt - a service modelled after the popular ProductHunt.
Before launch, the ReviewHunt team already had more than 120 companies/makers interested to run campaigns. During the next few months, ReviewHunt will run a series of closed beta tests with in each edition a number of campaigns by early adopters. The first round is ongoing at the time of writing. Although a test, the rewards are as real as it can get.
Anybody can participate
Simply sign up to the service as Hunter or Maker
You can get yourself an account by browsing to the ReviewHunt website, or simply use the referral link below:
https://review.hunt.town/i/416

© ReviewHunt (source)
NJOY
steem blockchain curator for @illuminati-inc and @qsounds; influencer at steemhunt