Motorcycle Travel Series by @velimir 'Bojan's Moto Workshop' (Part #184)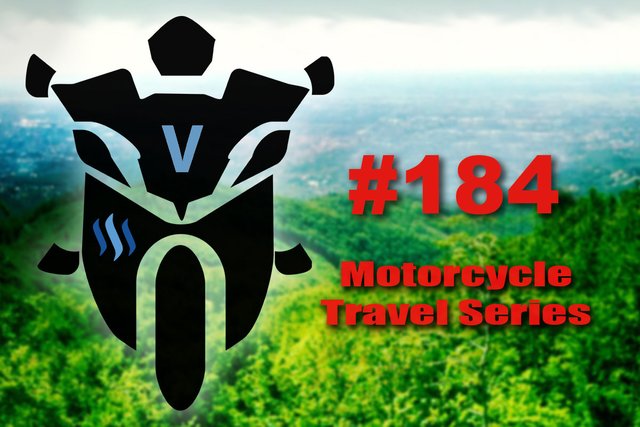 Even though it seems to appear as a slow day for the workshop, it isn't. Bojan is never idle. He always finds something to work on and enjoys every second of it. It's really good to spend time in the company of people like him. I've read somewhere that a person is a by-product of people one interacts with the most. I think that works on a smaller scale, too.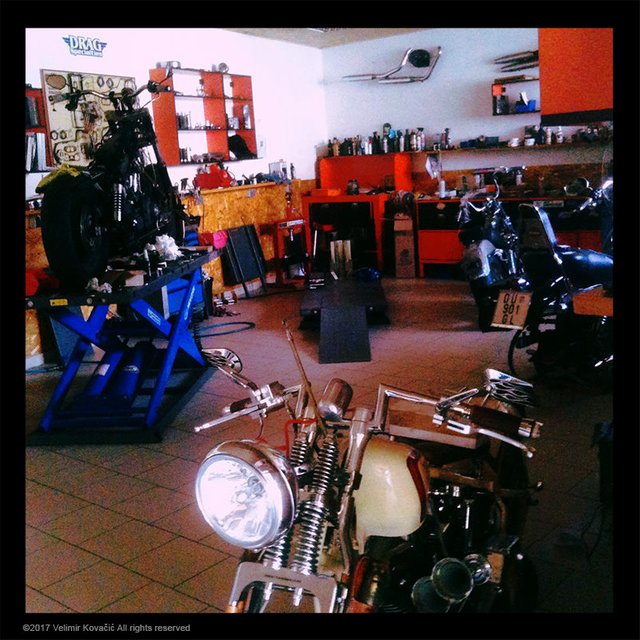 By friendly interaction we enrich others' lives and, what's more, by doing so we enrich our own just the same. Unfortunately, it also works vice-versa. If one hangs out with negatively oriented entities, he slowly becomes one himself. But, life lessons aside, let's go back to the topic :-) This is a smaller bike from HD collection of beauties.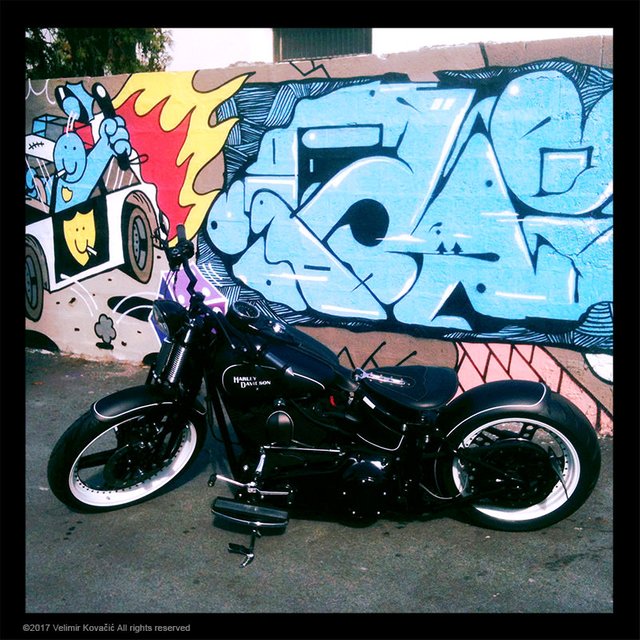 It is almost completely customized and very appealing to the eye. Full black, except for the seat and fellies. I like the seat by itself but I have my doubts about it. The retro style looks awesome, what nobody can deny. However, I m not sure my significant backside would last more than an hour in it. :-) Before judgements, we need to take into account that the bike was designed for city ride, where looks come before all else. Another downside of that coolness is that one cannot take a passenger, which might prove to be a loss for the night. :D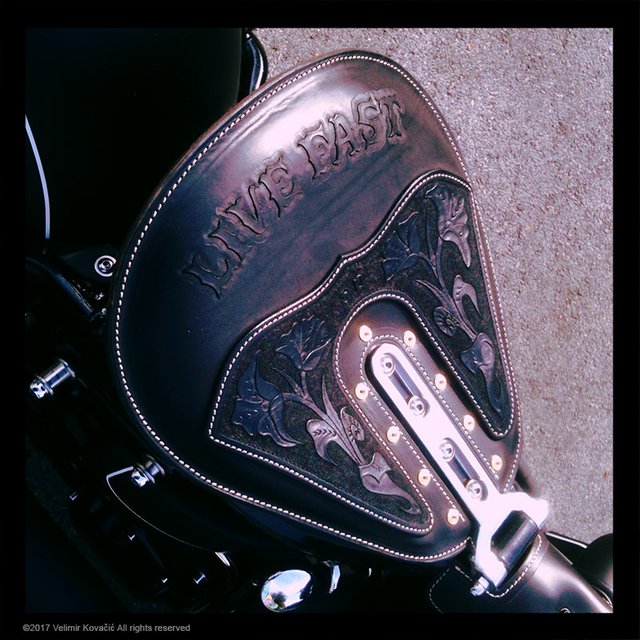 Let's inspect the other details. This is quite an expensive set of semi-open mufflers packing a deep rev sound but still not so hostile to the ears of innocent bystanders. My buddy has these on his machine, so I happen to know that their acceptable limits of noise wouldn't make people decide not to ride by your side.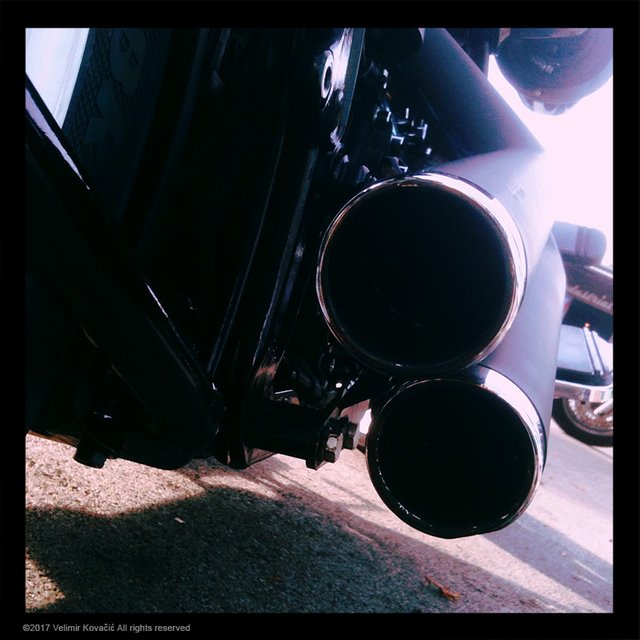 This is the air filter. Its position, apart from looking really cool, increases the airflow to the engine.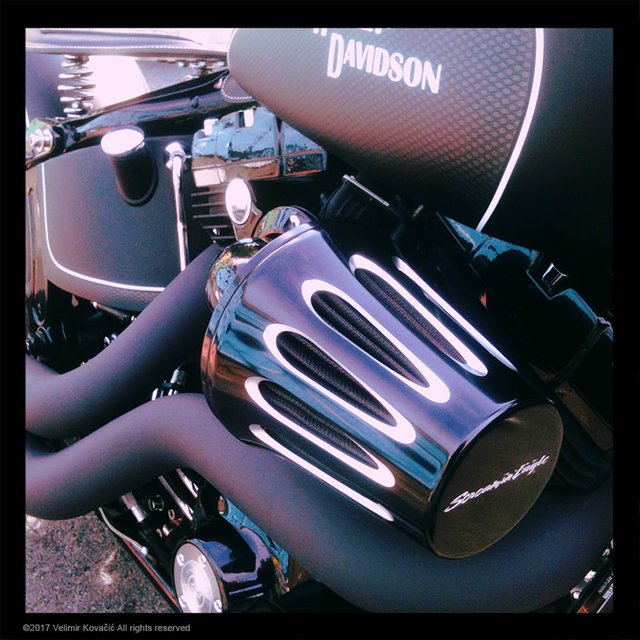 The outside chromed suspensions always catch attention.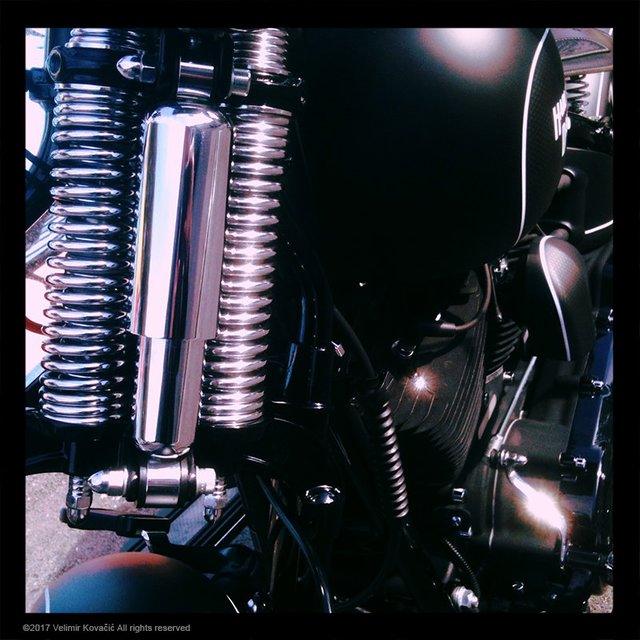 Fattened back tyre.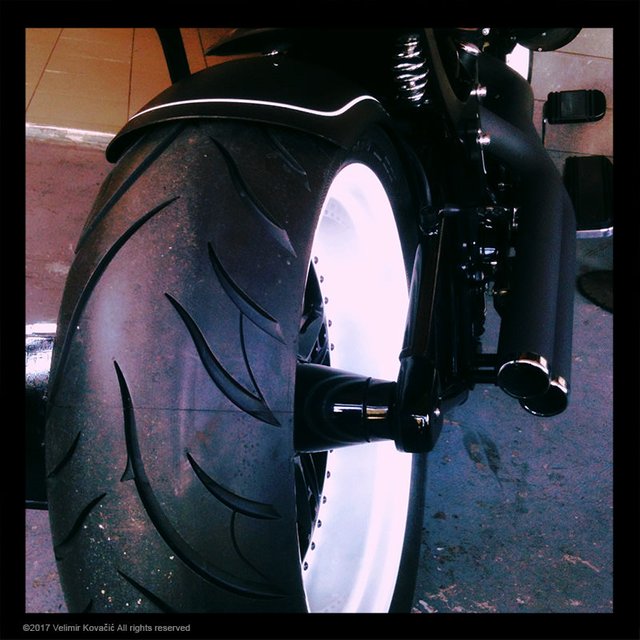 The front white felly, as in old school HDs.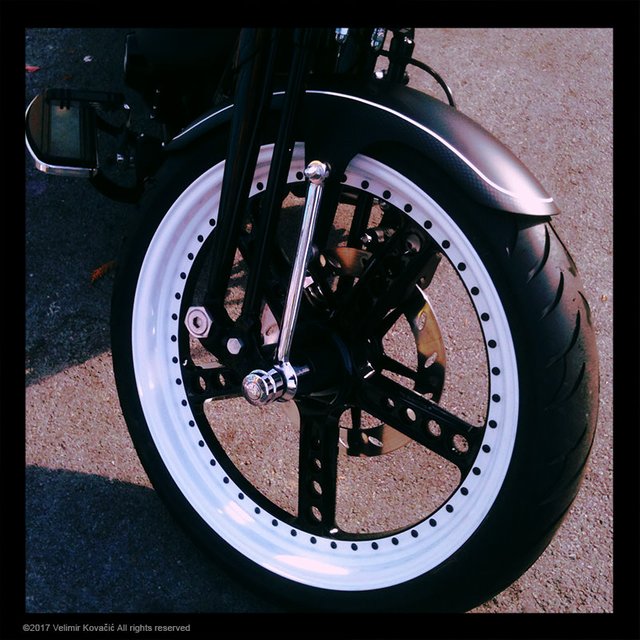 The "dashboard" is simple. Free of all meters except the speedometer, just like it is supposed to be on city models. One doesn't need any additional distractions when riding surrounded by cages. You, who know your bikes, already figured out this was an HD Iron before the customization, right? ;)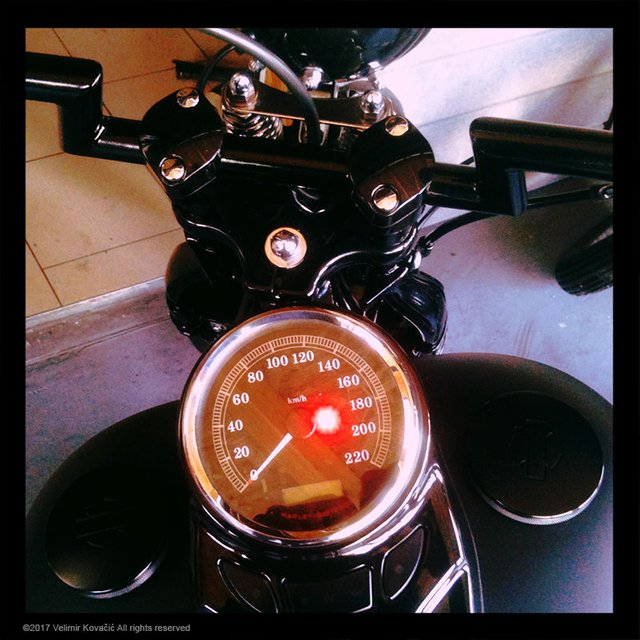 By the way, Bojan is so well organized that coffees arrive from a nearby coffee shop on call. My time to have one. :-)
Enjoy your day! :-)


©2017 Velimir Kovačić All rights reserved.

All images and text published in this post are my original work. I encourage everyone to use own texts, thoughts and images as much as possible. Be yourself and stay yourself. This is a proper way to build steemit.com. I do not have respect for dishonest authors. Also, bloggers actually DO matter!

---
---

• For good, inspirational read on various subjects follow: @gavvet
• For crypto news, follow always up-to-date @kingscrown 's blog on the subject.
• I really like to read @vcelier 's life story!
• If you want to laugh away enjoy @meesterboom 's posts full of brisk humour and positive attitude!
• I suggest a visit to @adsactly society's blog if you feel like reading hi-quality posts!


• Vote @thecryptodrive @reggaemuffin and @adsactly-witness for your witnesses in the Witness Parliament. They are kind people who will represent you well.

I'd like to extend my gratitude to everyone who continuously supports both of my ongoing projects (Motorcycle Travel Series and Art Photography Series). Big thank you for enjoying the content and appreciating my effort. This is what steemit.com is meant to be about.
---
---

I am a member of the @buildteam crew, innovative creators of @minnowbooster @steemvoter and @steemsports blockchain projects.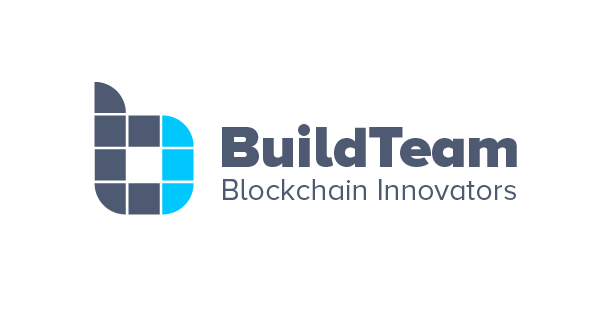 The @adsactly society is a meeting point for free thinking individuals who want to cooperate. It is a welcome addition to Steemit.com community. Feel free to ask about it.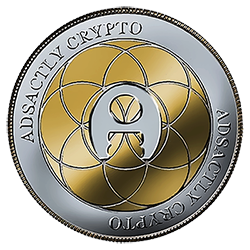 The @adsactly society Discord channel is here: ADSactly You are welcome to join!