EXTROPIA'S RETRO-GAMING: "MINDFIGHTER"
Have you ever heard of an author called Anna Popkess? I am guessing most people haven't, since so far as I know her only written work was a 150-page book that accompanied 'Mindfighter', a game that was published in the late 80s by Activision.
Both the book and the game based on it were centred around Robin who, despite being only 11 years old, is studying parapsychology at Southampton University. Along with his classmates (all very young and with disturbing pasts) Robin is learning the art of metamorphosis, turning oneself into an animal. Falling into a trance, Robin has visions of a terrible future in which Southampton is devastated by nuclear war. Can he and his classmates ascertain the cause of this disaster and prevent it from ever occurring?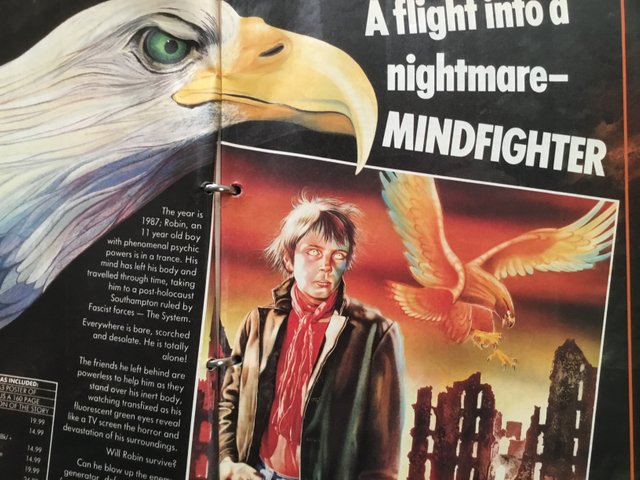 The actual gameplay consisted of a text-based adventure. In all such games, you the player interact through typed commands such as 'Go North' or 'Open Door'. Provided the game understands your command and there is no reason why an instruction cannot be carried out ('the door is locked and it will not open') you advance through the story.
With Mindfighter, the game's engine was capable of handling complex commands. So, for example, Robin could be instructed not just to 'Get Newspaper' but 'get the newspaper and put the newspaper into the box'.
In other respects, though, your choices were more constrained. At one point, Robin is harassed by a guard and all attempts to incapacitate this foe meet with failure. The only way forward is to kill him. It's a pity that you cannot choose to disable your opponent rather than intentionally kill him (thus maybe branching the story in another direction) but I suppose it did fit in with the dark and somber tone of the game.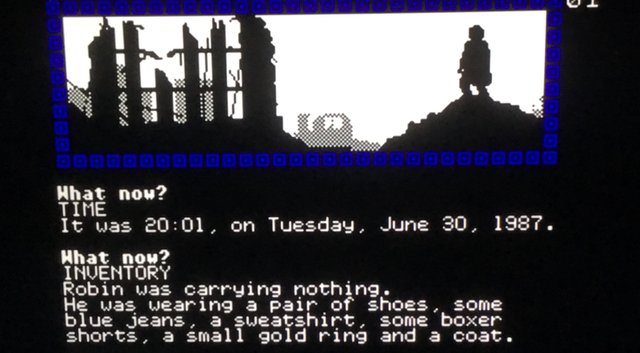 Make no mistake, the atmosphere of this game was grim. Not surprising, I suppose, given the subject matter. "Charred rubble wasteland stretched away all around Robin", is typical of the bleak world portrayed in this adventure. By the way, in referring to 'Robin' this particular text-based adventure was less subjective than is usually the case, since such games typically use the first-person 'I'.
So, worth tracking down and playing today? No, not really. As games of this genre go, 'Mindfighter' was average at best. The story it was based on was not well-written, and its author seemed more interested in describing morbid events in graphic detail, while content to drive the plot using a superficial style that was scant on credibility. This game might be the original 'post-apocalypse' adventure, preceding the likes of 'The Last Of Us' by a good few decades, but it is nowhere near as good and not just because of the limitations of 80s gaming technology. If you want to immerse yourself in a grim post-apocalyptic world, you are better off reading Cormac McArthy's Pulitzer Prize-winning novel 'The Road' than slogging through this.