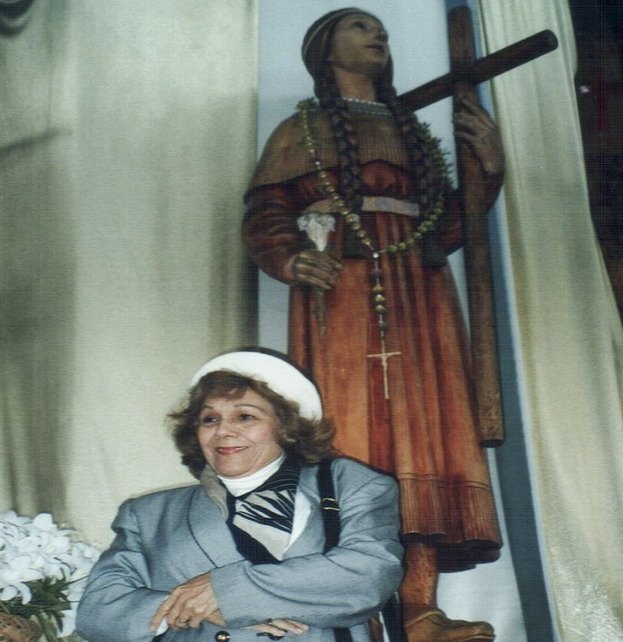 Maria Esperanza de Bianchini, born November 22, 1928, in Barrancias, Monagas State, Venezuela, is known as the Messenger of Reconciliation. She had apparitions where she received messages from the Blessed Virgin Mary, Mother of Jesus Christ. Approximately 2000 people have seen the apparitions which took place in Finca Betania, Venezuela. One of the messages to Maria Esperanza (Esperanza means hope) was that Maria's mission in life was to "HELP ME SAVE THE WORLD THAT IS GOING ASTRAY."
She had the ability to read hearts, the intuition of knowing when guests would arrive, when her friends were sick or if something happened to them. She was given the mission by the Virgin Mary to publicly continue the work of evangelization beyond her country's frontiers. She traveled spreading the message of reconciliation and brotherly unity.
She was always respectful regarding other religions, beliefs and faiths. One of the Virgin Mary's messages to Maria was to 'overcome difficult times following the Words and example of her Divine Son Jesus Christ.'
One of Maria's frequent messages was: "Prayer is the column of light that enlightens man in the midst of the darkness of night."
God enriched her with gifts and extraordinary charisma, such as: The Stigmata, visions of the future, the gift of healing, the materialization of the Holy Host in her mouth, the outpouring of flower and fruit perfume, the apparition of rose petals, levitation, bilocation, transfiguration, and a unique mystical phenomenon, the spontaneous birth or outburst of a rose from her chest.
The movement of piety, conversion and reconciliation that she brought forth in the many souls that crossed her life, have made her worthy of being acknowledged by different authorities as "one of the greatest mystics of these times."
She passed on to her heavenly reward on August 7, 2004 at the age of 77 in the city of Long Beach Island, New Jersey, USA.
To learn more about this extraordinary visionary go to: http://www.mariaesperanza.org .