FACTORS TO TURN A RELATIONSHIP INTO A MARRIAGE
The success of a relationship depends upon two partners. It's good to note that the love you feel, needs to be shown as a factor in turning a relationship into a marriage. You must date with purpose and target, so as to utilize your precocious time.

Source
Face the problem that can beset your relationship as it grows. Some of the problems you may encounter at this stage are:

Lack of time
Ego clashes
Jealousy and suspicion
Not respecting each other's individual space and identity.
Resistance from the family..
To turn that relationship into marriage, the above issues must be handle with wisdom and maturity.
Care About The Small Things. Make your beloved feel special, saying the magical words all the time does not really prove that you care and love. It is the small things that you do in times of needs that makes him/her to feel you're the one..
Eg. Ladies love security, compassion and want someone who will be able to protect them and stand up for their need...
Eg. Men want partner who is a reflection of them self, would understand them and care for them too. Maybe you're in a relationship where you never know what he's really thinking, or Maybe you're tired of not knowing why he says the things he says, you can equally want to be with a guy but he's sending you mixed signals. Maybe you're confused about what he really want and how he really feels..
Understand each other's individual need and the importance of space. Men are taught from childhood to keep their emotions down and buried. As a result of this, men are not often good at processing emotions as women are: Don't expect him to read your mind: if you're upset at a man, tell him in a way that's calm and reasonable
Try as much as you can to share each other's problem. Be patience and more open to hearing he's side as well. Men need to be heard too. They want a relationship to feel "smooth sailing"
They hate argument. They hate worrying that they're going to say or do the wrong thing. They hate fight
Mental compatibility plays important roles in turning a relationship into a marriage. If you can give him the space to relax and be his true self around you, he'll never want to let you go, Know each other's likes and dislikes. Devote enough time to see one another, Try to adjust to each other's need for space try ad much as you can to Avoid begin dominating. Rest each other's family value. Communication is key to any relationship. Men do not usually verbalize what they like or dislike. So Try to initiate great conversation that will make you both benefit. He wants to take his time to fall in love, so don't conclude that he is already in love with you.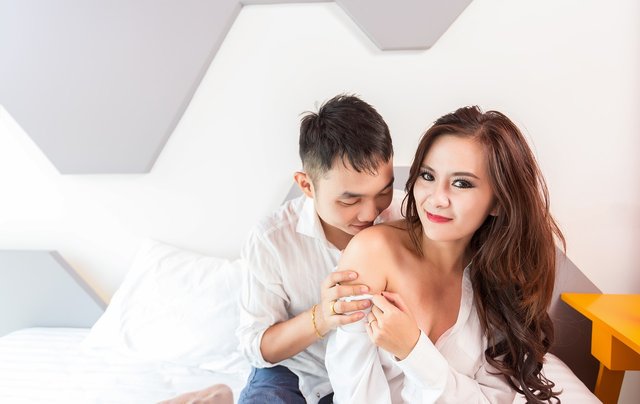 SOURCE
Don't try to change your partner, according your needs and believe Men do not need COMPLICATIONS this is something ladies need to understand. Basic, simple and peaceful relationship is all that matters to him. Men Cherish Respect, more than romance. So my dear Give it to him, Be ware that men are more visually driven. Don't be too offended if he looks at other women.
Being more attentive to visual stimulus means that a guy might be more inclined to, 95% of men are 24hours ready to have sex. Because The seed of production is in them. Never test a man with sex. (set up)
"I need a Space" it means the feelings are no more mutual, is likely to end soonest.
maybe he wakes up one day and say "Let's Just be friends" and this request was not made from the beginning.
He is seeing someone else or he want to redefine himself for a better date or quitting. Or he tells you "Don't wait for me to avoid I wasted your time." He never had marriage at heart from the beginning. Remember When you understand men; you worry less.
    Prove your love at the alter not in bed.
   Date to marry not to catch fun.
   Date when you're ready.