The Sugarcane Man
In the late 80's, when I first visited Negril, it could easily have been described as The Wild, Wild West. Motor bikes zooming around, taxis beeping, and pedestrians waving them down frantically trying to hail their next destination. Seems like a mad show, but this is not an accurate depiction of Negril, nor Jamaica. Everything is predetermined and people are, in general - laid back and cool. Irie.
At night, many of the red license plated route taxis driving around hauling people to and fro have a headlight out. There's a serious misconception with these route taxis, as many have claimed them to be unsafe. This could not be further from the truth. Not only are they safe, but they are also a great way to experience the real Jamaica and interact with the locals. The Jamaican driving may be a little 'helter skelter' for the common tourist, but this is how it always has been. It's a norm here and you simply have to embrace it.
So here it's 2007, and guess what - nothing has changed. Accommodations are still Samsara on the cliffs and we are staying in a roadside bungalow. One day, as we crossed West End Road, looking both ways multiple times to check for fast paced oncoming traffic around the slight bend in the road to the left, here comes an older gentleman wheeling an old wooden card filled with sugarcane. How cool.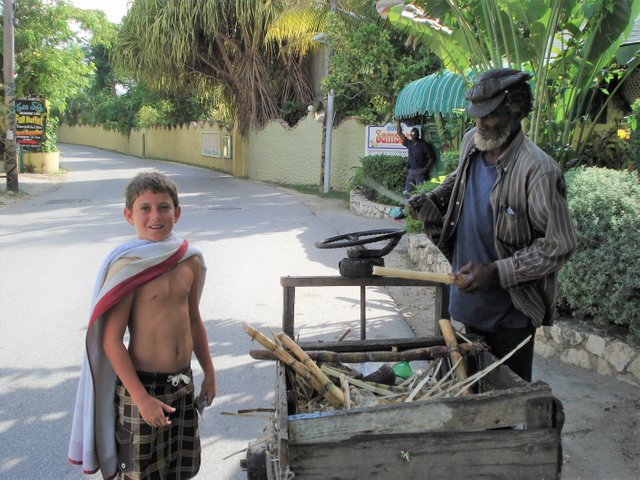 The Sugarcane man with my son roadside in front of Samsara
He was pushing this wooden cart down the road, and he seemed not a worry in the world about traffic moving in either direction. He just walked down the road as if it were a pedestrian walkway. He had walked this walk a time or two before - this was quite obvious to tell. Now in all my times visiting Negril, this was the first encounter I had ever seen this man - the Sugarcane Man.
He stopped. We say hello. He asks if we would like some of his tasty commodity. Of course.
He responds, "no problem mon, respect."
He proceeds to take his large knife, more like a machete, and cut off the ends of each of the canes he had chosen for us. This act essentially enhances the flavor of the canes, as it allows the juices to more easily run down the stalk of the cane. Oh such a sweet, natural treat. Something else.
The cost? There was no set price. The Sugarcane Man responded when we asked him what we owed, "whatever you give, OK."
Now that I think back, I probably didn't give him enough.
Let me tell you what I know of the Sugarcane Man. It's not very much because it was just a brief roadside encounter that happened due to chance. A flash in time on a day in August some 12 years ago.
I hope the image portrayed in this feature photo article was of enjoyment to you all.
Respect,
S-irie