Faces of Jamaica [Part 3 of 10] The Story of "Mitchigan'z and Blackz"
I met Mitchiganz and Blackz on my last trip to Jamaica, which took place in August of 2014. It was a special trip this time around because it was right before my son went off to college. He also took his best buddy that year, who, for the purposes of this post, will be referred to as Scuba Steve. You'll see why here in a minute...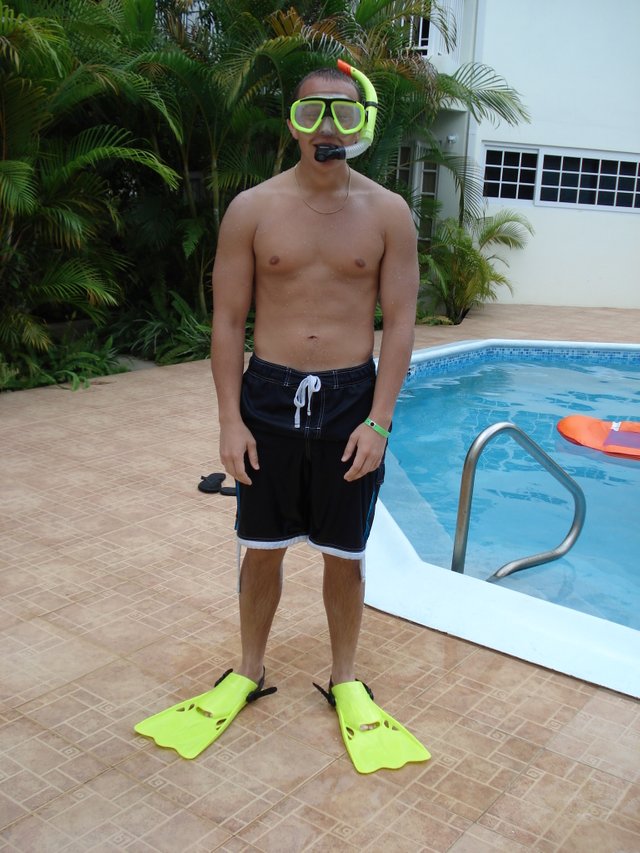 Scuba Steve in his natural habitat
At the time, both my son and his buddy were military boys, so I'm sure you can imagine the amount of temptation they were experiencing being in a place where ganja is a medicinal healer.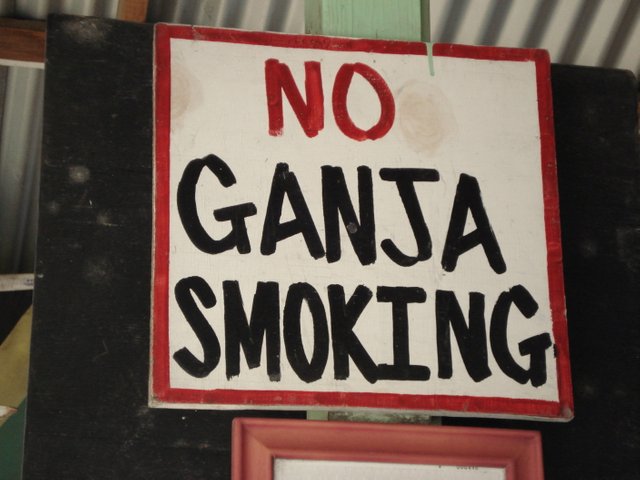 No ganja smoking in Jamaica? Well, technically, ganja smoking is illegal, but this here is still a good laugh
They were offered all sorts of illegal substances throughout the course of this 10-day trip to Negril, Jamaica. Every time I just had to say, "No, they are military boys back home in the U.S.," and more often than not the Rastamonz would respond with, "Iriee, respect mon, no problem."
We met Mitchie and Blackz rather early on in the trip. I remember walking down the beach one early morning scoping out some of the shops, wood carvers' masterful art pieces, restaurants that looked unfamiliar to my eyes, anything that looked interesting. We were trying to break Scuba Steve in as it was his time even being out of the country.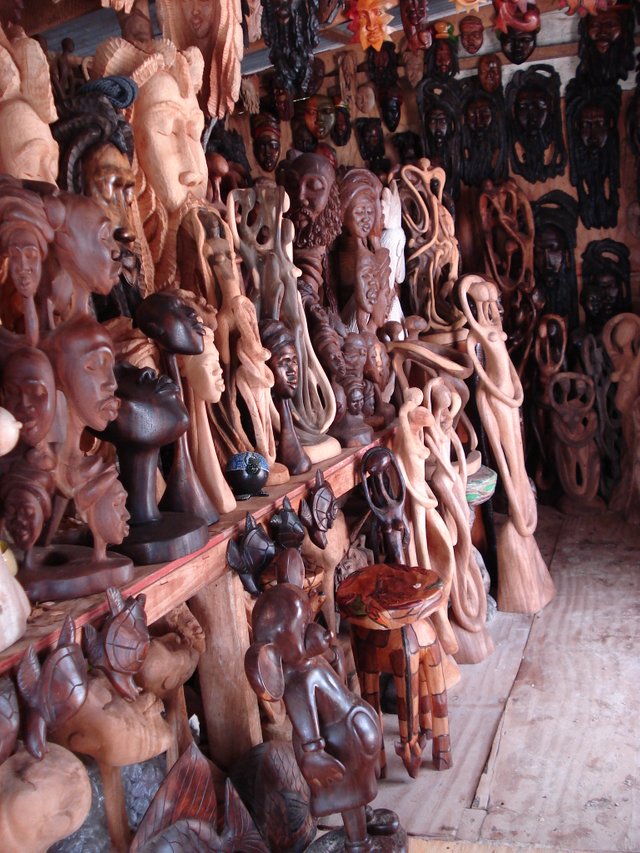 The best wood carver's shop, in my opinion, in all of Negril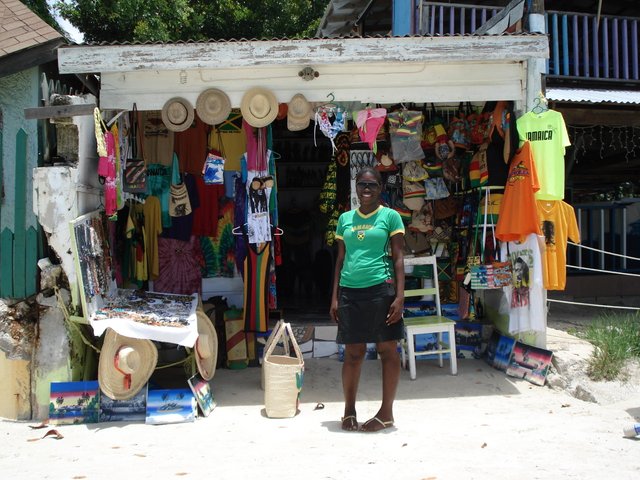 "Hey, can I take a picture of you in front of your store?" "Yes mon!"
Of course, the many Jamaican shop owners were calling out, "My friend, my friend, come take a look over here and see what we have." I mean everyone is friendly and everyone seriously is your friend, but we simply couldn't stop at every single place along the 7-mile beach. We heard some music coming from down the way, so we scurried down the beach a ways until we saw a nice little hut with a white man playing some good vibrations. We decided to peak our heads in.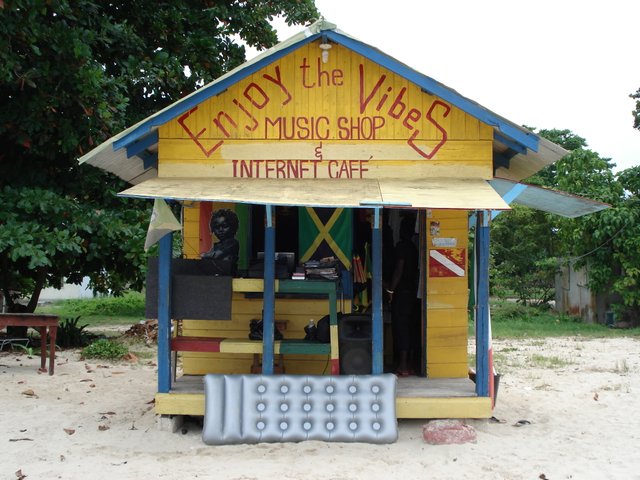 Max's music and internet hut
We got to talking for a while with the guy. Max was his name and he was from someplace in Europe, exactly where, this old-timer is having a difficult time recounting. I do recall, however, that he had been in Jamaica for some time working as a music producer selling content and collaborating with other Jamaican artists across the island, mainly in Negril. He was a pretty straight up dude.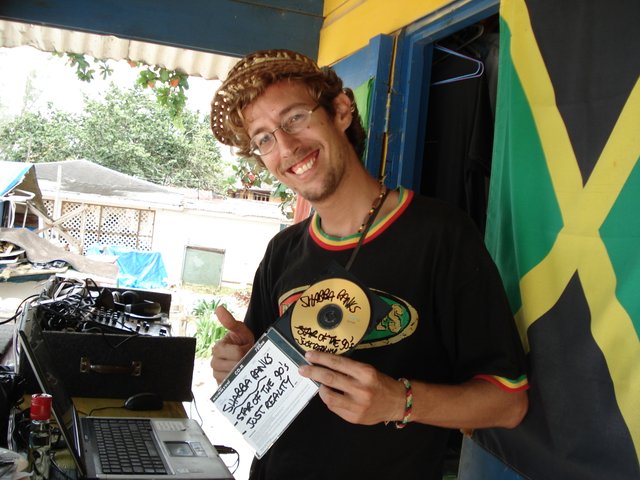 Maxxie himself holding the Shabba Ranks CD he burned for me
Just next door I noticed there was hut that was called the Ska. There were two Jamaican men sitting up in the seating area listening to some Damien Marley. As we left Max's, we walked by the Ska. They didn't hound or bother us to come eat at their restaurant. They sat there and said, "Yeah mon, respect," as we walked by. I thought that was pretty cool. I don't think my son or Scuba Steve picked up on that exactly, but the fact that they didn't relentlessly pursue our consideration as tourists resonated with me.
We walked on by continuing to make our way up the beach toward the town centre. We decided to cut through a side street and walk around the downtown for a bit. The traffic was bustling, motorcyclists weaving in and out, horns honking perpetually, as pedestrians crossed with no regard to any of the above mentioned. The aromas of the fresh catch of the day, the street jerk cooking on the side of the road, and fresh breeze coming off the ocean mixed with the exhaust from the heavy traffic and the thick odors of the hardworking Jamaican peoples. A scene you will have to see and experience one day for yourself.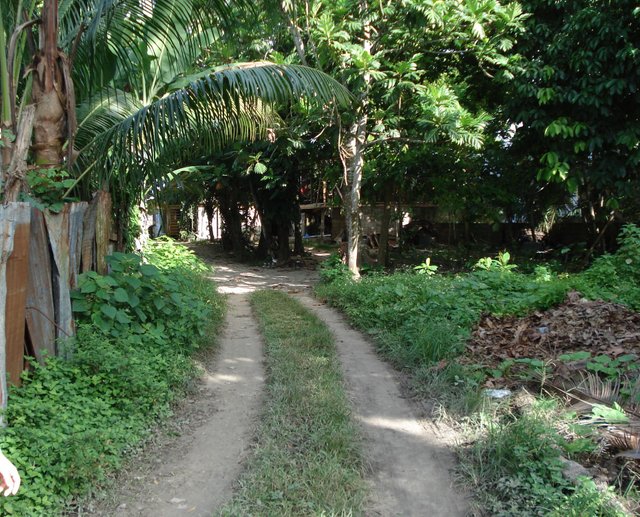 Back street we took to cut through to the main drag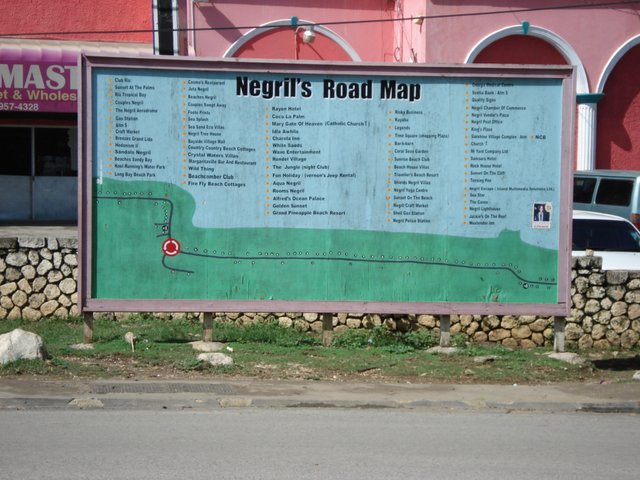 Road map of Negril in the town centre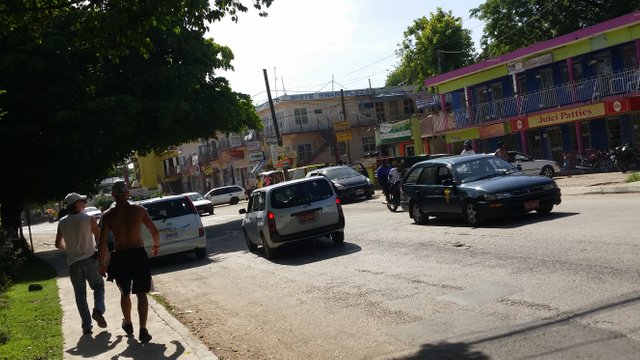 Bustling traffic in downtown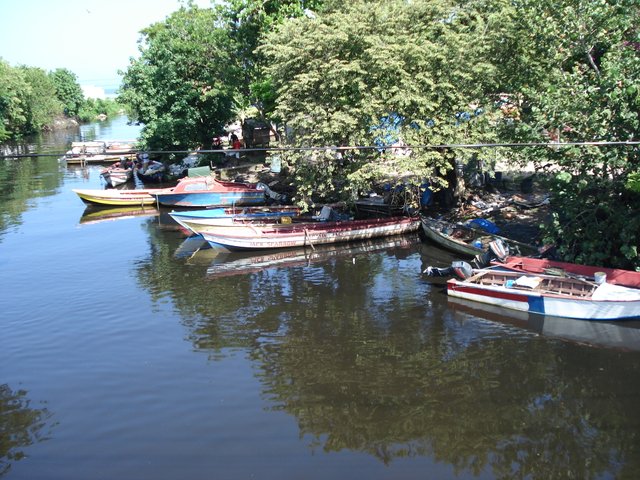 Fishermen boats docked in the harbor
We walked back down the beach to get away from the heavy road traffic. As soon as I could see the Ska in the distance, I said to the boys, "let's stop up here at this orange and white hut to say hey."
They boys were all for it. Little did they know at this point that they were about to make lifelong friends for an eternity. The two men pictured pictured below are Mitchigan'z and Blackz.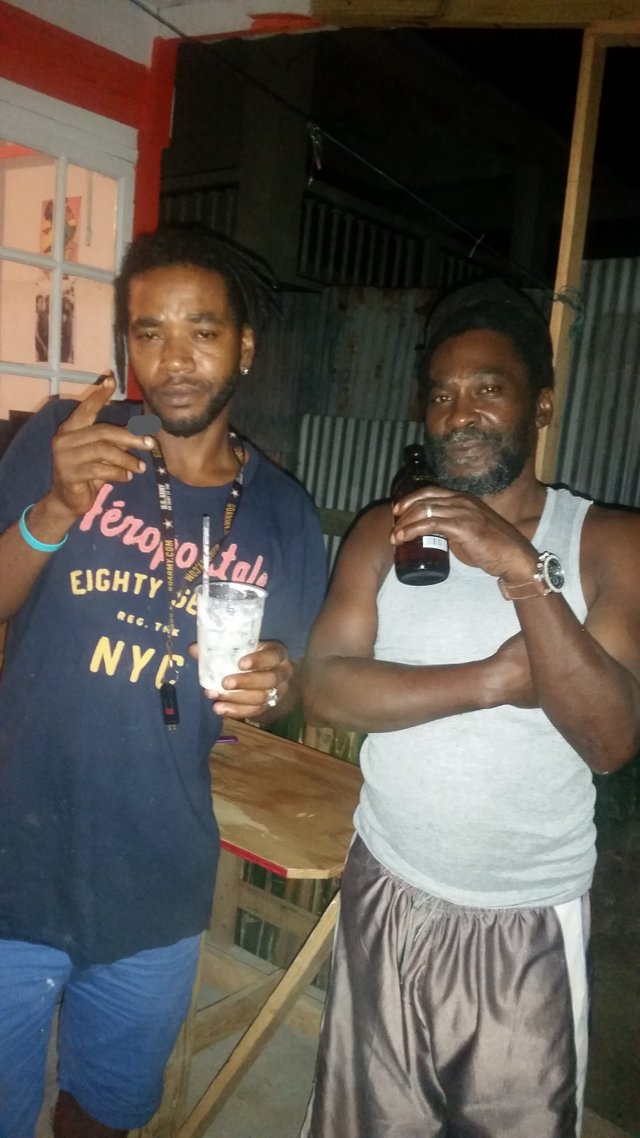 Mitchie on the left, Blackz on the right
We sat and talked for a while, listening to music, and even ordered some food. Blackz is the cook between the two. Mitchie is the pre- and post- whatever needs done type of guy. He is actually an extremely successful Jamaican. He owns several businesses, one of them being Ska, and the other which we saw during the trip was his "Gadgets" store (pictured below). He actually took us down to his shop special to show us around. Here, Blackz made us another tremendous meal, we chatted some more, hung out and really got to know the two of them on a more personal level. The boys were really digging the fact that they had met some Rasta friends during this trip, and it was pretty cool to witness myself.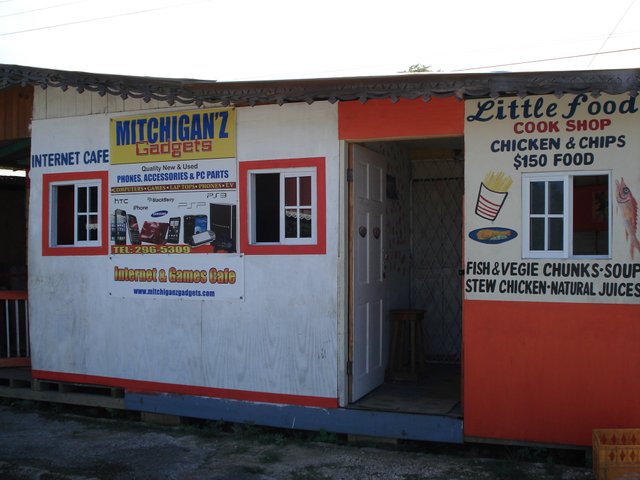 Mitchie'z Gadgets store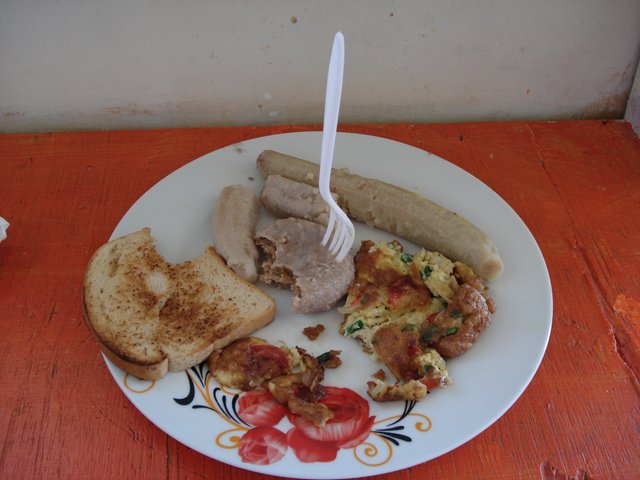 Traditional Jamaican breakfast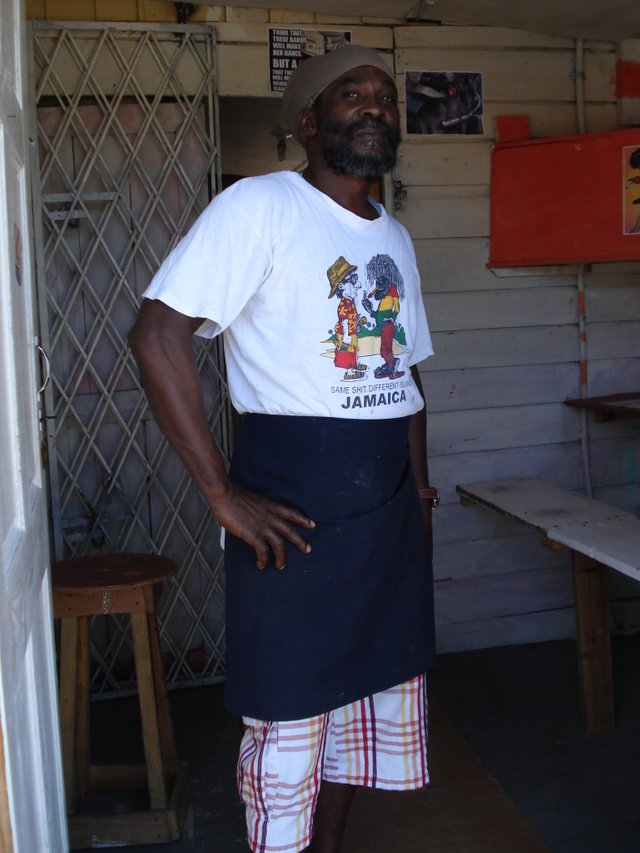 Blackz
I let them hang with Mitchie and Blackz for the remainder of the trip at their own discretion. I mean, they were both 18 at the time, and Jamaica is a safe place in the parts we travel to. The story could go on and on here in regards to Mitchie and Blackz, as this was still the first day of our 10 day stay in Negril. The boys got Mitchie'z email, so they stay in touch from time to time with him. The next time we venture back, we will surely be meeting up to rekindle the spark that was created some five years ago.
Stay tuned for [Part 4 of this 10 part series]: Faces of Jamaica "T.B.D.,"
Who will be next?
Vote for who you would like to see next from the choices below in the comment thread of this post:
"Blue"
"Michael the Key Keeper"
"The Patty Man"
"John-O"
"The Bourbon Man"
"The Reggae Breddas"
"Dwayne Clark"
To view the previous 2 posts of this 10 part series, you may visit them at the links referenced below:
Stay Irieeeee
Respects,
@super-irie
---
Posted via ReggaeSteem | Reggae Culture Rewarded