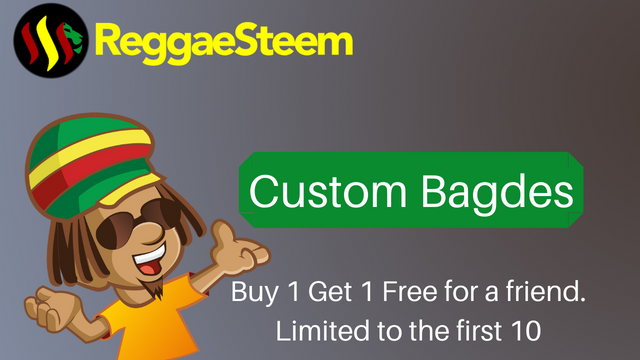 Custom badges have been available on Reggaesteem for a couple of weeks. What many may not realise is how these badges can be used. Well let's give you a few ideas.
For this, the official ReggaeSteem account, we use the badge "Official" so individuals can know this is The account. We also have badges for the core team and ambassadors so they can be easily identified.


Badges can be used for professional purposes or for fun.
Professional tags are a good way to let the community know what you are about. This way individuals can reach out to you if they want certain tasks done, if they want to collaborate or are interested in the services you offer. Lets look at some professional tags that may apply to you.
Writer
poet
Entertainer
Producer
Promoter
Freelancer
Hotel
JAHM Accepted
Event Series
Musician
Vlogger
Chef
Marketer
WebDev
Designer
You can put any professional badge next to your username on the feed, but note it can only be up to 16 letters or numbers, no special characters. The above are just examples and the possibilities are truly endless.
For fun, you can be witty, but profanity and hate texts will not be considered. Here are some examples to get your imagination going.
4everlovingjahm
WEJAHMIN
Vote4Vote
Sirjahmalot
willwirte4JAHM
Sellme-urjahm
JAHMisthefuture
Ilovecrypto
looking4love
positivity
IRIEVIBES
Onelove
Waahgwaan?
You get the picture. Anything that means something to you and you want to express it to the community.
At the moment we are offering a buy 1 badge and get 1 free for a friend or second account. This offer is limited to 10 individuals.
How to Redeem a Badge
To redeem a ReggaeSteem Badge, send 2,500 JAHM to @reggaesteem with a memo:REDEEM ReggaeSteem Badge: (your badge)

Example: REDEEM ReggaeSteem Badge: WIllBlog4JAHM

Allow 72hrs for the badge to show up on ReggaeSteem.io.

Also, please contact us on discord after you have sent the JAHM to @reggaesteem to expedite the process.

That's it, you'll be JAHMIN with your new badge in no time:)
Be sure to check out https://www.reggaesteem.com/ for the latest information and all our JAHMIN links.
---
Thank you for being a part of this journey. We look forward to growing with you and bringing Reggae Culture and a nation onto the Steem blockchain.





Web| Tribe| Telegram| Twitter| YouTube


---

Posted via ReggaeSteem | Reggae Culture Rewarded