Recruitment Industry on the rise with AI and Blockchain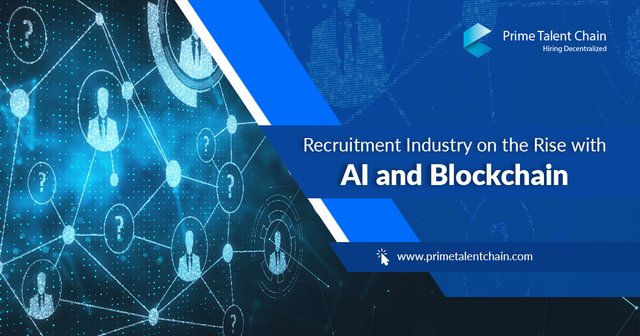 What comes first to your mind when you hear the phrase 'Recruitment Industry'? Looking through resumes and finding out who fits the job best and the numerous processes after that. Companies who include lengthy hiring procedures face huge losses. This is where Prime Talent Chain comes into the scene.
Prime Talent Chain is the solution to all your recruitment needs and has equipped the recruitment industry with AI and Blockchain technology to reduce various cons plaguing it. 
Cons of Recruitment system
A large pool of resources to choose from. 
Lengthy Hiring Cycles
Higher cost of Hiring 
Lack of High-quality profiles
Deluge of job postings missed out
To overcome these cons in the recruitment industry, PTC has integrated blockchain and AI in its system. 
Blockchain's impact
Blockchain's inherent ability to store and provide accurate data makes it a perfect candidate to use extensively in the recruitment industry. Due to its decentralized nature, it is impossible to tamper the data available in the blockchain. There is no central authority to access every block and data is visible to everyone in the network. 

Recruitment industry involves a lengthy and tedious process and finding the perfect fit for the job can be difficult. Blockchain can help these companies to do background and reference checks, assessing the candidate's skill and competency for the role. 
AI's Impact
PTC's AI can be used to sort through resumes, send emails to potential job seekers. Any job seeker can be replied to with human-like responses. Candidates can get immediate feedback regarding the status of their application. AI can also remove unwanted and fake resumes from resume banks effectively compared to manual screening and search cycles. Equipped with predictive analysis, the AI can learn when to select or reject a resume on its own.
Summing-Up
Prime Talent Chain assures the participants to involve in this ever-growing ecosystem with its coins to peer review candidates and check out profiles. Users can now make the fastest transaction in its own customized blockchain and need not worry about gas prices and such. Check out PTC to know more. 
Join >>> Telegram