As some of you may realize by now, I'm a sucker for strange effects, and for FFT-based stuff. So, when I saw Unfiltered Audio's SpecOps on sale at Plugin Alliance, I couldn't help myself. Sure, I already have quite a bit of spectral processing in my arsenal, but this has a few things in a handy package that would be more of a pain to do elsewhere, as well as a few that I'm not sure I could do with stuff I have.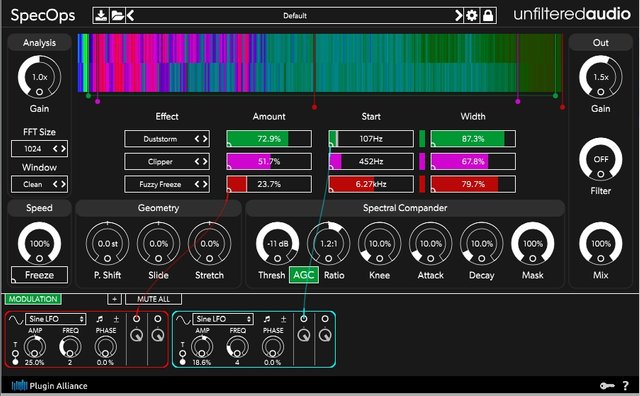 The basic concept is relatively straightforward: there are three slots for effects, and each of these slots has a control for amount, start, and width. The latter two control the frequency range of the effect, and the former should be self-explanatory. The effects range from relatively mundane stuff like filters and a clipper, to more exotic stuff like the "mp3izer" and "glitchy bubbler". Other controls include input/output gain, mix, FFT size, FFT window type (which includes some interesting non-standard choices), and global effects/processes which include a basic filter, a speed/freeze control, pitch shift, slide, and stretch (under the "Geometry" heading), and a Spectral Compander. One of my initial concerns when reading the marketing stuff was that it would be essentially a standard multi-fx unit with multi-band capability thrown in, but there is indeed more to it than that. There's a whole lot of possibilities on offer here, and plenty of room to get wild if you want to.
There is also a modulation section which lets you use a 16-step sequencer, input follower, and/or LFO's to modulate any or all of the knobs and sliders, as well as macro controls. This allows for some really fun audio mangling. Even with all of this stuff going on, I think it's quite easy to work with.
Something else I'd also like to bring up is that, as mentioned on the website, some of the effects can be used for more utilitarian production tasks as well, such as cleaning up recordings or adding punch with filters and the compander. I haven't had a chance yet to use it this way extensively, but it worked well for the things I did try, and again, wasn't too difficult to use. I had good results using it to clean up a noisy field recording, as well as adding oomph to some drums.
I haven't had SpecOps long enough to say that I've seen everything it can do that it can do, but I already see more uses for it than I thought there would be when I hit the buy button. I'm not saying I'll use the crazier stuff it can do in every track, but I was able to get some really cool sounds with that crazy stuff on every source I threw at it. I particularly liked what I got with drum loops and atmosphere-type sound effects. It also seems really good for getting rid of stuff you don't want and/or accentuating what you do in samples such as drum loops or sound-effect sequences. As I mentioned, I got it on sale, and it was definitely well worth that price. I wouldn't say the full price is a rip-off, but even knowing what I know, I'd have to think a bit more about buying at that price. That said, I think I'll definitely get quite a bit of use out of it, and if I didn't already have so many things (such as Plogue's Bidule) that can do nifty FFT stuff, I wouldn't hesitate.
Links:
https://www.unfilteredaudio.com/products/specops
https://www.plugin-alliance.com/en/products/unfiltered_audio_specops.html