Audio Freeware Feature: Plogue Sforzando (Win/Mac, VSTi/AU/RTAS/AAX)
Sforzando is an SFZ player from the same company that brought us Bidule, which I covered in a previous article. It is available for Mac or Windows, and works as a standalone application or plug-in in VSTi, AU, RTAS, and AAX formats. If you aren't familiar with the SFZ format, it's a sample format similar in ways to Soundfonts, but with some nice added features and other differences. There is a decent reference available here: http://www.sfzformat.com/index.php?title=Main_Page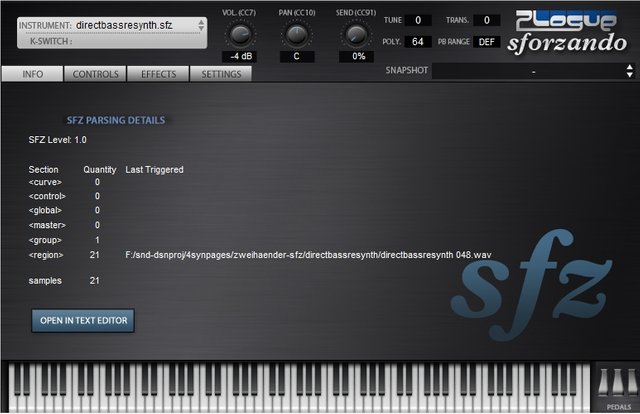 Info screen
Sforzando is based on the ARIA engine, which extends the SFZ format with additional features and opcodes, and was also developed by Plogue. Details can be found at the link above. In addition to loading SFZ files, it can also import SF2, DLS, and Acidized WAV files. If a loaded SFZ has MIDI CC's assigned, the controls will show on Sforzando's Controls page. The ARIA engine also allows you to give controls custom labels, the Sforzando user guide includes instructions on how to do this.
Sforzando includes reverb and detune chorus effects, and is "highly SFZ 2.0 compliant", again, see the reference link for details on what that means. It supports custom skins, and can load Scala files for using alternate tunings. It can save/load "snapshots" of current settings, which may come in especially handy if you use the custom controls mentioned above.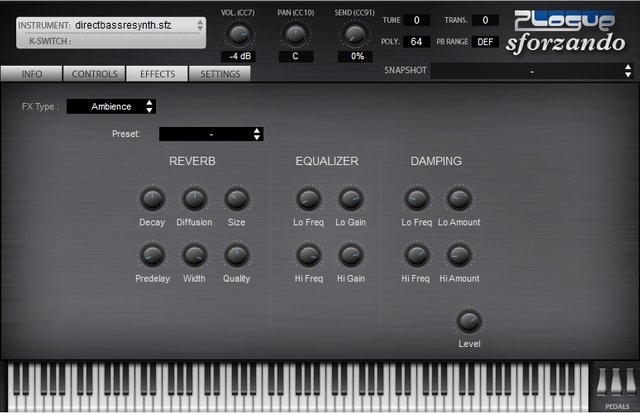 Effects screen
The Settings screen also lets you tweak advanced stuff like RAM allocation and pre-caching, and set paths to look for user files and store converted files.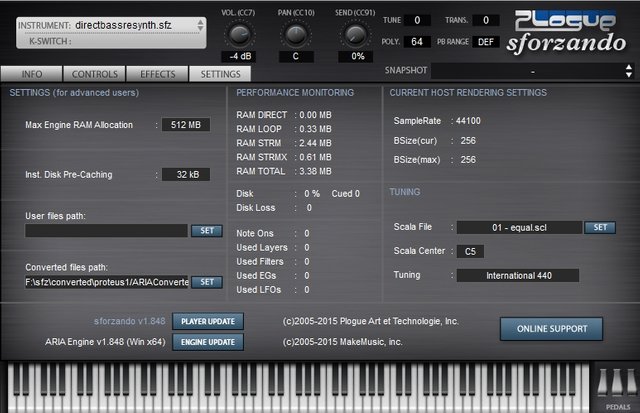 Settings screen
All in all, Sforzando is a great solution for playing SFZ's, and especially cool since it's free. I also really like that it can import Soundfonts, as I have a huge library of those from back in my days as a SoundBlaster user. The website also has a section with some instrument banks, complete with custom skins.