This super simple dish is bursting with flavor. The best part of this meal, other than the flavor, is that it doesn't require any cooking if you use prepared canned beans and chickpeas.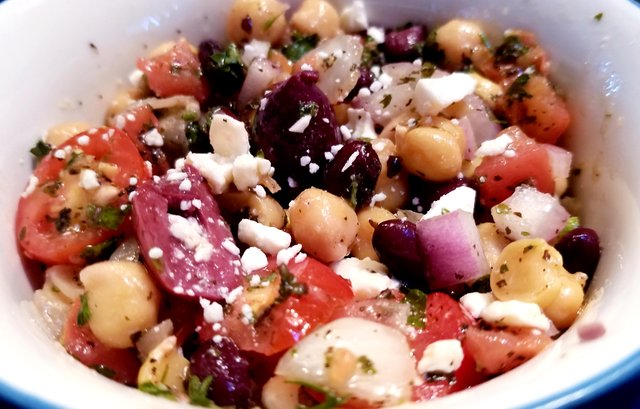 The proportions of this recipe is perfect for a side dish for a group of four, but if you are serving a crowd, you can easily double or triple this recipe. Because this dish requires so little effort, can be prepared in under 5 minutes, and can be made well ahead of serve time, it is the perfect dish for busy evenings.
Ingredients:
1 cup of chickpeas
¼ cup grape tomatoes, sliced into quarters
¼ cup black beans
2 tablespoons fresh basil, chopped
1 tablespoon fresh mint, chopped
1 teaspoon lemon juice
2 tablespoons olive oil
1 teaspoon apple cider vinegar
1 clove of garlic, minced
2 tablespoons crumbled feta
2 tablespoons finely chopped red onion
¼ teaspoon kosher salt
In a medium mixing bowl mix chickpeas, black beans, tomatoes, and onions.
In a small bowl, mix olive oil, lemon juice, vinegar, salt, and garlic. Mix thoroughly then pour on chickpea/beans mixture.
Sprinkle with basil, feta, and mint, stir thoroughly.
Refrigerate or serve immediately.