CHICKPEAS IN A CREAMY & DELICIOUS PUMPKIN SAUCE [EASY VEGAN RECIPE] 💚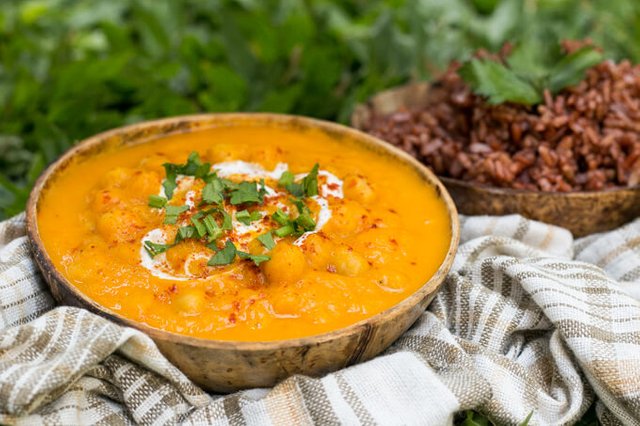 Hey lovely Steemit friends, how have you been? It's been a while since I posted last time because the last weeks have been suuuper busy. First, I'm not in Asia anymore! End of September we left Bali to visit family and friends in Europe (Germany) for a couple of week. We will stay here until mid November. Second, the last 2-3 weeks we have been super busy creating, cooking and photographing new recipes for a new cook book that will be coming soon, yay!
Today is the first day, I feel I have time to login to Steemit and check what I've missed and of course to share a new recipe with you guys! Autumn is finally here and this means it is pumpkin season. There are soooo many amazing vegan pumpkin recipes waiting for you guys and today I'll share the first one: Chickpeas in a creamy & delicious pumpkin sauce, yum!
[You can find a link to the German version of this recipe at the end of this post.]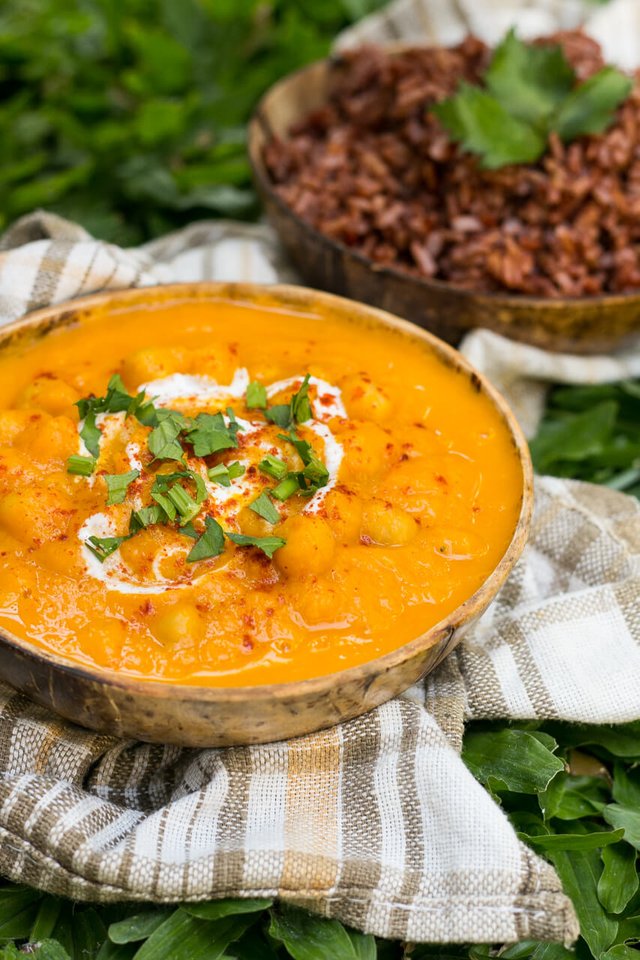 Ingredients
1 onion
2 cloves of garlic
10 g ginger root
400 g pumpkin (Hokkaido or other of choice)
250 g cooked chickpeas (1 can)
150 ml coconut milk
450 ml water (more if needed)
1 tsp of salt
1 tsp of garam masala spice
1 handful of fresh parsley (optional)
Instructions
Peel and chop the onion, garlic and ginger. Sautée some drops of water in a large pan or cooking pot.
Peel the pumpkin, cut into cubes and add to the pan. Fry for around 5 minutes.
Add the coconut milk and fill up with water, until the veggies are covered.
Add the spices and let cook for around10 more minutes, or until pumpkin is tender.
Take from heat and mix with an immersion blender.
At the end, add the cooked chickpeas to the sauce and mix well.
Serve together with side of choice, like brown rice. Sprinkle with some chopped parsley.
You can find the German version of this recipe >>here<<.

If you like this recipe I'd appreciate your upvote, follow and resteem! 💚
I hope you'll give this yummy recipe a try and I can't wait to hear how you liked it!
Have a great day everyone!
Yours, Sofia