Hello friends I hope you are well, I do not know if it all happens to us but on Sundays it is the day I least want to cook, but in Venezuela eating street food is very expensive, if you have rice in the fridge the day before you can solve it very fast and you will not spend much time in the kitchen, rice with caramelized onions.
I will give you two recipes which is rice included, the second one seems a very different option and for me it is the most nutritious, salad of broccoli, apple and nuts and also has rice from the previous day
Rice with caramelized onions
ingredients:
2 cups cooked rice
3 large onions
2 butter spoons
2 1/2 tablespoons of brown sugar
1/4 cup of white wine
Salt
Pepper
Preparation:
Cook the rice and season it with salt and a pinch of pepper if you do not have rice from the previous day, cut the onion into thin slices. Melt the butter in a pan and add the onion, fry the onion, add the sugar and cook over low heat without burning, add 1/3 of white wine and cook until it evaporates. Repeat the procedure.
Serve the rice and add the caramelized onions.
This rice can accompany it with a grilled chicken or fish, you can also prepare a salad, I would eat it that way alone.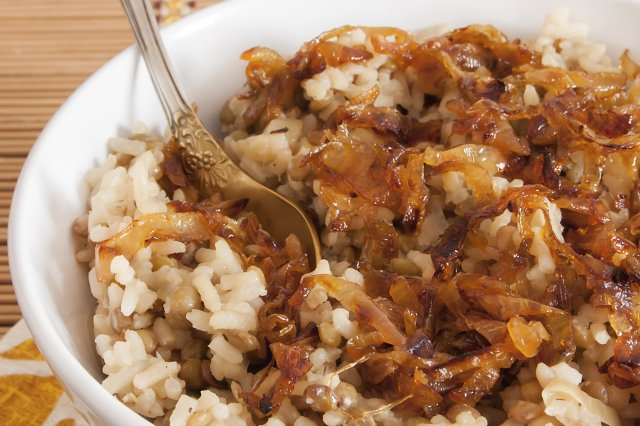 Source
Broccoli, apple and walnuts salad
Ingredients:
1 bouquet of broccoli
A small carrot
1 red apple
1 handful of cooked rice
Optional: 1 fresh spring onion
A good handful of chopped nuts
A handful of raisins without seed
1 natural yogurt
2 measures of the glass of yogurt with clarita mayonnaise (you can lighten it with a little milk)
2 tablespoons of lemon juice
Salt and black pepper ground to taste
Preparation:
We cut the broccoli into small saplings and discard the thick stems. We cook the little trees in very little salt water a few minutes so that they are quite whole, al dente, we can also steam them for 3 minutes over a fire or in a steamer. We cook the rice or we use cooked rice, we prepare it according to our taste.
Meanwhile we finely grate the carrot, cut the apple into regular pieces leaving the skin, we pricked the chive in julienne. We chop the nuts (if you want them to have more aroma and flavor you can toast them in a pan). Mix cooked broccoli and very well drained broccoli in a salad bowl, cooked rice, carrot, apple, chives, nuts and raisins. For the dressing we mix the mayonnaise, the yogurt, the lemon, the salt and the pepper, then, season the salad mixing well until the sauce is linked with all the vegetables and let stand in cold until the moment of serving. It is best to prepare it with a couple of hours (at least) of time for the flavors to settle well.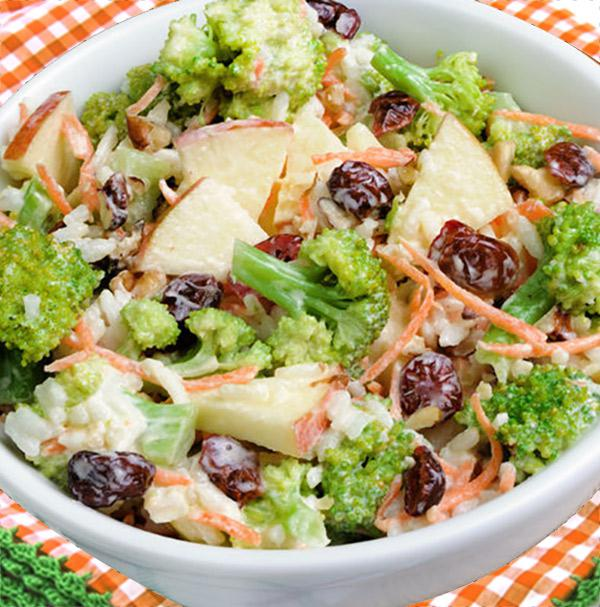 Source