Hello friends I hope you are well, although today I have not felt anything right I can not go to rest without leaving a delicious and healthy recipe, I hope you like it.
We do not like spinach at all, so this recipe for spinach and cheese dumplings is a fun and different way to prepare this vegetable. The elaboration is very simple.
Ingredients:
300 g of fresh or frozen spinach leaves
150 g of grated cheese + 50 g to sprinkle when serving
2 eggs
Salt, pepper, garlic powder and nutmeg
2 tablespoons of flour
Milk (only if necessary)
A spoonful of butter
Preparation:
Put the butter in a pan and sauté the spinach until they are cooked. In that time we put the salt, pepper, garlic powder and nutmeg to season the spinach when the spinach is ready add the flour and the beaten eggs, we give a few laps so that it is integrated and roasted a little bit, with the water that they have Once the spinach is released, a creamy sauce should begin to form, then add the grated cheese and set aside at the time of the fire. We keep moving until the mixture becomes compact and thick until it can be molded. If you see that it is too thick you add milk little by little until it has that texture. We form medium balls, that are not bigger than a bite. We put a pot with plenty of water on the fire and wait for it to break the boil, then submerge the balls and take them out when we see them rising to the surface.
We remove them with a slotted spoon and reserve. We just have to sauté our meatballs in a little butter and sprinkle with pepper. At the time of serving sprinkle with the rest of the grated cheese.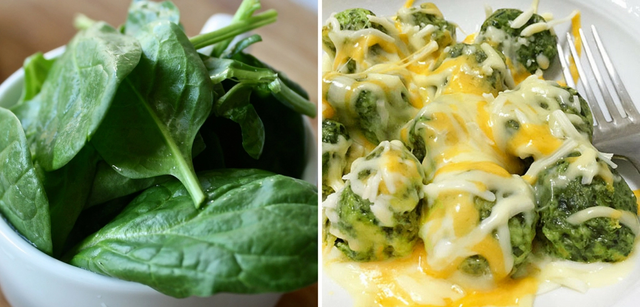 Source