Sometimes I prefer to eat spaghetti than rice I do not like it anymore, but of course there are days when I get a different rice, at that moment I start to look for among many recipes that I keep, in particular one I call my attention, Arroz a la orange, the first thing I imagined was that taste of rice with the acid or sweet of the orange, the recipe is very easy to prepare, that's why I share them, if at any time there are guests and want to show off it's the perfect time to prepare this recipe.
Ingredients for 4 people:
320 g of rice
3 oranges
2 cloves of garlic
1 large onion
Olive oil
1 tablespoon butter
50 g parmesan
Salt
Preparation:
Heat 3 tablespoons of oil and 1 butter, in a medium skillet, add the onion and when browned a little add the garlic finely chopped, and season. We squeeze the 3 oranges and reserve the juice. We use half an orange bark to chop very finite. Then add the rice, the crushed orange rind and sauté with onion and garlic. Add water to orange juice to get 640 ml, we toss it into the pan and while simmering, we move to get the risotto effect and finally we add the parmesan stir well, we rectify salt and go.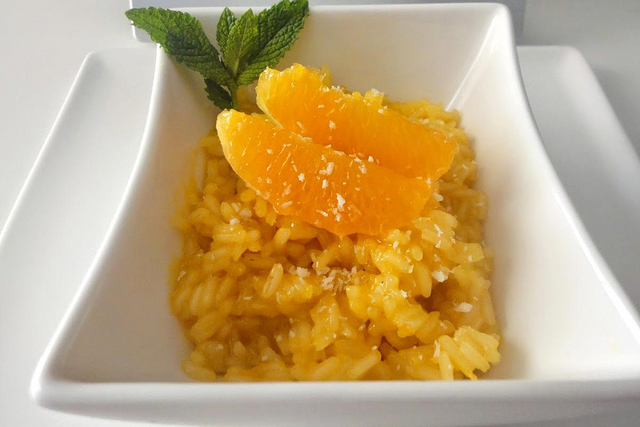 Source