Hello friends I hope you are well, it has happened to you that guests suddenly arrive home and you do not know what to offer, you have aubergines, some crackers or bread that you can toast in the oven, then prepare this eggplant cream and for sure They are going to suck their fingers.
Eggplant cream is a very simple recipe that gives a delicious and quite Mediterranean touch to your meals. Its ideal use is as cream to spread breads and cookies. But you can put it to whatever you want: in a hamburger, on top of a piece of chicken, next to some steamed potatoes, just let your imagination fly.
You can also mix this cream of eggplant with yogurt, curry or mint and invent incredible sauces, after eating your dishes with eggplant cream go to brush your teeth, because it takes a lot of garlic and well ... you know what happens.
Ingredients:
3 medium aubergines
3 small garlic cloves
Olive oil
Salt
Preparation:
Cook the aubergines on a direct flame, that is, in a gas stove put the aubergines directly over the flames and let the skin burn all over. Turn over as many times as necessary so that they cook evenly. Your aubergines should be soft inside.
Note: If your kitchen starts to smell burnt, do not worry, it means that your aubergines are on the right track.
Once all the skin of the eggplant is scorched, it should be black, remove it from the fire and peel it well, so that nothing of the "burned" remains. Then cut them with a knife and put them together with the previously chopped garlic cloves, a pinch of salt and a generous stream of olive oil in a food processor or a chopper until it has a creamy texture. If you want me to have pieces of eggplant, do not grind it so much. If you want it to be a soft cream add as much olive oil as you consider necessary to achieve the desired texture.
Once your aubergine cream is ready you can use it to spread cookies, homemade bread pieces, sandwiches or pita bread. You can also mix this aubergine cream with yogurt, curry or mint and invent incredible sauces.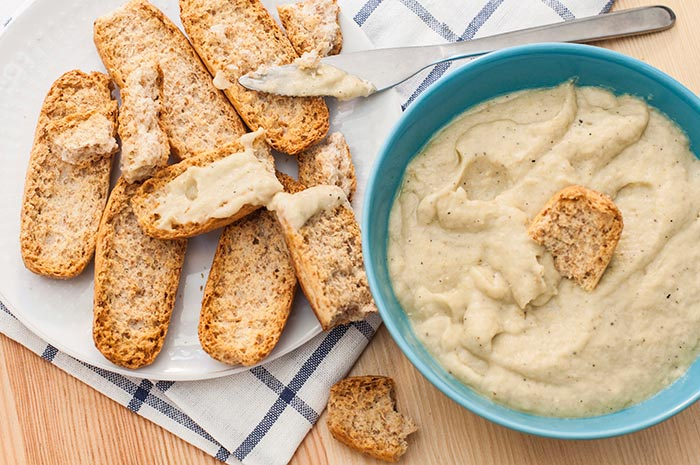 Source