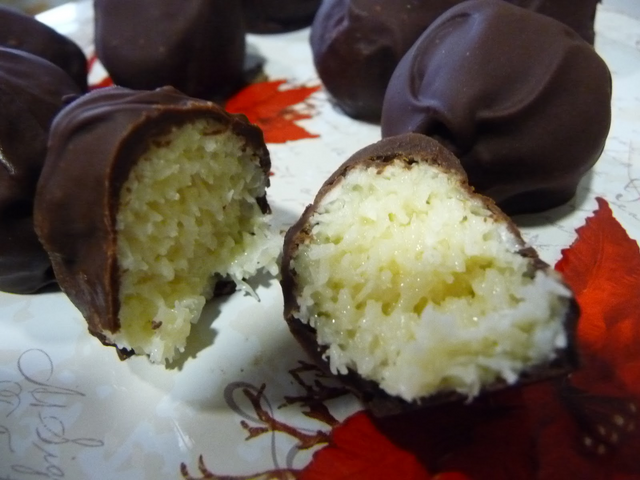 Source
Hello friends I hope you are well, today has maintained a very good climate, it has not rained but it has been cooler so today there is no hot chocolate, but I share a recipe that I adore because it has two ingredients that when combined is an explosion.
The chocolate balls with coconut are a kind of chocolate, it is prepared with few ingredients and I am sure that the youngest of the house and the whole family will love it. Although it takes time to prepare them, the result is extremely delicious.
Ingredients for approximately 15 balls:
200g of grated coconut.
200g of sugar
120ml of water
200g of chocolate for desserts (depending on the brand you may have to pour
50g of butter, if it is too thick)
Preparation:
Mix the water and sugar in a pot or any other container and bring it to a boil, when it has broken to boil, turn off the heat and add the grated coconut stir and mix well all the ingredients and then cover and wait for it to be cooled down, then we put it in the fridge and leave it covered for two hours, after the time, the dough will be very compact and very manageable, we take a teaspoon of it and with the hands we shape it into a ball it is similar to shape the croquettes , then we reserve on a plate and continue to make balls, When we have done all, we put them in the freezer and leave them there half an hour to be compacted even more. After half an hour, we melted the chocolate in a bain-marie, it can also be done in the microwave but I personally prefer to do it in a bain-marie because the chocolate is brighter, if you notice that the chocolate is too thick (it will depend on the brands) add a little butter but not too much or if not then the coconut balls will undone very easily, then we put one by one the balls in the melted chocolate and cover them well with it, remove removing the excess chocolate and place the balls of coconut and chocolate on baking paper so it will be easier to take them off once they cool. Finally let cool in the refrigerator, before consuming.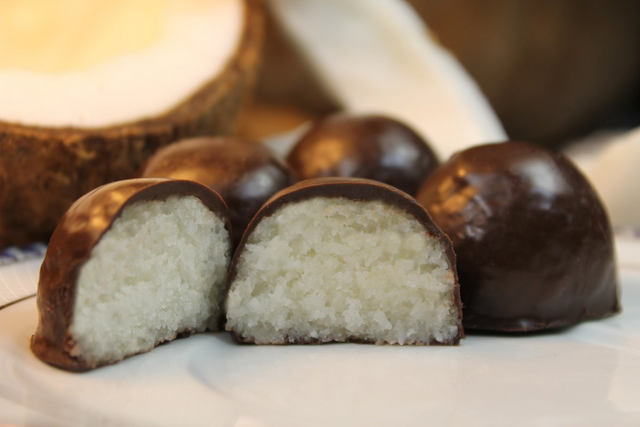 Source
Tips
The balls after placing the chocolate can also be placed on a grid with a base below to spill the chocolate.
Instead of water you can use condensed milk and mix directly with the grated coconut and shape the balls that you take them to the refrigerator so they can compact and then pass them through the melted chocolate.
If you use condensed milk they do not carry sugar.