Liebe Steemit Freunde / Dear Stemit Friends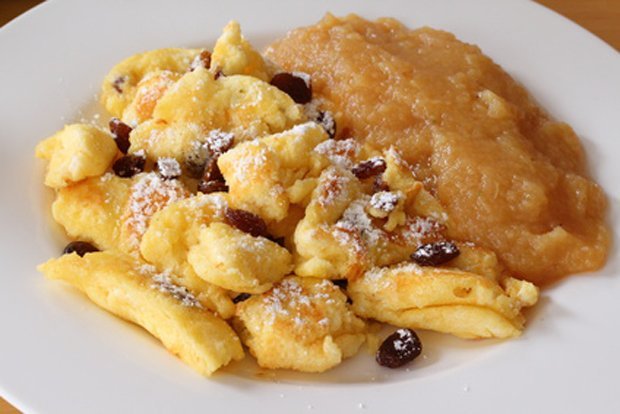 ---
Ich freue mich immer wieder, daß sich so langsam eine kleine Fangemeinde um meine Rezepte bildet die ich hier in meinem Blog veröffentliche. Wie ich bereits hier geschrieben habe, ist meine Familie sehr multikulturell bestückt. Und ich versuche aus diesem Portfolio die für mich am liebsten und besten Rezepte mit euch zu teilen. Oft haben wir es gegessen oder standen vor der Frage, was oder wie wurde es zubereitet? Oftmals bleiben auch Begrifflichkeiten hängen die man nicht sofort erklärt bekommt. Deshalb habe ich mir zur Aufgabe gemacht, euch ein wenig auf meine kulinarischen Reisen mitzunehmen und einen Einblick in so manche Küche zu gewähren. Sowohl auch den ein oder anderen Begriff näher zu bringen um eine Zutat oder Rezept besser zu verstehen.
Heute verführe ich euch mit einer Süßspeise aus der Geburtsstadt meiner Oma. Es geht hier bei um die wunderschöne Stadt Wien und Ihrem Wiener Kaiserschmarn... Auf geht es Ihr lieben last uns kochen...
Wundervoller Wiener Kaiserschmarrn, der unseren Gaumen Freude bereitet. Das Rezept für köstliche Momente.
---
I am always happy to see that so slowly a small fan base starts around my recipes forms that I publish here in my blog. As I already wrote here, my family is very multicultural. And I try from this portfolio for me to share the best recipes with you. We often ate it or were faced with the question, what or how was it prepared? Often synonymous terms hang that you do not get explained immediately. That's why I've set myself the task of taking you a little on my culinary travels and to give an insight into some kitchen. Both to take one or the other term closer to an ingredient or recipe to understand it much better.
Today I seduce you with a dessert from the birthplace of my grandmother. It's all about the beautiful city of Vienna and its Viennese Kaiserschmarn ... Let's go your lovely fans .let's start cooking ...
Wonderful Wiener Kaiserschmarrn, which gives pleasure to our palate. The recipe for delicious moments.
---
Zutaten für 3 Portionen / Ingredients for 3 Portions
200 g - Mehl / Powder
30g - Zucker / Sugar
1 Prise - Salz / Salt
4 Stk - Eier / Eggs
300ml - Milch / Milk
40g - Butter / Butter
30g - Rosinen / Raisins
1 Prise - Staubzucker zum Bestreuen / Icing sugar for sprinkling
Zubereitung / Preparation:
Für diesen köstlichen Kaiserschmarrn zuerst in einer Schüssel Mehl, Zucker, Salz und Dotter mit der Milch zu einem glatten, dickflüssigen Teig verrühren.

In einer anderen Schüssel die Eiklar zu einem steifen Schnee schlagen und danach unter den dickflüssigen Teig heben.

Die Butter in einer großen, flachen Pfanne aufschäumen lassen, den Teig langsam eingießen, und auf beiden Seiten anbacken.

Anschließend die Pfanne in ein vorgeheiztes Backrohr bei mäßiger Hitze (Heißluft ca. 180°C) für 10-12 Min. fertig backen - bis der Kaiserschmarren leicht goldbraun ist.

Danach die Pfanne aus dem Backrohr nehmen und den fertigen Teig mit zwei Gabeln in unregelmäßige Stücke zerreißen.

Nun die Rosinen hinzufügen, gut verrühren und die Pfanne nochmals für ca. 1 Minute in den noch heißen Backofen.

Den Schmarren auf Tellern anrichten, mit Zucker bestreuen und mit beliebigem Kompott oder auch Apfelmus servieren.
Tipps zum Rezept
Anstelle der Rosinen können auch Mandelblättchen genommen werden.
Sollte der Kaiserschmarrn-Teig zu flüssig sein, einfach etwas mehr Mehl hinzufügen. Sollte der Teig zu dickflüssig sein kann man auch noch einen Schuss Mineralwasser hinzugeben.
---
For this delicious Kaiserschmarrn first in a bowl of flour, sugar, salt and yolk with the milk to a smooth, thick dough.

In another bowl beat the egg whites into a stiff snow and then lift them under the thick dough.

Froth the butter in a large, flat pan, pour in the dough slowly, and bake on both sides.

Then fry the pan in a preheated oven over moderate heat (hot air approx. 180 ° C) for 10-12 minutes - until the pancake is slightly golden brown.

Then remove the pan from the oven and rip the dough into irregular pieces with two forks.

Now add the raisins, stir well and the pan again for about 1 minute in the still hot oven.

Serve the stew on plates, sprinkle with sugar and serve with any compote or applesauce.
Tips on the recipe
In addition to the raisins, almonds can also be taken .
If the Kaiserschmarrn dough is too liquid, just add a little more flour. If the dough is too thick you can also add a dash of mineral water .
---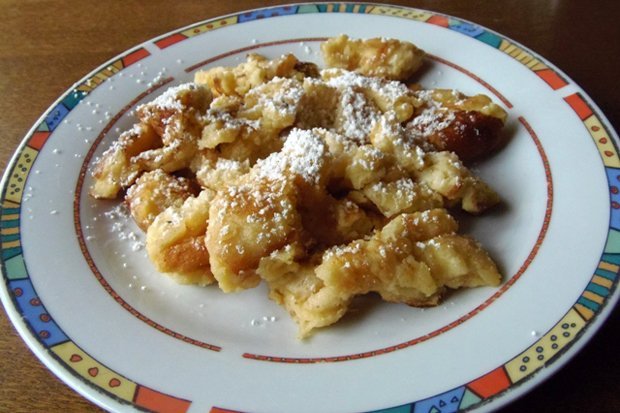 ---
Photo's by Chelle
Guten Appetit / Good Appetite
Follow @djpoertsch