Hello my dear steemit friends..!
After long time today I cooked something for my family it's sweet dish carrots pudding, in Hindi it's called "Gajar ka halva".. It's sweet and testy dish..This dish usually made in winter..its winter special sweet dish..The most famous dish in the sweets is this carrot pudding "gajar ka halva" in India..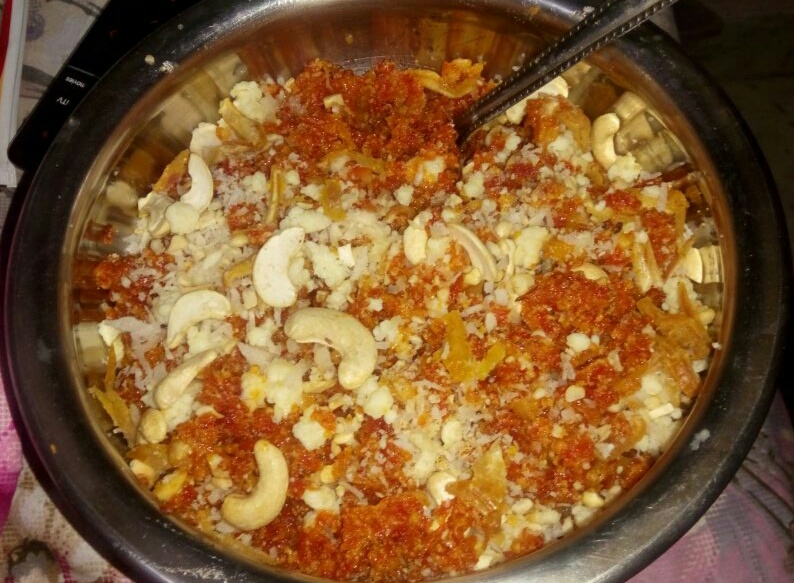 Ingredients for carrot pudding are used carrot ,sugar, butter, milk and dry fruits ..
Carrot 1kg
Sugar 250gm
Milk. 1liter
Butter 250gm
Dry fruits. 100gm..
First grate the carrots and Heat a pan for 5 minutes on the gas and put 150 gm butter in it when the butter becomes hot put the grated carrots and milk in it ,slow the carrots slowly and cook it for 20 to 30 minutes cook in low heat..When carrot become soft and dry put sugar and mixed nicly..then cook more 15 to 20 minutes..when carrot change the colour and become dry put more 100gm butter and dry fruits..use dry fruits which you like.. After putting everything mix nicly and off the gass and 5 minutes keep to cool then decorate it with a lot of dry fruits and enjoy to eat carrot pudding "gajar ka halva "
Hope you guys like my recipe of carrots pudding "gajar ka halva" And try to cook at home.. Thanks for supporting me and keep supporting me my dear steemit friends..